AOHi Magline PRO+ cable, USB-C to Lighting
The wait is over! Now you can get the most out of your charger and treat your favourite Apple products with the Lightning interface to luxury in the form of even faster charging and data transfer.

Magline PRO+ cable with C94 connector and 3 A output current charges your iPhone to 60% in just 30 minutes. At the same time, you will be able to monitor the charging status and performance on the handy LED display in real time. And you will know about its progress from afar thanks to the colour LED signal.

In addition to performance, it puts ordinary charging cables to shame with its extraordinary durability. Aluminium tips and a high-quality alloy case help protect the charging connectors from breaking when repeatedly plugged in and pulled out of the port. While the double robust braiding with nylon guarantees the extreme resistance of the cable under everyday stress.

MFi certified, significantly faster, safer and more durable than its competitors - you won't find a better partner for your apples!
Availability: In stock (More than 5 units)
If the goods are not in stock, the usual delivery time is between
2 and 3 weeks
We are very grateful for your comments and suggestions
Wholesale conditions for authorized resellers on request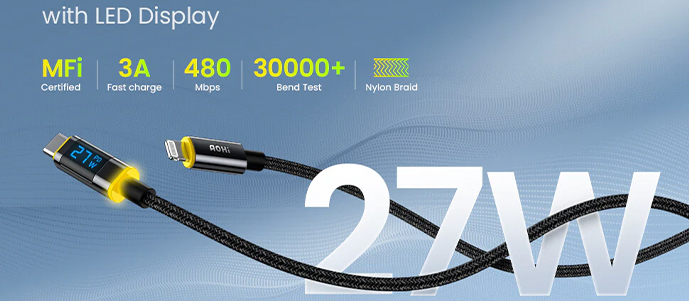 Save time with fast-charging support
How long does it take to charge your iPhone from zero to a solid 60%? With the AOHi
Lightning cable with an output current of up to 3 A
, you can do it in just 30 minutes! The
charging speed is monitored in real time by a handy LED display
- it will show you the current charging performance and whether you are really using the super fast charging.
The multi-coloured LED
also clearly informs you of this: yellow colour means fast charging at full power, blue colour means normal speed, while green colour indicates slow charging. In that case, we recommend you purchase a more powerful charger (18 W or higher), which will help you save time and make full use of the potential of this sleek accessory.
Data transfer without waiting
Lightning speed is useful not only for charging, but also for data transfer. And even here, the AOHi Magline will not let you down. With a
support of 480 Mbps transfer speed
, you can easily sync photos and music using your laptop with USB-C interface. To give you a better idea - with this great performance, you will only need 25 seconds to transfer a 1G movie. The endless waiting for the completion of the file transfer will no longer detract from your entertainment.
Perfect pair with Apple products
AOHi made their Magline directly for the iOs system. It is therefore compatible with any
iPhone 8-14 series, iPad, MacBooks, AirPods and other devices with a Lightning interface
.
The MFi certification
proves that your baby is in the best hands with it. Most common USB-C/Lightning charging cables work with the C48 connector. But the Magline is a class higher and
works with the latest Apple C94 chip built-in
. This
ensures not only error-free power transfer with any version of the iOs system, but also future updates
.
Note: The complete list of compatible devices can be found on the manufacturer's website.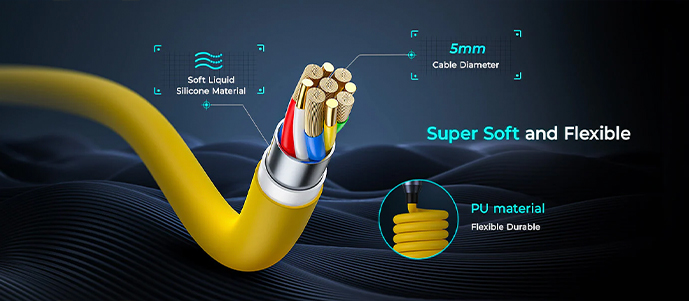 Made to last
AOHi used
high-quality Swedish aluminium
for the production of connectors. The
reinforced fibre core
protects against wear, breakage or any other damage to the
nylon braid in combination with TPE
. The extraordinary durability of the cable is also demonstrated by the fact that it has successfully
passed a demanding bending life test with more than 30,000 bends and more than 10,000 plugging in tests
. There is no doubt that it will last much longer than other USB-C/Lightning cables. In addition, the
multi-layer protection of the shielding layer and strong anti-interference protection
contribute to faster and safer charging. Magline is definitely not just another Lightning charging cable to get lost in the flood of others on the market. With MFi certification, fantastic speed, high level of security and exceptional durability, it leaves the competition far behind!
Compatibility
Compatible with Apple devices with Lightning interface
Technical specifications
USB-C/Lightning charging cable with digital display
Extremely fast charging and data transfer
Maximum power 3 A
Three-stage LED signaling of the charging status
Fast data transfer of 480 Mbps
Extremely durable materials and construction
Built-in latest Apple C94 chip
MFi certification
Cable length: 122 cm
Package dimensions: 28 x 17 x 2 cm
Weight: 77 g
Colour: black
Package contents
1x Magline nylon USB-C/Lightning cable with digital display
AOHi is an independent brand of Aohai Technology. It aims to use pioneering solutions and the latest technology in the development of new charging devices and smart additional services. Innovation, quality and determination are the basis of its philosophy. And that he really takes it seriously is proven by the fact that it has a professional research and development team with more than 300 engineers, 267 registered patents and is a world leader in its field.
More Information

| | |
| --- | --- |
| Product code | AOC-L009 |
| Barcode | 6973939550271 |
| Color | Black |
| Manufacturer | AOHi |
| Manufacturer's website | iaohi.com |
| Canonical URL | incharge-x-6-v-1-cerny-max |
We found other products you might like!