Faitron HeatsBox Inner Dish Set
Expand the family of your favorite HeatsBox products with new members! The HeatsBox inner removable bowl set from Faitron will make your life easier.

High quality, strong and stylish bowls made of stainless steel and hardened plastic are compatible with all types of HeatsBox heaters. They thus enable the preparation of more dishes, which you then place directly in the bowls in the heater. Thanks to the leakproof lid and low weight, the bowl can also be used as a daily snack box.

The bowls are designed in a minimalist shape - they are very easy to wash with other dishes. The divider in the bowl prevents the main course from mixing with the side dish or salad, and you can easily take it out of the heater when washing or eating the food.

Make your life easier. HeatsBox bowls are your solution.

• Ideal when using the HeatsBox for a group of people
• A suitable supplement for providing all-day hot meals
• Simplifies food preparation for several days ahead
• Quality materials
• Leakproof
• Compatible with all types of HeatsBox STYLE, Heatsbox STYLE+, Heatsbox GO, Heatsbox PRO
• Warranty: 2 years

Availability: On the way from the manufacturer
If the goods are not in stock, the usual delivery time is between
2 and 3 weeks
We are very grateful for your comments and suggestions
Wholesale conditions for authorized resellers on request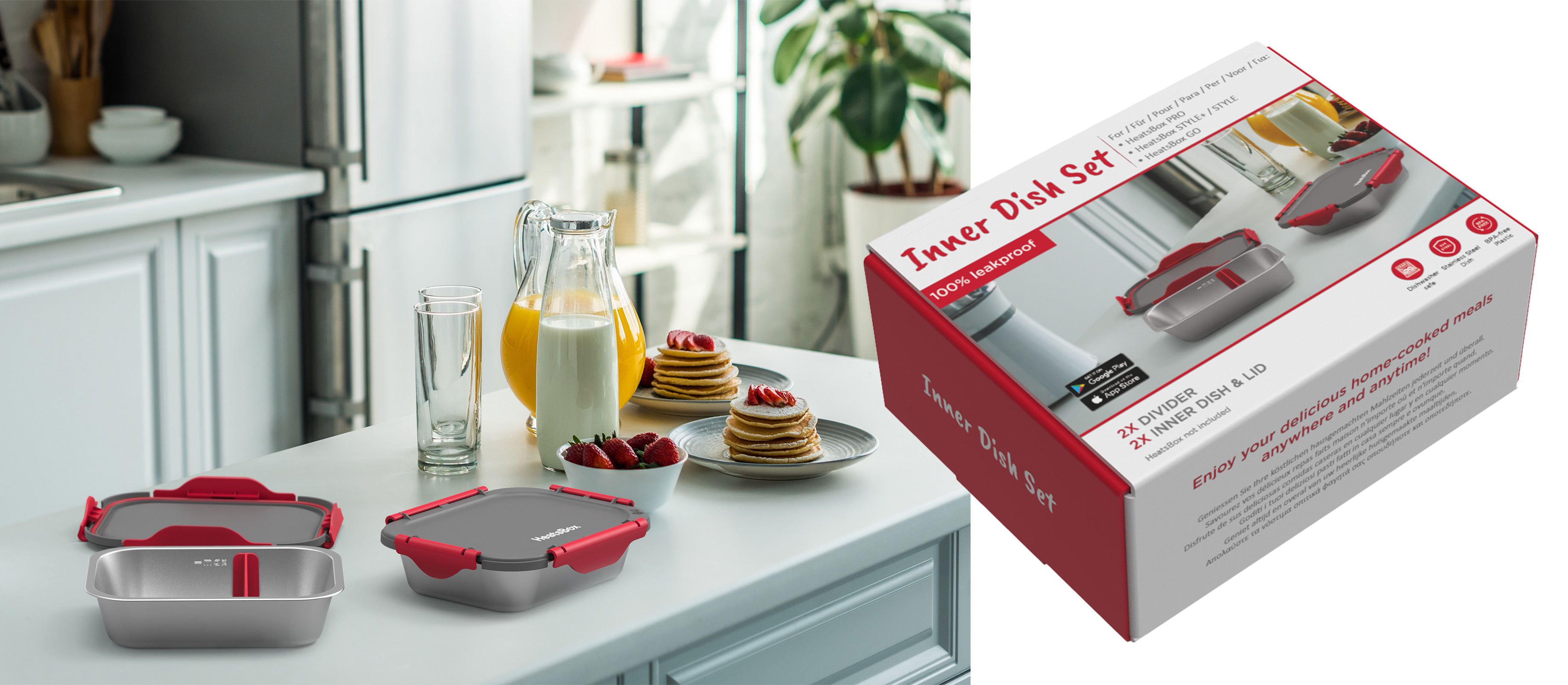 Nicely put together
Did you like one of the smart
HeatsBox food warmers
and would you like to treat yourself to even more comfort? Whether we are talking about
HeatsBox GO, PRO, STYLE or STYLE +
, additional bowls made of
high-quality materials
fit like a glove in every type of heater. You don't have to worry about high thermal effects -
HeatsBox bowls are directly dimensioned for the high temperature differences of Faitron products
, and since
HeatsBox heaters do not exceed a temperature of 85 °C
, there is no need to worry.
By purchasing this additional set of bowls, you will be able to serve
a hot meal within a larger family or, for example, a work team
. It will be easier for you to meal prep and thus easier to achieve a very healthy
every day warm meal diet
.
Health and quality
HeatsBox additional bowls are made of
high-quality stainless steel, hardened plastic and sealing silicone
, with all materials
food grade certified
. The products are therefore completely
harmless to health
, even when heated to higher temperatures.
Comfort above all
With additional bowls for HeatsBox heaters, you no longer have to prepare food for the next day every day after work. You can
easily prepare several meals
, put each one in one of the bowls, and then just take them out of the fridge in the morning.
You can also use the bowl without the heater just as a snack box
. Thanks to the
perfect leakproof lid
, the bowl keeps even more liquid dishes such as soup or sauce safe, and the
divider
allows you to separate the main course from the side dish or salad. After the meal,
simply wash the bowl
together with the other dishes by hand or in the dishwasher.
Feature overview
100% leakproof
Timeless design
High quality materials
Keeps meals warm
Light weight
Easy maintenance
2 year warranty
Technical specifications
Materials: Stainless steel, PP, silicone
Food safety certifications: LFGB a FDA
Volume: 925 ml
100% leakproof
Maximum temperature inside the bowl: 250 °C
Maximum lid temperature: 90 °C
Dimensions: 222 x 166 x78 mm
Weight: 0,5 kg
Country of manufacture: Switzerland
Package contents
2x inner dish
2x dividers for the inner dish
2x lids for the inner dish
The Swiss company Faitron occupies a unique position in the market with innovative and mobile solutions for food heating. It offers its users the possibility of a healthier, more comfortable and gentler lifestyle. As part of its focus, the Faitron company does not leave a single detail to chance: From quality material to efficient and safe heating systems to minimalist design and easy maintenance. Faitron brings a vision of future catering.
More Information

| | |
| --- | --- |
| Product code | HB-ID-02 |
| Barcode | 0748367273223 |
| Color | Steel |
| Manufacturer | Faitron |
| Manufacturer's website | faitron.com |
We found other products you might like!