LAB.C Slim Fit Case for iPad 10.2" (2019)
Product code
LABC-277-IPD102-RD, LABC-277-IPD102-BK, LABC-277-IPD102-NV
Do not forget the essential part of your new iPad 10,2" - the Lab.C Case with smart features which are hidden in minimalist design.

You will appreciate not only the protection of chassis from shocks and screen from scratches, but also the possibility of folding the case in the stand, in 2 positions.

It can do more that you would expect from a thin case. A feature Smart Cover saves battery power by turning the screen off when the case is closed.
If the goods are not in stock, the usual delivery time is between
2 and 3 weeks
We are very grateful for your comments and suggestions
Wholesale conditions for authorized resellers on request
Smart case for iPad Air 10,2"
You will appreciate the elegant Slim Fit Case from Lab.C for Apple iPad 10,2" wherever you need to
turn your case into a stand
and make your work or watching videos more enjoyable. The soft grooves are easy to bend and the iPad is fixed in a stable position.
Cut-outs and shaping
of the case for buttons, microphones, port and lens of the camera
allow you to conveniently enjoy all the features of the iPad
with no limitations.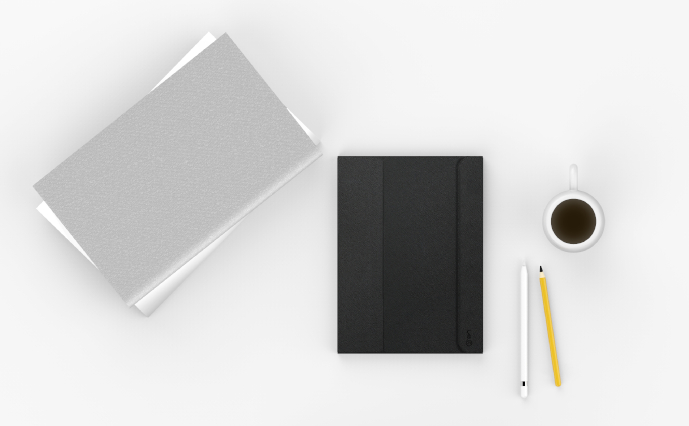 Smart features save you work
The front part of the case has
Smart Cover feature
, which saves the battery
by turning off the screen when closing the case, and when you open it again it turns the display on
. Shaping the internal protective cover facilitates access to ports and buttons and makes it
easy to snap the Apple Pencil
.
You do not have to look for any handles when you manipulate with the case -
everything is done by magnet.
The elegant design
resembles a diary
and artificial leather surface is pleasant to touch and provides a more secure grip. The soft inner material
protects the screen from scratches
.

Summary of the case features:
Multifunction Case for iPad 10,2" (2019)
Ultra think
Case and stand in one
Smart Cover feature turns the display on and off by opening and closing the cover
Loop for Apple Pencil
Textured artificial leather surface
Inner hard protective cover with precise shaping
The internal finish protects the screen from scratches
A stand is adjustable into 2 positions
Two-piece construction - fixed back cover in outer plates
Available in black, red and navy blue

Lab.C takes its name really seriously. It explores the user experience with mobile devices to the smallest details, so it's not far from the real laboratory. In the spirit of "Creating Your Mobile Life", it enhances and complements mobile and tablet accessories. Lab.C products include packaging, chargers, power banks, cables or holders.
More Information

| | |
| --- | --- |
| Product code | LABC-277-IPD102-RD, LABC-277-IPD102-BK, LABC-277-IPD102-NV |
| Barcode | 8809648081691 (LABC-277-IPD102-RD), 8809648081677 (LABC-277-IPD102-BK), 8809648081684 (LABC-277-IPD102-NV) |
| Manufacturer | LabC |
| Manufacturer's website | www.lab-c.co.kr |
We found other products you might like!