Hyper Thunderbolt 4 - docking station, Silver
Product code
HY-HDTB4D-EU
Hyper, top premium brand in its category, has no competition in the production of multifunctional docking stations. Now it proudly presents another novelty from its already rich portfolio.

The Thunderbolt 4 docking station is designed for professionals, avid gamers and video editors who are looking for an advanced connection solution with maximum bandwidth and an incredible display resolution.

The station is equipped with a total of 11 ports, including Thunderbolt 4 ports capable of transferring data at lightning speed or taking care of charging for your host device. There is support for two displays with 4K resolution at 60 Hz via HDMI or TB interface, and even ultra-fast Gigabit Ethernet. Of course, there are enough USB-A outputs, an SD card slot and a 3.5 mm combined audio connector. This is quite the piece of equipment, pleasure for any gamer, or anyone who works with media and wants to significantly upgrade their accessories. Compatible with MacBook Air/Pro (M1/M2). Compatible with MacBook Pro 14"/16" (M1 Pro / M1 Max).


Availability: In stock (More than 5 units)
If the goods are not in stock, the usual delivery time is between
2 and 3 weeks
We are very grateful for your comments and suggestions
Wholesale conditions for authorized resellers on request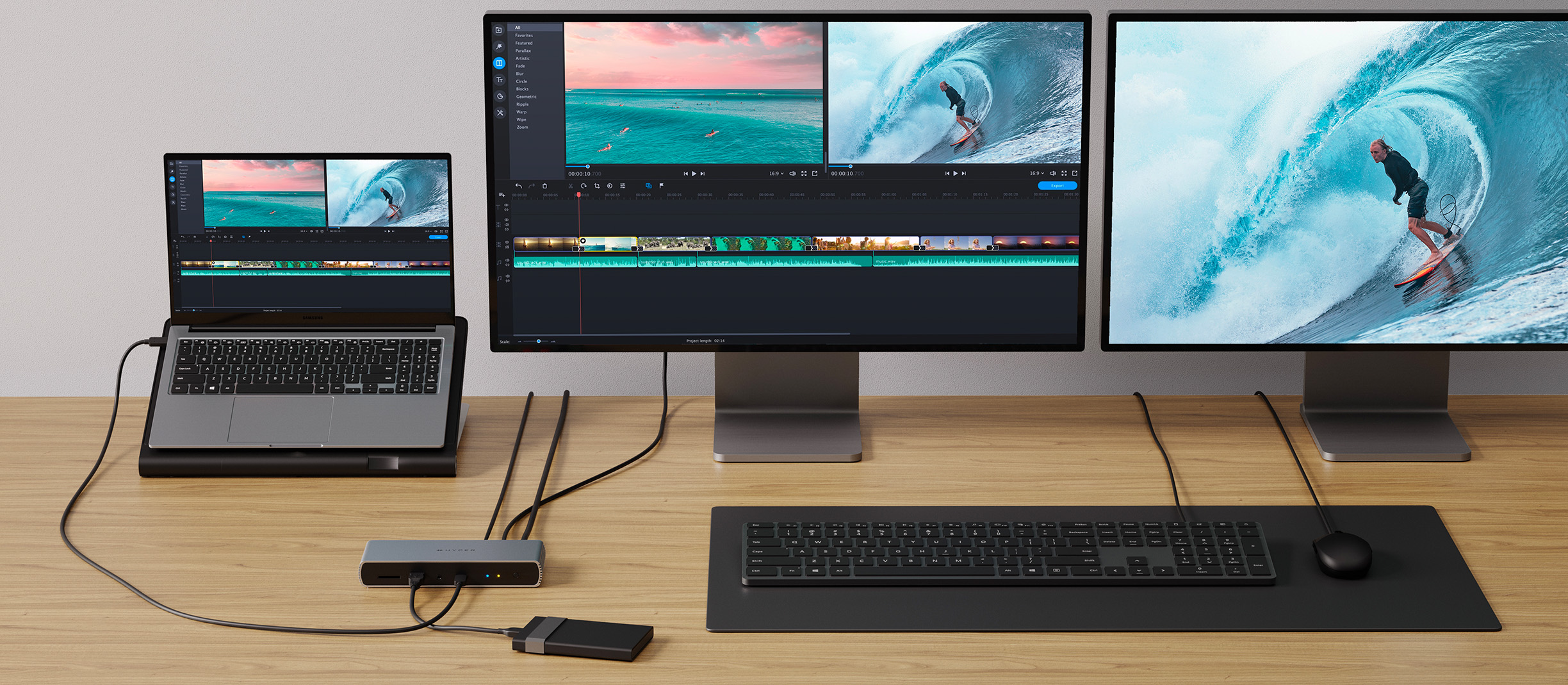 Thunderbolt ports for transferring data and charging your device
The Thunderbolt 4 station has two TB Downstream ports capable of transferring data at speeds of 40 Gb/s and 32 Gb/s PCIe and one TB Upstream port with Power Delivery technology. When connected to an external charger, you can charge your host computer with a power of 96 W. And without having to interrupt your work or play.
Phenomenal image and sound resolution, support for two displays
Enjoy gaming, video editing or any other media work like never before. Thanks to the sound performance of up to 384 Kz and 32 bits, you will be able to capture even the smallest sound nuances. Dual display support with crystal clear 4K resolution and 60 Hz refresh rate will allow you to use your gaming rig to the max. You can use the HDMI or Thunderbolt interface to connect two displays. If you stick with a single display, you'll be able to choose between realistic 8K 30Hz or 4K 120Hz for faster rendering with less blur.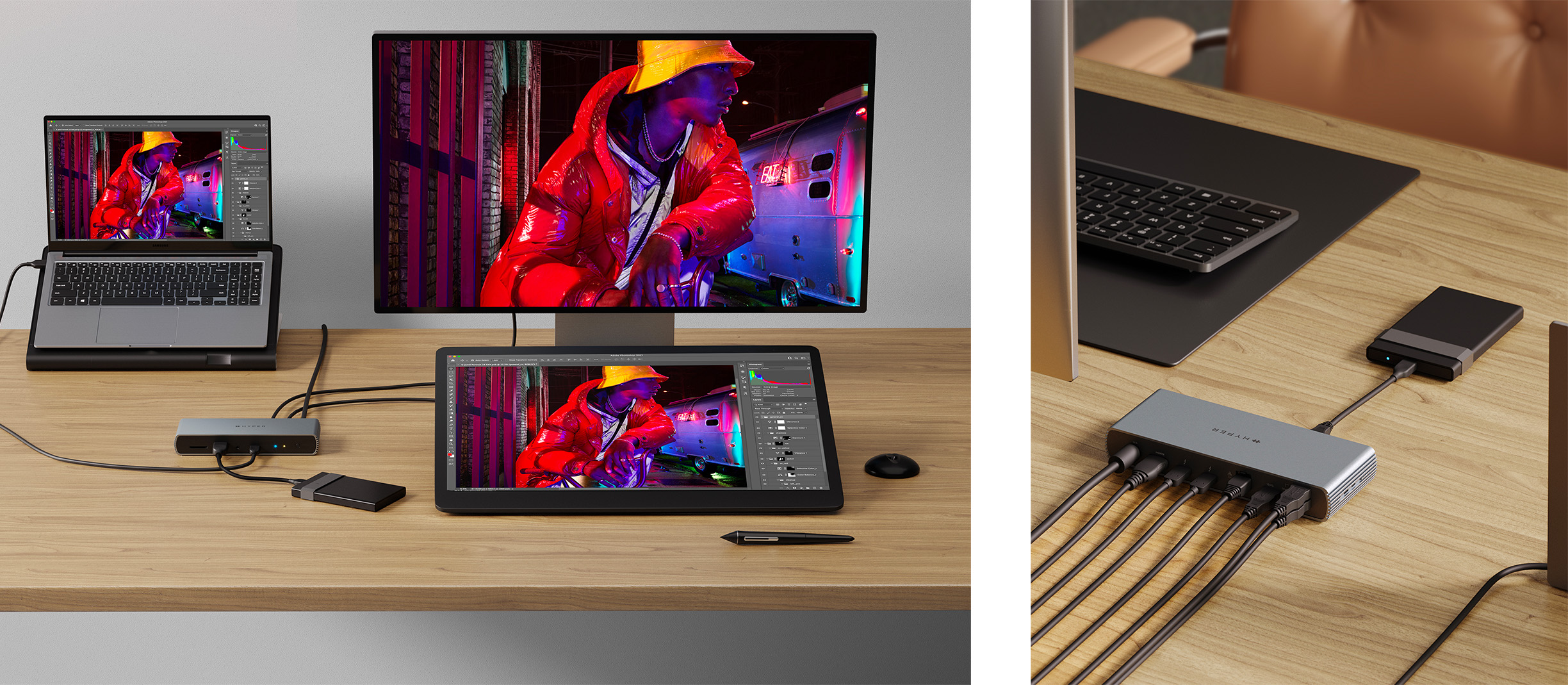 Additional smart ports for fast data transfer and network connection
Versatility, speed, reliability and top technical parameters - the new docking station perfectly meets these user requirements. Its four USB-A ports will win you over with an incredible transfer speed of up to 10 Gb/s. This means that you can transfer photos, files or movies in high HD resolution in less than 30 seconds. And speaking of speed, Hyper didn't forget a Gigabit Ethernet port for high-speed and reliable 2.5 Gb/s connection to local networks.
Top quality materials and construction
Hyper always makes sure that its products are as functional as possible, but also stylish. That's why this piece is made of first-class materials, which significantly contribute to extending its lifespan. The durable aluminium cover will guarantee even better heat dissipation and its elegant design will undoubtedly go well with your device. All ports of the docking station are easily accessible for your maximum comfort. A big advantage are also the compact dimensions, which allow you to have the station on your work surface without it hindering you in any way or take it anywhere with you without a hitch.
Compatibility
MacBook Pro 2016 or newer
MacBook Air 2018 or newer
iPad Pro 2021 or newer
Notebook Chrome OS with Thunderbolt 3/4, USB 3.0 or later type C with DP Alt-Mode
Notebook with Windows OS, Thunderbolt 3/4, USB 3.0 or later type C with DP Alt-Mode
Ports
1x Thunderbolt 4 Upstream - 40Gb/s
2x Thunderbolt 4 Downstream - 40Gb/s
1x HDMI - 8K 30Hz
1x Ethernet - 2,5 Gb/s
4x USB-A - 10Gb/s
1x SD UHS-II - 300MB/s
1x 3,5mm combined audio connector
Feature overview
Docking station with Thunderbolt interface and additional 10 ports
Fast data transfer 40 Gb/s and 32 Gb/s PCIe (Thunderbolt 4)
Thunderbolt Power Delivery - 96W pass-through power
8K 30 Hz or 4K 120 Hz resolution
Support for two 4K 60 Hz displays
High resolution audio support up to 384 Kz and 32 bits
High data transfer rate of 10 Gb/s (USB-A)
Fast 2.5 Gb/s connection to local Ethernet networks
Dimensions: 19,95 x 7,48 x 3,11 cm
Weight: 0,41 kg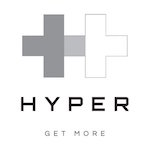 Based in Silicon Valley, Hyper maintains its enthusiasm and sense of innovation in computer and mobile gadgets, power transmission and data storage even after more than 10 years of existence. The brand is responsible for several successful and award-winning products. It is also known for, many of the world's best: for example, the first wireless USB port or the thinnest HDMI cable. Hyper is an irreplaceable helper for working with MacBooks, iPads and devices with USB-C connectors. High transfer speed and precise processing are essential in our selection.
More Information

| | |
| --- | --- |
| Product code | HY-HDTB4D-EU |
| Barcode | 6941921148638 |
| Color | Space Gray |
| Manufacturer | Hyper |
| Manufacturer's website | www.hypershop.com |
We found other products you might like!