HyperDrive 6-in-1 USB-C Hub for iMac
Perfect the technological background of your office and make your work easier. The multifunctional 6-in-1 hub for the iMac 24" from Hyperdrive opens up new possibilities.

The 6-in-1 hub represents a new generation of multifunctional accessories that expand the technical possibilities of the iMac 24". Do you need to connect an external monitor in 4K quality to your iMac, import photos from an SD card or charge your AirPods? No problem, 10 Gbps data ports guarantee twice the speed of the previous generation.

The design of the Hyperdrive 6-in-1 hub is specially designed for the iMac 24" so that the material and shape match your device. The colour variants of the front case correspond to the shades of the iMac, and the discreet installation with the rear connection does not disturb the appearance of the perfect Apple design.
Installation of twist and clamp is simple, and you do not need any other tools.

Take your technological possibilities one step further.

• HIGH VARIABILITY
• PRACTICAL INSTALLATION
• SOPHISTICATED DESIGN
• EASY CONNECTION

Availability: In stock (More than 5 units)
If the goods are not in stock, the usual delivery time is between
2 and 3 weeks
We are very grateful for your comments and suggestions
Wholesale conditions for authorized resellers on request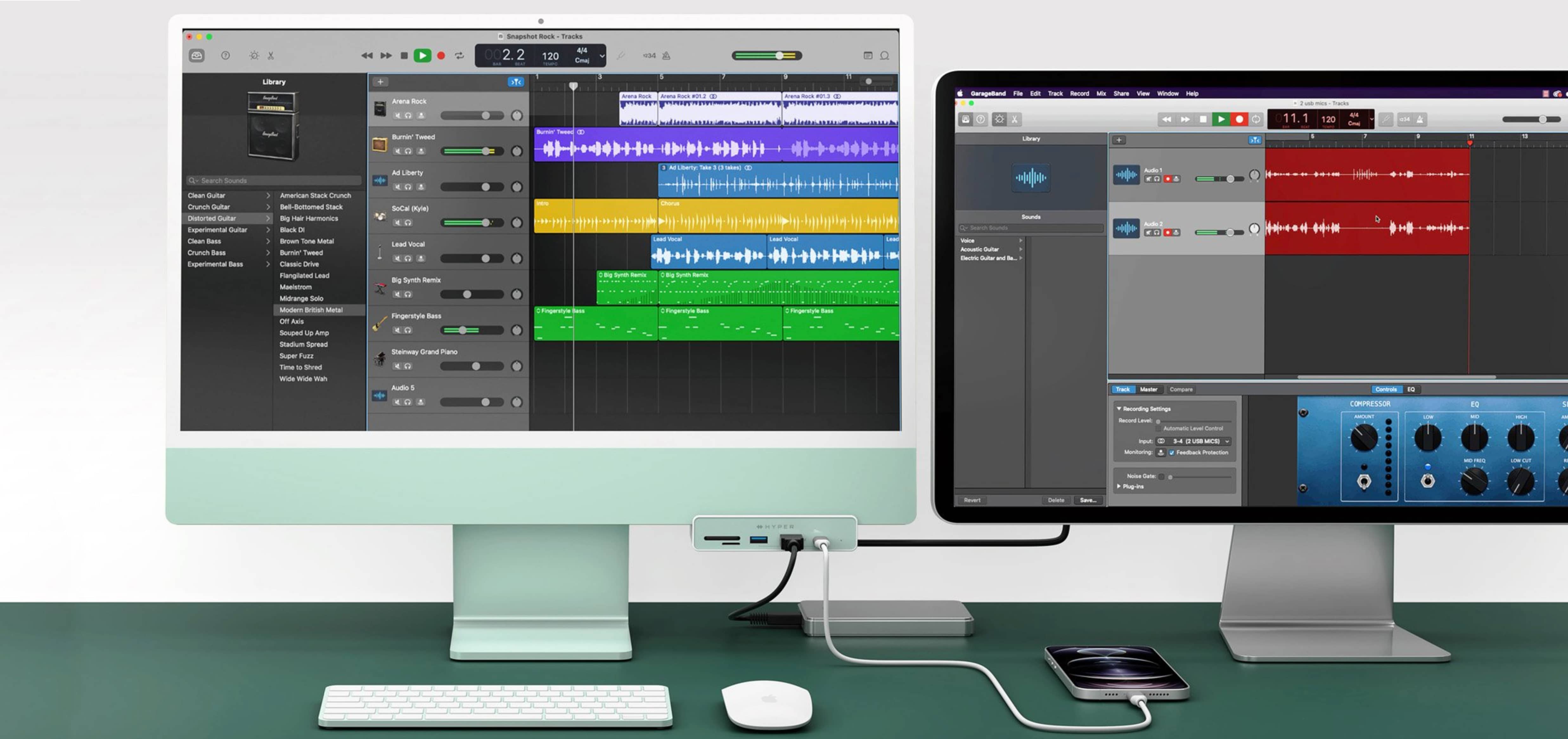 Everything is connected
The 6-in-1 hub from Hyperdrive will make your life easier. With the hub, you can now connect all the devices you need for your work or relaxation. Thanks to compatibility with an external 4K monitor, you can enjoy a crystalline image in all resolutions with 4K 60 Hz HDMI. The HDMI port is hidden in the back of the hub so that the cable does not disturb the visual clarity of the device. 3 USB ports at 10 Gbps guarantee twice the data transfer than the previous generation USB 3.0. What is more, the hub includes an input for MicroSD and SD cards, from which you can instantly transfer and archive photos and videos. We shall not forget the 7.5W USB-A port for charging a smartphone, tablet or AirPods.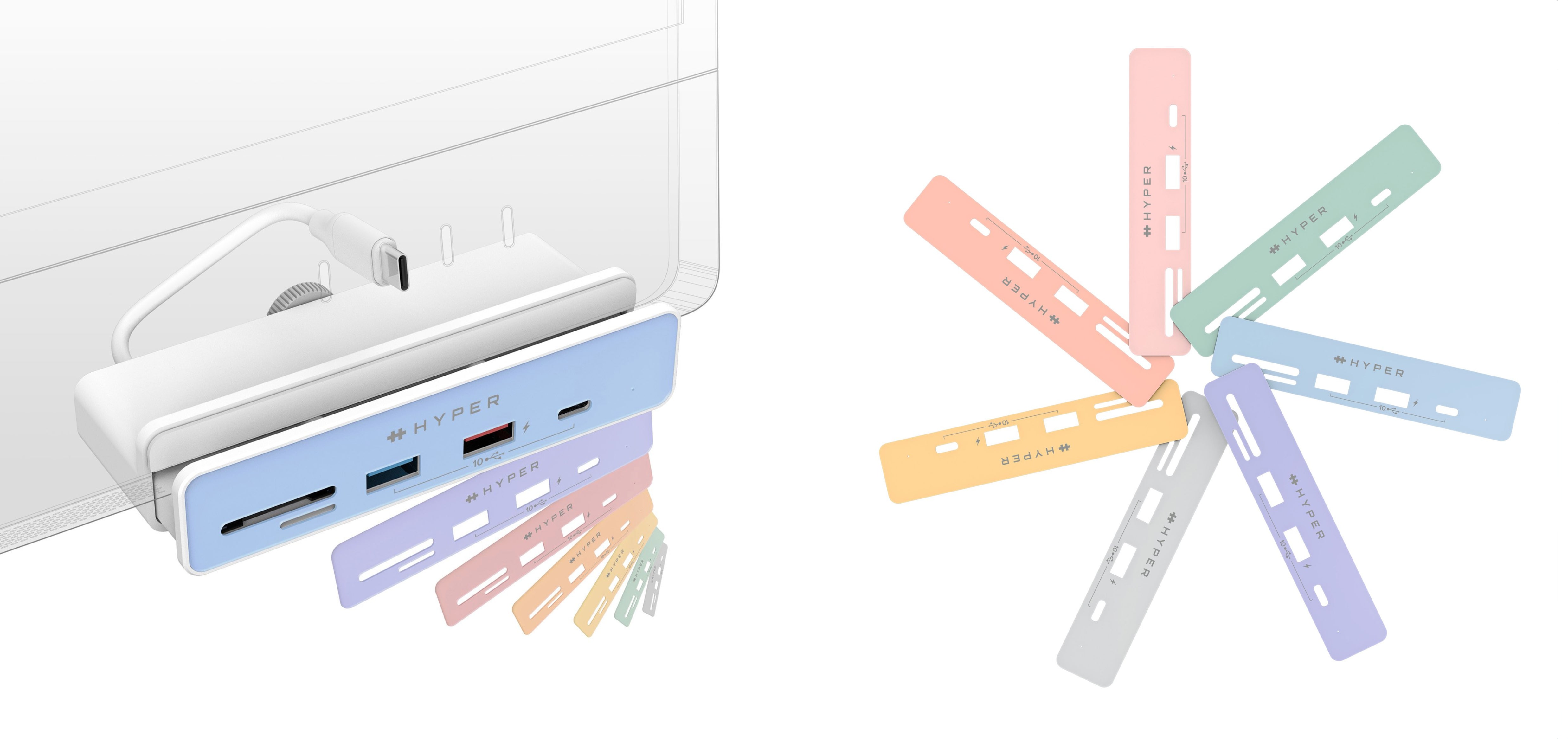 Colour play
Do you rely on the cleanliness and specific design of your iMac? Hyperdrive has a complete understanding and therefore manufactures its products in colours that are compatible with your device. The 6-in-1 hub has interchangeable covers in all possible iMac colours. At the same time, the shape of the hub is perfectly thought through, and fits exactly on the bottom edge of the iMac. Thanks to the internal lining, the hub does not scratch the surface during installation.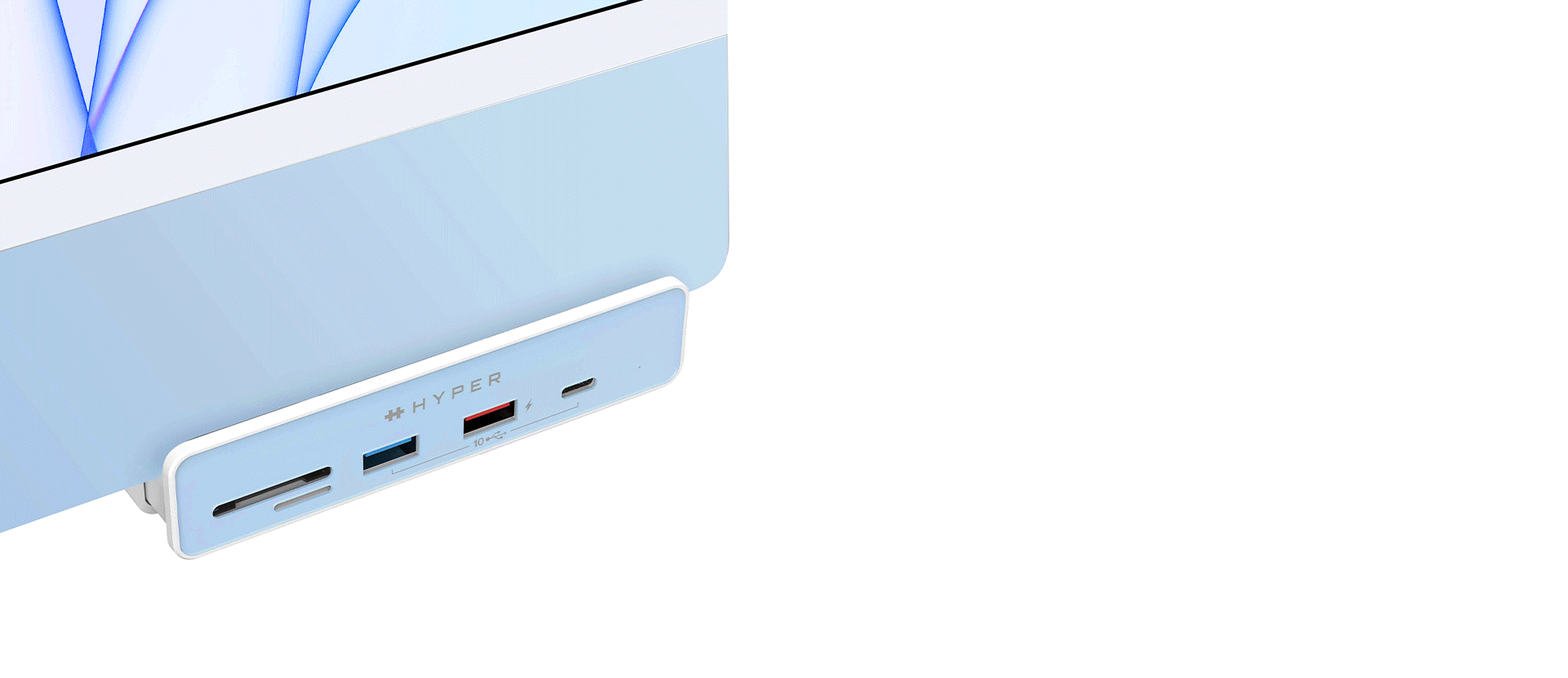 Simplicity and security
Installing and connecting to your iMac is easy and requires no additional tools. The twist and clamp fastening system is secure, holds well and at the same time is gentle on the surface of the iMac. After connecting with a cable, the two devices will start communicating with each other automatically, and it is up to you to figure out how to put all the new ports into use.
Ports
USB-C 10Gbps
2 x USB-A 10Gbps
SD UHS-I
MicroSD UHS-I
Feature overview
Minimalist design
High usability
Possibility of expansion with an external 4X monitor
MicroSD and SD card input
Easy installation
Firm mounting
Design matches Apple products
Wide range of colours
Technical specifications
Size: 120.1 x 39.95 x 26.20 mm
Weight: 82.8 g
Compatible with: iMac 2021 24 "
Not compatible with other iMac models
Brand: Hyperdrive
Ports: HDMI 4K60Hz, USB-C 10Gbps, 2 x USB-A 10Gbps, SD UHS-I, MicroSD UHS-I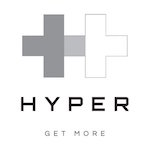 Silicon Valley-based Hyper retains its passion and sense of innovation in computer and mobile accessories, power transmission and data storage for more than 10 years. The brand stands for successful and award-winning products. It is also known for some of the world's best: for example, the first wireless USB port or the thinnest HDMI cable. Hyper is an irreplaceable helper for working with MacBooks, iPads and devices with USB-C connectors. High transfer speed and precise processing are essential for our selection.
More Information

| | |
| --- | --- |
| Product code | HY-HD34A8 |
| Barcode | 6941921148003 |
| Color | Multicolored |
| Manufacturer | Hyper |
| Manufacturer's website | www.hypershop.com |
| Canonical URL | hyperdrive-drive-6v1-usb-c-hub-imac |
We found other products you might like!