Hyper® HyperDrive™ DUO 7-in-2 USB-C Hub for MacBook Pro / Air, Silver
Product code
HY-HD28C-SILVER
A stylish solution to The MacBook Pro / Air limited connectivity comes in the form of HyperDrive DUO 7 in 2 hub. The hub design fully corresponds to the look of the MacBooks, and the extension cable extends compatibility to your other USB-C devices.

You will no longer have to deal with the lack of ports on your Apple devices, and thanks to a single hub, you will unexpectedly expand the possibilities of using your MacBook. The DUO hub converts USB-C ports to the other 7 most used ports - 2 x USB-A, HDMI, 2x USB-C PD and Micro SD / SD.

The HyperDrive DUO hub eliminates the shortcomings of MacBooks:

• USB-C ports turn into 7 ports
• Compact metal design corresponds to Apple colours
• Adds High-Res 4K@60Hz HDMI video output
• Supports 100W USB-C Power Delivery
• Also includes 2 USB-A ports (5 Gb/s) a MicroSD / SD slots for quick data transfer

Availability: On the way from the manufacturer
If the goods are not in stock, the usual delivery time is between
2 and 3 weeks
We are very grateful for your comments and suggestions
Wholesale conditions for authorized resellers on request
Customize your MacBook according to your needs
The DUO hub turns only 2 USB-C ports into the
7 most commonly used inputs
. The MacBook Pro or Air will suddenly have a 4K @ 60Hz HDMI HDR video port, 2 USB-C PD ports, 2 USB-A ports and Micro SD and SD memory card slots. Thanks to the extension cable, the hub can also be used for all other USB-C devices.
Enjoy HDMI transmission in 4K resolution
Thanks to the DUO hub, you can enjoy
crystal clear 4K60Hz HDMI video
on compatible 4K monitors. The only condition for this experience is a direct HDMI connection to HDMI.
Charge and work at the same time
The hub supports USB-C Power Delivery, so
even when transferring data, the connected USB-C device is also charged
via a single port.
In the slim hub you will find additional ports and 2 slots
Elegant design lines correspond to the look and height of MacBooks. The precisely milled
aluminium case hides 2 more USB-A 3.0 ports
, which you can use to connect most electronic devices. You can choose between
SD or Micro SD slot
for easy data transfer from the memory card.
The hub design saves hardware
The magnetic grip serves as a safety device for
secure attachment
of the hub to the MacBook. You can easily connect it with just a click. If you are using a protective case on your MacBook, removing the grip will allow you to
use the hub without having to remove the case
.
Another pleasant part is
a vegan leather pouch
, in which you can place all small accessories along with the hub.
Feature overview
7 in 2 USB-C hub
High-Res video HDMI output with 4K resolution @60 Hz
Dual USB-C output enables data transfer and charging at the same time
Two USB-A ports (5 Gb/s) a MicroSD / SD slots for fast data transfer
The design corresponds to MacBook Pro / Air
Precisely milled aluminium finish
Available in Space Gray and Silver colour options
Magnetic grip for secure attachment to the MacBook
Detachable grip enables the hub to be connected even through a protective case
USB-C cable also enables connecting the hub to other USB-C devices
Dimensions: 114 x 32 x 8,6 mm
Weight: 102 g
Ports
New HDMI 4K@60Hz HDR
USB-C 40 Gb/s 100 W Power Delivery
USB-C 5 Gb/s 60 W Power Delivery
MicroSD 3.0 UHS-I 104 MB/s
SD 3.0 UHS-I 104 MB/s
2x USB-A 5 Gb/s
Compatibility
2019 MacBook Pro 16"
2016 – 2019 MacBook Pro 15"
2016 – 2020 MacBook Pro 13"
2018 – 2020 MacBook Air
2018 / 2020 iPad Pro
Extended universal compatibility thanks to the external USB-C cable
Package contents
USB-C hub
Magnetic detachable grip
USB-C extension cable
Vegan leather pouch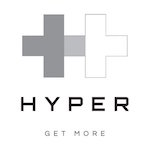 Hyper is a brand of Sanho Corporation, based in Silicon Valley, which celebrated its 10th anniversary in 2015. Hyper is not just a newcomer or a short-term miracle brand, but they keep the enthusiasm and sense of innovation in the field of computer and mobile accessories, portable power and data storage.
Over the course of its existence, Hyper has come up with many successful and award-winning products, such as HyperJuice, external battery for MacBook, HyperDrive, external storage, iStick, the first USB flash drive with Lightning connector and MFI certification, iUSBport, the first wireless USB port in the world, and HyperThin, the thinnest HDMI cable in the world.
More Information

| | |
| --- | --- |
| Product code | HY-HD28C-SILVER |
| Barcode | 6941921145897 |
| Color | Silver |
| Manufacturer | Hyper |
| Manufacturer's website | www.hypershop.com |
| Canonical URL | hyperdrive-duo-7-v-2-usb-c-hub |