HyperDrive GEN2 16-in-1 Thunderbolt 3 Hub
Hyper comes with a revolutionary novelty in the form of the 2nd generation of powerful hubs - HyperDrive GEN2 with 2x more speed and 2x more power.

16in1 Thunderbolt 3 version will exceed your expectations:

• Supports 8K@30Hz (TB3) + 4K@30Hz (DP) video
• Supports 4K@60Hz (TB3) + 4K@60Hz (DP) video
• Possible daisy-chain connection of up to 6 TB3 devices
• Also works as GEN2 USB-C Hub for devices without TB3

HyperDrive GEN2 lets you connect and sync almost anything - from mobile phones and tablets, to laptops and computers, to high-end audio and video.

On the front side of the hub you will find the most commonly used interfaces: SD and MicroSD card slots, Audio Jack, USB-A 3.0, 2x USB-A and 1x USB-C 10 Gbps.

The rear side is equipped with interfaces that are usually permanently occupied: Coaxial, Toslink, Gigabit Ethernet, 2x USB-A, DC connector, 2x TB3 40 Gbps, DisplayPort 1.4 and USB-A 3.0.

Availability: In stock (1 - 5 qty)
If the goods are not in stock, the usual delivery time is between
2 and 3 weeks
We are very grateful for your comments and suggestions
Wholesale conditions for authorized resellers on request
Charge a 16" MacBook and synchronize USB-C devices
With a suitable adapter, GEN2 is ready to
charge even energy-intensive devices
thanks to the maximum power of 85 W Power Delivery. Thunderbolt is not just about better performance. It also allows the c
onnection of USB-C devices without TB3 support.
Therefore, you can charge or synchronize any other USB-C device.
Enjoy sports broadcasts or 4K videos
When watching action movies, sports or playing games, you will be captivated by the
crystal clear image.
The GEN2 video output with a refresh rate of 60 Hz with 4K resolution or 30 Hz with 8K resolution allows you to watch sports broadcasts or favourite movies in
perfect quality.
Thunderbolt, together with GEN2, can do even more. You can also connect two screens at once (TB3 + DP), or up to 6 Thunderbolt 3 devices in a row using a daisy-chain connection.
16 ports in a single hub
Ports on the front side:
MicroSD UHS-II 300 MB/s
SD UHS-II 300 MB/s
USB-A QC 3.0 18 W
3.5 mm Audio Jack
2x USB-A 10 Gb/s
USB-C 10 Gb/s
Ports on the rear side:
Digital audio coaxial port
Toslink optical audio port
Gigabit Ethernet
2x USB-A 5 Gb/s
DC 180W connector
Thunderbolt 3 40 Gb/s DP 1.4
Thunderbolt 3 40 Gb/s PD 85 W
DisplayPort 1.4
USB-A QC 3.0
Introducing the new generation of HyperDrive hubs GEN2 in a video
The design enhances the functionality of the hub
HyperDrive GEN2 is designed in a minimalist all-metal look that has
won the Red Dot design award.
The ridges on the upper 2/3
effectively dissipate heat.
The hubs are designed both for use in a vertical position (better heat dissipation) and horizontally.
Temporarily used interfaces can be found on the front of the hub, from where they are easily accessible. Permanent connections are usually located at the back for easier cable management.
Amazing speed while reading and rewriting SD cards on GEN2 hubs
RAW formats and continuous shooting? No problem
MicroSD and SD GEN2 memory card slots can develop a UHS-II ~ 300 Mbps transfer rate, so it also meets the requirements of professional photographers and cameramen for
high-end audio and video editing.
Ports with unsurpassed performance
Thunderbolt 3 Hub new generation GEN2
2x faster video refresh rate (4K@60Hz vs. 4K@30Hz)
2x faster USB (10 Gbps vs. 5Gbps)
3x faster MicroSD/SD (300 MB/s vs. 104 MB/s)
2x more powerful USB-C Power Delivery
Dimensions and weight
Hub: 132,1 x 88,9 x 43,9 mm
Cable: 254 mm
Weight: 589,7 g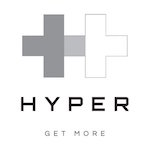 Celebrating our 10th year anniversary in 2015, HYPER by Sanho Corporation is a young, energetic team based in Silicon Valley. We specialize in delivering cutting edge IT & mobile accessories with a focus on Apple, portable power & data storage. Our award winning products include: HyperJuice (MacBook battery pack), HyperDrive (Data storage), iStick (World's 1st USB flash drive with Apple MFi Lightning connector), iUSBport (World's 1st wireless USB port) & HyperThin (World's thinnest HDMI cable).
More Information

| | |
| --- | --- |
| Product code | HY-HD-G2TB3 |
| Barcode | 6941921145996 |
| Color | Silver |
| Manufacturer | Hyper |
| Manufacturer's website | www.hypershop.com |
We found other products you might like!