HyperDrive GEN2 18-in-1 USB-C Hub
Since the launch of the first USB-C hubs 5 years ago, changes have been made only in the design area – unfortunately, the functions have remained unsurpassed...

Until now, when Hyper came up with a revolutionary novelty in the form of the 2nd generation of USB-C hubs – HyperDrive GEN2 with 2x more speed and 2x more power.

With HyperDrive GEN2 hubs you get:
• 4K@60Hz HDMI HDR (vs. 4K@30Hz HDMI on 1st generation of USB-C hubs)
• 300 MB/s UHS-II MicroSD/SD (vs. 104 MB/s UHS-I MicroSD/SD)
• 10 Gb/s USB-A Gen 2 (vs. 5 Gb/s USB-A Gen 1)
• 100 W USB-C Power Delivery (vs. 60 W USB-C PD)

In other words, you can enjoy 2x faster image recovery, 2x faster USB transfer, 3x faster memory card transfer and 2x Power Delivery performance.

HyperDrive GEN2 meets every need – from connecting mobile phones and tablets, through laptops and computers, to high-end audio and video editing. In addition, thanks to the long integrated cable, you will get rid of annoying knotted cables everywhere.

Availability: On the way from the manufacturer
If the goods are not in stock, the usual delivery time is between
2 and 3 weeks
We are very grateful for your comments and suggestions
Wholesale conditions for authorized resellers on request
Feel free to charge even a 16" MacBook
With a suitable adapter, the GEN2 is ready to charge even the most energy-intensive devices. From a maximum power of 100 W, Power Delivery takes 15 W and
provides a laptop with the power of 85 W
.
Let yourself be drawn into the action with a clear video
When watching action movies, sports or playing games, you will be captivated by the crystal clear
video output of the GEN2 with a refresh rate of 60 Hz at 4K resolution
.
18 ports in a single hub
SD UHS-II
MicroSD UHS-II
3,5 mm Audio Jack
USB-A 10 Gbps
HDMI 4K@60Hz HDR
100W USB-C Power Delivery
USB-A 10 Gbps
USB-A 2.0
USB-A 2.0
Gigabit Ethernet
HDMI 4K@60Hz HDR
DisplayPort 4K@60Hz
USB-A QC 3.0 18 W
USB-A 10 Gbps
DC Power Port
Digital Coaxial Audio
Optical Toslink Audio
VGA
Introducing the new generation of HyperDrive hubs GEN2 in the video
The design supports the functionality of the hubs
HyperDrive GEN2 is designed in a minimalist all-metal look that
has won the Red Dot award
. The ridges on the upper two thirds of the hub
help to dissipate heat
. The hubs are designed both for use in a vertical position (better heat dissipation) and horizontally.
The most commonly used ports are located on the front of the hub, while the usually permanent connections are located on the back for better cable management.
SD card read and rewrite test.
RAW formats and continuous scanning will no longer be a problem
MicroSD and SD GEN2 memory card slots can develop a UHS-II ~ 300 Mbps transfer rate, so it also meets the requirements of professional photographers and cameramen
for high-end audio and video editing
.
Ports with unsurpassed performance
USB-C Hub of the new generation Gen2
2x faster video refresh rate (4K @ 60Hz vs. 4K @ 30Hz)
2x faster USB speed (10 Gbps vs. 5Gbps)
3x faster MicroSD / SD (300 MB / s vs. 104 MB / s)
2x more powerful USB-C Power Delivery (100 W vs. 60 W)
Additional video, USB and Ethernet ports
Additional digital / optical audio ports
USB port speed test
Useful tips
Charging a connected USB-C device
After using the USB-C port on the iPad, connect it to at least a 30W charger (the hub draws 15W).
When an external power supply is connected, the hub supplies power to the USB-C device.
The hub draws 15W of power and the rest goes to the connected device, so for example, a 100W adapter is enough to charge a 16" MacBook Pro.
Powering hubs and cables
All 3 GEN2 hub models can be powered from the USB-C port of connected devices and they do not require an external power supply.
Hubs can also be powered from an external USB-C PD source.
An optional DC power supply can also be used with the GEN2 18port.
Specifications for a suitable adapter for 18 ports: 120 W DC, 20.5 V 5.85 A, 180 W DC, 21V 8.57 A.
The hub consumes 15 W of energy.
Built-in USB-C cables can handle 10 Gb / s data transfer and 100W power supply, so you can always take full advantage of all the parameters of the GEN2 hubs.
Video / display
Display protocol: DisplayPort 1.4 HBR3.
Mac OS supports Single Stream Transport (SST) – i.e. only 1 external display via 1 USB-C connection (2nd display mirrors the 1st display).
Windows OS supports Multi-Stream Transport (MST) – i.e. support for up to 3 external displays via 1 USB-C connection.
Maximum resolution of connected displays for Windows OS: 1 display - 4K60Hz; 2 displays - max. 2x 4K30Hz; 3 displays - 2x HDMI + DP, or 2x HDMI + VGA, max. 2x 4K30Hz + 720p, or 2x 1080p + 4K30Hz.
The maximum resolution for mirrored displays (Windows OS) is 4K60Hz for each of them.
Ports
Why only USB-A 2.0? USB-A 2.0 ports are intended for devices that do not require USB-A 3.1 speed. A 10 Gbps USB-A 3.1 Gen 2 port is also available for each USB-A 2.0 port.
USB-A QC 3.0 18 W only supports charging (not data transfer).
Compatibility
Apple – MacBook Pro with USB-C or iPad Pro with USB-C.
GEN2 hubs do not support Apple Super Drive (it has more requirements than any USB can provide).
Windows – with USB 3.2 Gen 2 (formerly 3.1 Gen 2) or higher support. With USB 3.2 Gen 1 (formerly 3.1 Gen 1) it will work but will not reach 10Gbps. 4K60hz resolution requires DisplayPort 1.4.
Introducing HyperDrive GEN2 from 9to5Mac in practise
Dimensions and weight
Hub: 132 x 88,9 x 43,9 mm
Cable: 273 mm
Weight: 589,7 g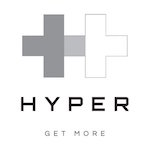 Hyper is a brand of Sanho Corporation, based in Silicon Valley, which celebrated its 10th anniversary in 2015. Hyper is not just a newcomer or a short-term miracle brand, but they keep the enthusiasm and sense of innovation in the field of computer and mobile accessories, portable power and data storage.
Over the course of its existence, Hyper has come up with many successful and award-winning products, such as HyperJuice, external battery for MacBook, HyperDrive, external storage, iStick, the first USB flash drive with Lightning connector and MFI certification, iUSBport, the first wireless USB port in the world, and HyperThin, the thinnest HDMI cable in the world.
More Information

| | |
| --- | --- |
| Product code | HY-HD-G218 |
| Barcode | 6941921145989 |
| Color | Silver |
| Manufacturer | Hyper |
| Manufacturer's website | www.hypershop.com |
We found other products you might like!