HyperJuice 65W GaN charger, white
Product code
HY-HJ-GAN65-white
The most efficient charging of the new iPhones 12 and other electronics comes in the form of a USB GaN charging adapter with 2 65W USB-C and 1 18W USB A connector.

Getting energy will be easier and faster for you thanks to the GaN technology. This complete novelty enables up to 5 times faster charging than large silicon-based adapters can handle.

The HyperJuice GaN adapter distributes its performance with an efficiency that exceeds the capabilities of other adapters. It even allows quick charge for all 3 connected devices at the same time.

• One of the smallest 65W charging adapters in the world
• Revolutionary GaN technology
• Quick charging of 3 devices from 1 socket
• EU, UK, AU socket connectors
• 2x USB-C PD 65W
• 1x USB A QC 18W

Availability: In stock (More than 5 qty)
If the goods are not in stock, the usual delivery time is between
2 and 3 weeks
We are very grateful for your comments and suggestions
Wholesale conditions for authorized resellers on request
Charge your new iPhone 12 in a second
While charging your iPhone, you may have time to have a cup of coffee ... The main advantage of adapters with GaN charging technology is the
unprecedented speed and efficiency
with which they charge the connected device, or all 4 connected devices at once.
The charger can quickly charge 3 devices simultaneously
From now on, a single design adapter that fits in a small pocket will be enough to
quickly charge the most commonly used devices.
You can also connect cameras, Qi chargers, power banks, game consoles, headphones and other electronics to
2 USB-C PD 3.0 and 1 USB A QC 3.0 ports.
You do not need socket adapters for traveling anymore
Thanks to ICN GaNFast technology, the HyperJuice adapter is
much smaller and lighter
than other comparable adapters, so you can take it everywhere with you. For longer trips it is equipped with
3 adapters for EU, UK and AU sockets.
The HyperJuice adapter supports a universal voltage of 100 - 240 V.
Feature overview
Small compact 65W charging adapter
Available in black and white colours
Latest charging technology - GaN (gallium nitride)
Up to 50% smaller than comparable adapters
Quick charge for 3 devices simultaneously
Interchangeable socket adapters - EU, UK, AU
High switching frequency = up to 5x faster charging
2x USB-C PD 3.0 port
1x USB A QC 3.0 port
Ideal for the latest devices (iPhone 11, iPhone 12)
Technical specifications
Dimensions: 53 x 53 x 30,7 mm
Maximum output: 65 W
USB-C 1: max. 65 W Power Delivery 3.0
USB-C 2: max. 65 W Power Delivery 3.0
USB A: max 18 W Quick Charge 3.0
Overcurrent protection, protection against overvoltage, overheating and short circuit
How does modern charging work in practice?
Incomparably smaller number of components and precise voltage regulation bring the possibility of extra efficient charging. Therefore, the power of
65 W is enough to quickly charge a tablet, smartphone and other devices at once
from a single socket. Another advantage of the new technology is 5 times greater energy savings that the adapter consumes for its operation and lower price.
More about ICN GaNFast technology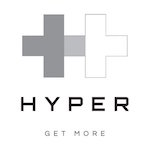 Celebrating our 10th year anniversary in 2015, HYPER by Sanho Corporation is a young, energetic team based in Silicon Valley. We specialize in delivering cutting edge IT & mobile accessories with a focus on Apple, portable power & data storage. Our award winning products include: HyperJuice (MacBook battery pack), HyperDrive (Data storage), iStick (World's 1st USB flash drive with Apple MFi Lightning connector), iUSBport (World's 1st wireless USB port) & HyperThin (World's thinnest HDMI cable).
More Information

| | |
| --- | --- |
| Product code | HY-HJ-GAN65-white |
| Barcode | 6941921146337 |
| Color | White |
| Manufacturer | Hyper |
| Manufacturer's website | www.hypershop.com |
We found other products you might like!