HyperJuice – magnetic powerbank pro iPhone 12, 5000 mAh
Product code
HY-HJ-WL61TC
HYPERJUICE Magnetic Wireless Battery Pack – Wireless magnetic charger for iPhone 12

Have you bought one of the iPhone 12s and are you looking for an attractive enough accessory for it? The luxurious HYPERJUICE wireless charger will definitely meet all your requirements. Recharge anytime, anywhere without having to look for an outlet or limit your current phone usage.

The compact, ergonomic design fits perfectly with the refined minimalist design of the iPhone 12. A strong magnet attaches the charger firmly to the phone, so you do not have to worry about losing it while charging. Thanks to the 12W USB-C In / Out port, you can charge two devices at once or charge your phone and battery at the same time.

The HYPERJUICE battery is very light, fits in your hand and regulates the temperature perfectly. At the same time, it protects the device from overcharging the battery and thus does not limit its life.

• Charge two devices simultaneously
• Available anytime and anywhere

If the goods are not in stock, the usual delivery time is between
2 and 3 weeks
We are very grateful for your comments and suggestions
Wholesale conditions for authorized resellers on request
A magnet that holds still
The HYPERJUICE charger dazzles mainly with its original wireless processing. A strong magnet attaches the charger to your smartphone and thanks to its compactness and ideal size, you can handle it without any problems during charging. High-quality and very light workmanship during use guarantees the highest comfort and at the same time you do not have to worry about damage. The ingenious ergonomic shape does not obscure the camera, so you can charge your phone without having to restrict its current use.
Charge two devices at once
When the battery is low, you can easily and quickly charge it via the USB-C charging cable. It uses a 12W ESB-C In / Out input, which allows you to charge two devices at once or charge your phone and battery at the same time. If someone close to you forgets the charger, both of you can connect to yours.
Sophisticated design and balanced values
Such an elegant phone also deserves design accessories. The HYPERJUICE magnetic charger with a design grip for the iPhone 12 communicates perfectly and copies its curves. Quality material does not scratch easily and will keep the back cover of your smartphone safe. In addition to the surface of the device, it also protects its battery: The charger has top temperature control, so neither it nor the device being charged overheats. In addition, it does not overcharge the battery of your smartphone and thus maintains its maximum life.
Feature overview
Wireless charging
Ergonomics, minimalist design
Quality material
Magnetic mount on the back of the phone
Does not cover the camera
Use anytime, anywhere
Simultaneous charging of two devices or recharging the battery and phone
Technical specifications
Model: HJ-WL61TC
Input: USB-C In / Out 12W
Battery capacity: 5000mAh
Charging: 7.5W wireless for iPhone 12
Warranty: 1 year
Dimensions: 97 x 63 x 16 mm
Weight: 150 g
Supports MagSafe technology
The charging cable is not included
Compatibility
iPhone 12 mini
iPhone 12
iPhone 12 Pro
iPhone 12 Pro Max
USB-C ports for other devices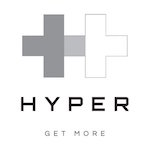 Silicon Valley-based Hyper has retained its passion and sense of innovation in computer and mobile accessories, power transmission and data storage for more than 10 years. The brand is proud to present successful and award-winning products. Hyper is known for several of the world's best: for example, the first wireless USB port or the thinnest HDMI cable. Hyper devices are irreplaceable tools when working with MacBooks, iPads and devices with USB-C ports. The main advantages are, in addition to innovation, high transmission speed and precise design processing.
More Information

| | |
| --- | --- |
| Product code | HY-HJ-WL61TC |
| Barcode | 817110015578 |
| Color | Black |
| Manufacturer | Hyper |
| Manufacturer's website | www.hypershop.com |
We found other products you might like!