Rolling Square inCharge X – charging and data cable 6 in 1, Marble beige
How to always have the right cable at hand, whether you are at home or on the go? Rolling Square knows the answer! InCharge X is the only one you will need. The multifunctional cable, which you can easily turn into a key ring with the help of strong neodymium magnets in the connectors, will never leave you without energy.

In addition to providing fast charging for electronics, you can use your phone or tablet instead of standard charging adapters for other devices if you do not already have another power source. You can also entrust it with an incredibly fast data transfer.

InCharge X contains all the most commonly used connectors and allows you to combine them according to your needs. In total, up to 6 connection variants can be created.

Top materials such as aluminum alloy with the addition of zinc or nylon and TPU reinforcement were used for its production. These, together with the ingenious design and protection of the cable components, guarantee its long life and make it easier to use.

• 6-in-1 multifunctional data and charging cable
• Extra durable and quality materials
• In the form of compact keychain
• Very fast charging up to 60W
• Connectors: USB, USB-C, MicroUSB and Lightning
Availability: On the way from the manufacturer
If the goods are not in stock, the usual delivery time is between
2 and 3 weeks
We are very grateful for your comments and suggestions
Wholesale conditions for authorized resellers on request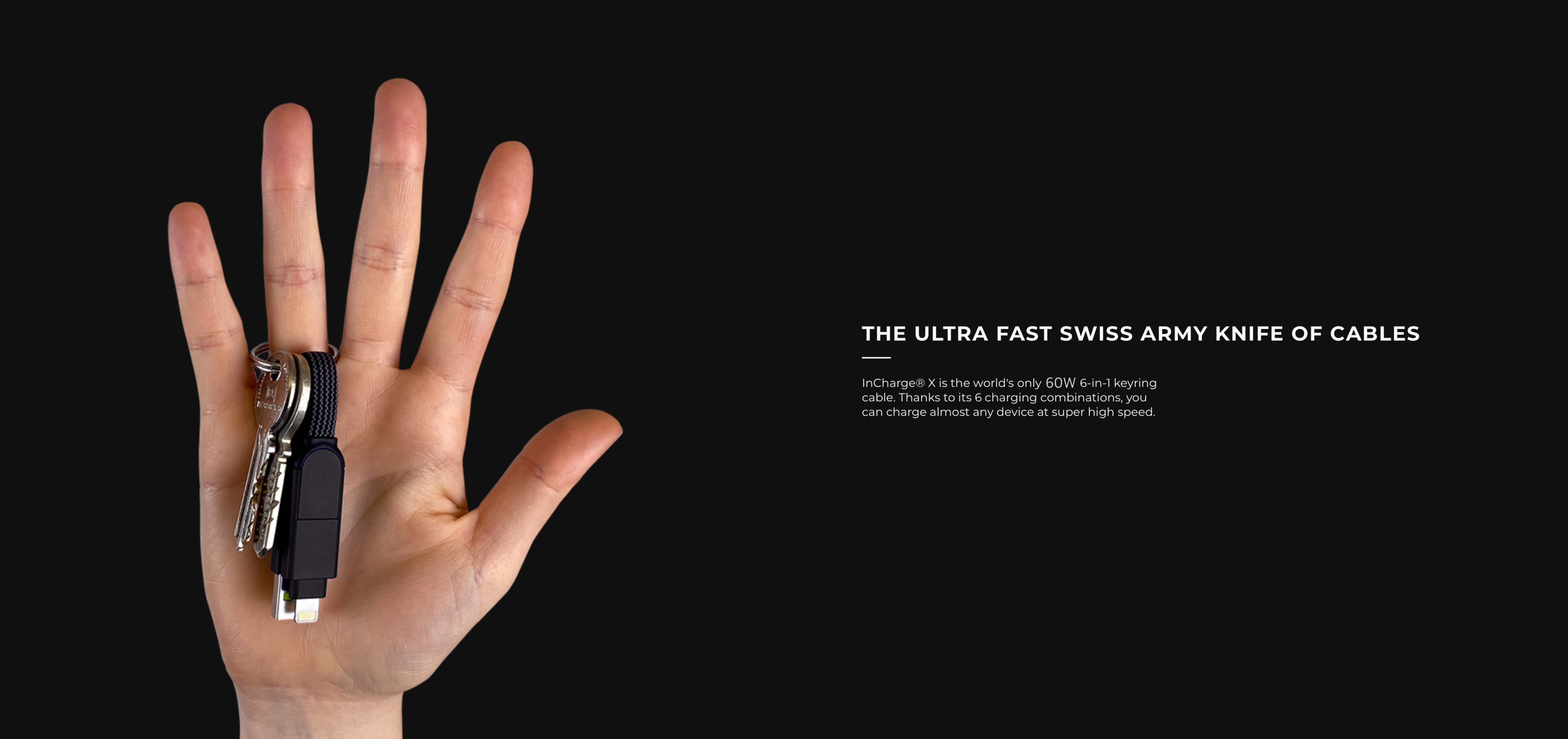 One cable, six connections
Different connector for each device and charging cable that you should carry with you during your daily activities or trips. But it could be so much easier! Rolling Square has prepared a practical solution in the form of a universal cable the size of a keychain. The inCharge X model is as multifunctional as the famous Swiss knife - it contains 4 types of connectors that allow 6 different combinations of connections:
USB – Lightning
USB – USB-C
USB – MicroUSB
USB-C – USB-C
USB-C – Lightning
USB-C – MicroUSB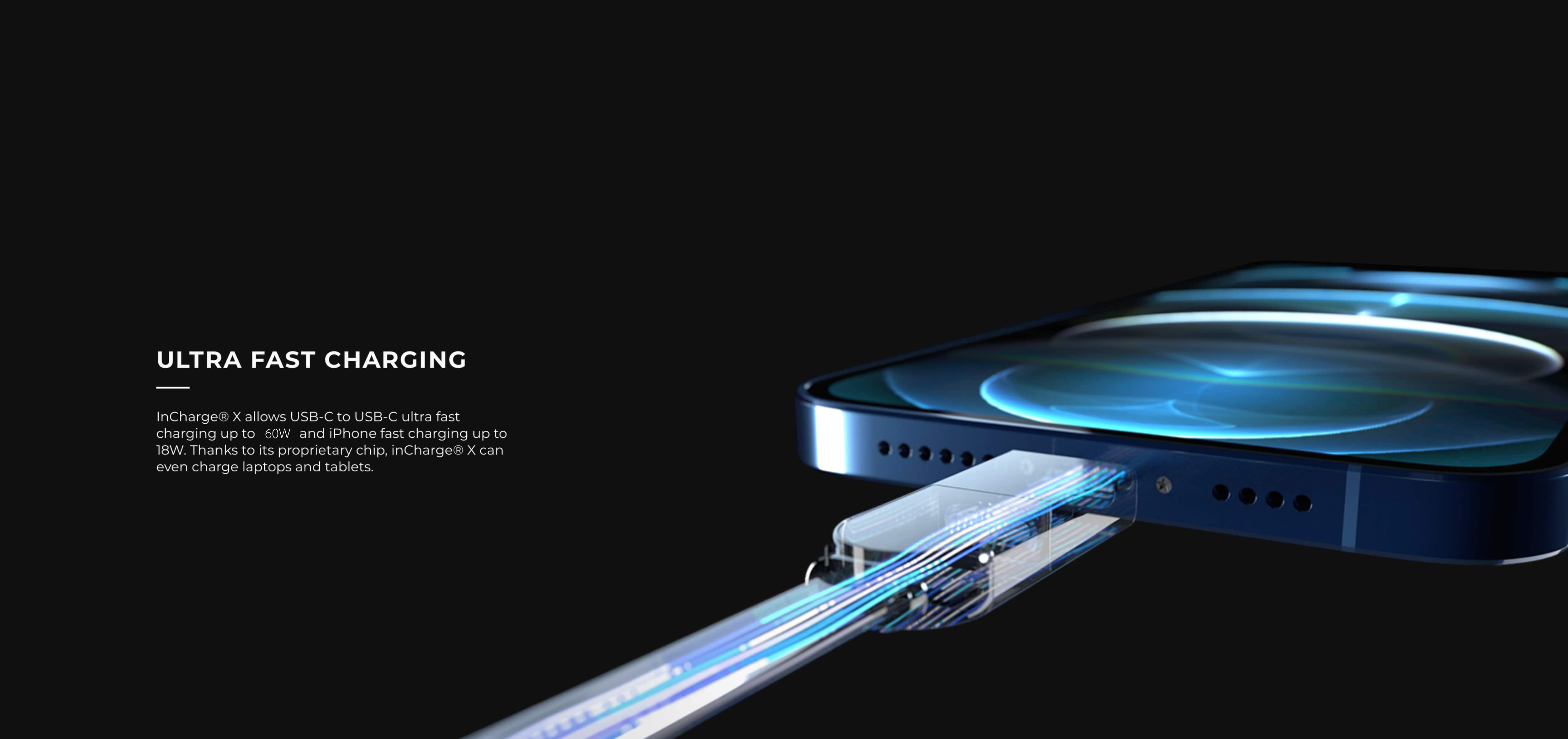 Charge or transfer data? Now you can do both
Thanks to the unprecedented variability of the cable, you will solve the problem of a low battery and unsuitable ports once and for all. Now they can all serve you flawlessly, and super fast. InCharge X can handle fast charging up to 60W (from USB-C to USB-C), in the case of Apple products up to 18W. You can also rely on it for data transfer. It handles speeds of up to 480 Mbps.
Are you constantly on the move? Having inCharge X always at hand will not be a problem.
Thanks to the magnets located in the connectors, you will suddenly create a compact pendant from it. Neodymium magnets N52, resp. their connection is so strong and reliable that you will definitely not lose your inCharge X. You can attach it to the key ring, to the strap or to the backpack. It's so small and light that you won't even know about it.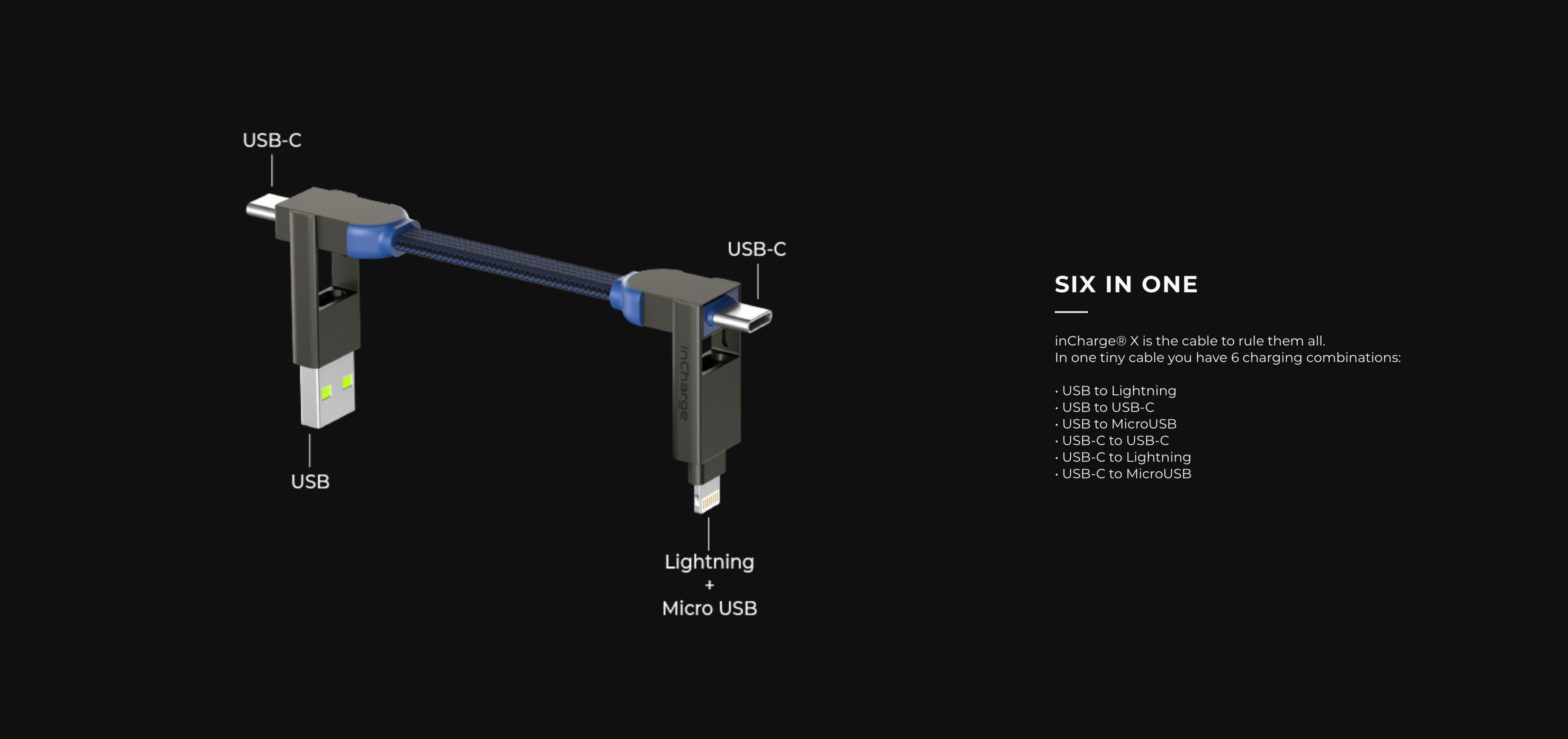 Do you lack a power source? Create your own
A very attractive feature of the inCharge X cable is the ability to transfer power from a connected USB-C phone or tablet to other devices. If you do not have a suitable power source nearby, you can use it instead to charge either another mobile phone or wireless headphones.
Patented connector technology
Wondering how one cable can cover so many connectivity options? The trick lies in its unique design. You will find USB and USB-C connectors on its input, USB-C on the output and a dual connector that contains Lightning and MicroUSB. Do not expect any ugly splitters. The individual connectors are arranged one behind the other. To use the appropriate one, simply unfold / fold the side in which they are located. Simple, yet maximally effective and elegant solution!
Top materials, detailed design
Rolling Square is definitely not one of those brands that would compromise on the selection and processing of materials. The cables are kept safe due to TPU lining and nylon upper fabric. This combination prevents them from being damaged even when a critical level of bending is reached. In their very core, you would find 200 copper conductors in insulation. The metal case made of aluminum alloy provides the strongest possible protection for the ports. Everything is made with an emphasis on durability, resistance, and longevity.
Specifications:
Size: 72 x 15 x 6.4mm
Weight: 27g
Length: 1.5 m
Data transfer rate: 480 Mbps / 60 MBps
Charging speed: up to 60W, Apple devices 18W
Metal port case
200 braided copper wires
N52 magnets
TPU reinforced cable
Nylon reinforcement
Aramid fibres
Colour: black
Compatibility:
iPhone, iPad, iPod
Smartphones, tablets
Type C devices
Rolling Square indicates a solved problem.
That is
the philosophy of a team of innovators
based in Switzerland, who strive to create really useful products that will
make your life a little bit easier
. The success of Rolling Square lies in products that effectively solve everyday problems in an affordable and best possible way. The fact that they hit the jackpot is most often verified among future users in terms of the crowd funding, because the production of other useless electronics is definitely not their style.
More Information

| | |
| --- | --- |
| Product code | RS-X03R |
| Barcode | 7640170469837 |
| Color | Beige |
| Manufacturer | Rolling Square |
| Manufacturer's website | rollingsqua.re |
| Canonical URL | incharge-x-6-v-1-mramorove-bezova |
We found other products you might like!