Nevox 63W USB C car charger + QC3.0 Kfz - black
Charge quickly and reliably from wherever you want. Whether you are on long trips, going to work or sitting at home with your laptop, the charging USB adapter with QC3.0 technology from NEVOX will always be ready to use.

This small, sleek black adapter combines the two most popular fast charging standards: USB and Qualcomm Quick Charge. The charger is equipped with protective technologies against overheating, short circuit or overcharging of the battery and thus prolongs the life of charging devices.

The quality of workmanship and material is also proven by CE and RoHS certification ensuring high satisfaction. Do not sit at home and go out into the world.

• Connects USB and Qualcomm Quick Charge
• Supports USB type C and A
• High charging speed

Availability: In stock (More than 5 qty)
If the goods are not in stock, the usual delivery time is between
2 and 3 weeks
We are very grateful for your comments and suggestions
Wholesale conditions for authorized resellers on request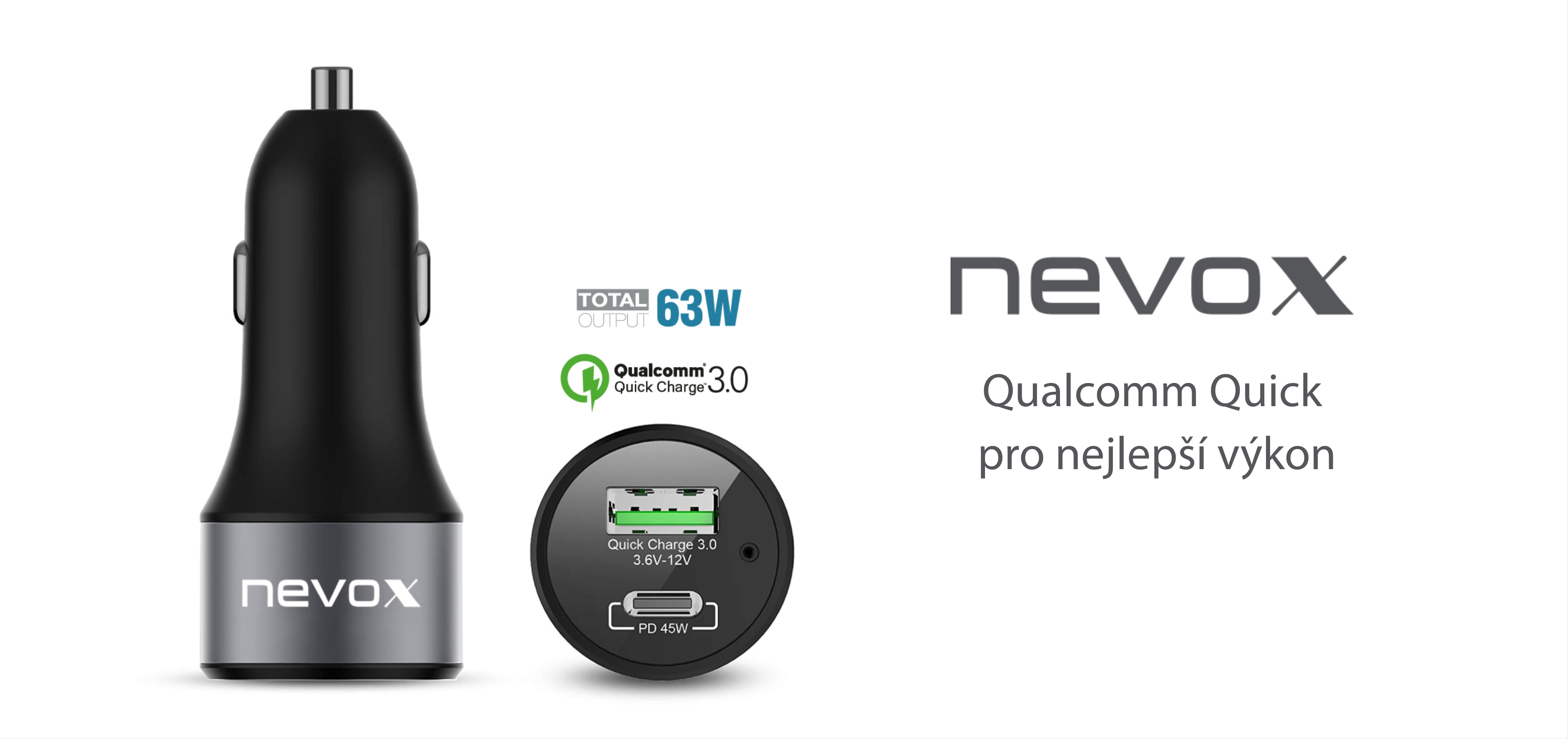 Qualcomm Quick Charge for best performance
The NEVOX development team is committed to innovative technologies and a high standard. That is why they decided to integrate Qualcomm Quick Charge technology into this car adapter, which allows the use of a higher voltage than the standard 5 volts for power. The combination of USB and Qualcomm Quick Charge connects the two most popular fast power standards for all mobile and electronic devices. Thanks to them, the device charges very quickly and with a guarantee of safety. However, it is necessary to use compatible cables for charging - cables with lower power could affect the charging speed and in the worst-case scenario damage the charger or the charging device.
The joy of high compatibility
Are you going on long journeys or do you just need an emergency charger for the morning traffic? The NEVOX QC3.0 adapter includes USB ports type C and A, thanks to which you can charge almost any electronic device while traveling by car. In addition, USB allows charging from almost all laptops, making the adapter fully usable outside your car.
Safety first
The NEVOX QC3.0 adapter has been tested and legitimately obtained CE and RoHS certification. Manufacturers thus guarantee the highest protection against overheating, overcharging, short circuit and overvoltage. Charge at rest without worrying about degrading the battery in your smartphone or digital camera.
Technical specifications:
Input: DC 12-18V
USB C output (Quick Charge 3.0) - 5V / 3A, 9V / 3A, 12V / 3A, 15V / 3A, 15V / 3A, 20V / 2.25A (45W max)
USB A (Quick Charge 3.0) - 3.6 ~ 6.5V / 3A, 6.5 ~ 9 / 2A, 9 ~ 12 / 1.5A (18W max)
Fast and reliable charging
Protection against overheating or overcharging of the battery
Short circuit protection
Overcurrent protection
CE and RoHS certification
Compatible with all USB devices such as smartphones, MP3 players, PDAs, digital cameras, etc.
Black colour

The German company NEVOX is a fast-growing brand on the current market with new technologies. It provides customers with high-quality and precisely processed accessories for mobile phones. From headphones, power banks to smart watches. NEVOX develops its products in accordance with current fashion trends and the latest production technologies. Quality high tech materials are accompanied by stylish minimalist design, precise shape and original designs. With its innovative approach, NEVOX ranks among the brands dominating the rapidly changing market.
More Information

| | |
| --- | --- |
| Product code | NX-1679 |
| Barcode | 4250686406795 |
| Color | Black |
| Manufacturer | Nevox |
| Manufacturer's website | https://nevox.de/en/ |