Product code
OZO-001204-00
Every fun game needs an original story. And stories inherently include characters as well. With a set of skins, masks and stickers that fit your Ozobot Bit, all adventure tasks and fun games will be much more colourful.

There are 4 milk white skins with whom you can make creative characters in the spirit of DIY. With the help of over 200 colour and shape variations of stickers and 23 masks, you can make your Bit Ozobot look like anything your heart desires.

You can try to portray your own avatar, favourite animal, or even a crazy zombie. It all depends on the choreography in which Ozobot Bit will play the lead role. Thanks to skins you can add your own ideas and masks from any material.
Availability: In stock (More than 5 qty)
If the goods are not in stock, the usual delivery time is between
2 and 3 weeks
We are very grateful for your comments and suggestions
Wholesale conditions for authorized resellers on request
Skins on which you portray your characters
fit on Ozobot Bit perfectly
. The sleeves are semi-transparent, so you will see his light play despite the new disguise. From now on, Ozobot Bit will not look like an alien from the future on an animal farm, in a motor race, or in a haunted castle, and
all his creations will be much more fun
.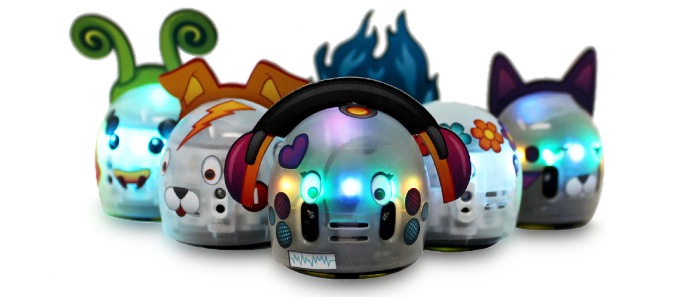 Package contents
4 clear skins in milky white colour
209 colour stickers (e.g. eyes, moustaches, glasses, nose, wings, flowers, numbers, lightning, and more)
23 attachable masks in the form of hats, headphones, ears, horns or antennae
Ozobot Bit is sold separately
Recommended for ages of 6 years and older
Share your amazing creations using #OzoSquad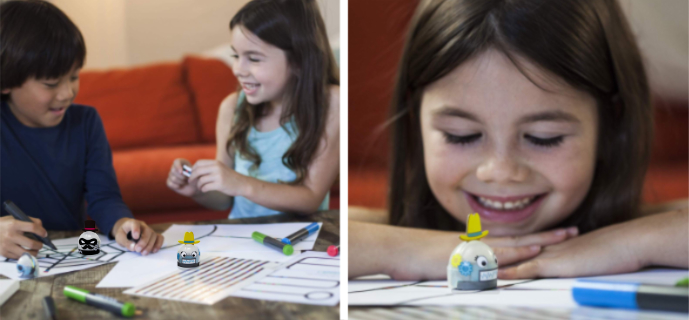 In 2012, Nader Hamda came up with a little robot which was then named "Ozobot" by his ten-year-old daughter. After 2 years of development, the robot is presented at the largest consumer electronics fair in Las Vegas. Since then,
Ozobot has been making entertaining programmable robots for the next generations
.
The Ozobot´s mission is to inspire young people to develop new technologies instead of using them passively. As of now,
the entire Ozobot concept perfectly fulfils the principles of STEAM education
- the interconnection of polytechnic studies and a creative approach to the development of a sustainable future.
More Information

| | |
| --- | --- |
| Product code | OZO-001204-00 |
| Barcode | 852636005634 |
| Color | Multicolored |
| Manufacturer | Ozobot |
| Manufacturer's website | www.ozobot.com |
We found other products you might like!