PKG Brighton II – 15" Laptop Backpack
Product code
PKG-BRIG-GY01TN,PKG-BRIG-LG01TN,PKG-BRIG-NV01TN,PKG-BRIG-BK01BK
A new version of the popular PKG Brighton backpack with a separate 15" laptop pocket and lots of useful features with an original design is another PKG variation on" the perfect bag for an action professional ".

Thanks to all the cool features offered by the Casual collection, its 29 L volume fits comfortably into work for a weekend or business trip. The carrying bag and the internal sewn organizer make it easy to transfer things. The volume of the backpack can be shaped with a folding botton.

You can rely on Brighton II for everything you put in it
- can be easily found thanks to sophisticated internal organization
- is protected against rain, moisture and impacts
- is protected against thieves with its safety features.
If the goods are not in stock, the usual delivery time is between
2 and 3 weeks
We are very grateful for your comments and suggestions
Wholesale conditions for authorized resellers on request
One backpack for every occasion
Traveling to work or just for fun will be so easy with the Brighton backpack.
The mobile office and personal items fit comfortably in one light luggage.
The laptop and electronics aree protected by the padding and access to it is greatly simplified by a large zippered pocket and laptop side pocket. And for other personal items you have a whole backpack left!
The functionality of baggage is taken seriously in the PKG.
Every element of the Brighton backpack has its purpose.
You will not have to fumble for the laptop from the main compartment - the laptop pocket has its
own side entry
and for example the bottle can be put quickly in the
side pocket, which adapts to its content thanks to elastic bands
.

A perfect bag for a modern professional
A well thought out organization of the interior
and easy maintenance of the lining is just a beginning.
The folding bottom
allows the backpack to be shaped when space is unfilled. On the back and front of the inside you can find a
sewn organizer for documents
and small items. You can use the
3-compartment insert bag
if you need to add extra items to the bag or pack additional electronics.
Brighton backpacks from the Casual collection have something to offer to those of you who are looking forward to
a sophisticated style
- structured waterproof material, faux leather elements and precise sewing
bring to life the design so you will like it for a very long time
.
Design and materials are ready for everyday use.
Brighton is extra light and resistant to abrasion and weather.
Breathability is combined in an ideal proportion with water resistance - the electronics will not come into contact with moisture and at the same time your backpack will not get musty inside.
And waterproof means not just waterproof, but also water repellent
.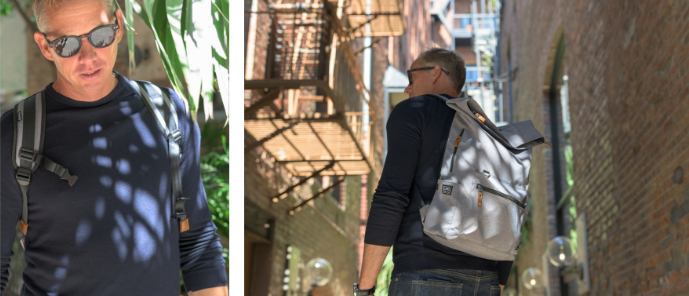 Features overview of Brighton backpack
Stylish urban backpack from the PKG Casual design collection
Minimalist functional design, careful processing
Volume 29 L
Dimensions: 29 cm x 56 cm x 16.5 cm
Close the main compartment with a zipper and fold down
Folding bottom allows you to shape your backpack according to its content
Artificial leather elements in black and cognac
Contrast nylon inner lining
Back part with padding and vents
Extra lightweight and durable material
Padded shoulder straps with chest clip
Fits most laptops or tablets up to 15 "
Separately accessible padded laptop compartment at the back of the backpack
Easy insertion of the laptop even when the main compartment is full
Inside sewn organizer with zipped pockets
Front zippered pocket with sewn carabiner
2 side expandable pockets for bottle etc.
Zippered accessory pocket on the backpack flap

Innovations for 2019 models
Strap to attach the backpack to the handle
New hidden pocket on the back
Better padded shoulder straps
Extended length of the shoulder strap by 5 cm
Wider business card space
Hidden magnets on the handle
2.5 cm higher
Sunglasses pocket with zipper pocket
New metal zipper

Material specification
Waterproof and breathableouter part
Waterproof: 5,000 mm (JIS standard)
Breathability: 700 g / m2 (JIS standard)
Extra light and abrasion resistant
Abrasion resistance: over 20,000 cycles / ISO 12947-2: 2000
Strong easy-care nylon inner lining
What does weaterproof mean?

Collection PKG Casual
Backpacks from the Casual collection take into the practicality for everyday use. The main elements of the collection's products are durability, great internal organization and perfect laptop protection. It takes into the needs of people who need to fully focus on their mission, whether it be work or hobby. PKG Casual Backpacks will not disappoint the demanding user even on free days - pack your things for the weekend in the insert bag and save time better than changing the necessities.
More Information

| | |
| --- | --- |
| Product code | PKG-BRIG-GY01TN,PKG-BRIG-LG01TN,PKG-BRIG-NV01TN,PKG-BRIG-BK01BK |
| Barcode | 667140015501 (PKG-BRIG-GY01TN), 667140015488 (PKG-BRIG-LG01TN), 667140015495 (PKG-BRIG-NV01TN), 667140015259 (PKG-BRIG-BK01BK) |
| Manufacturer | PKG |
| Manufacturer's website | www.pkgshop.com |
We found other products you might like!