Smrter Lichta – LED desk lamp with Qi wireless charger (7,5 W), white
Product code
SMRTER-LICHTA-WT
Smrter Lichta fulfils all requirements for functionality and modern design of a table lamp with no exceptions. Thanks to the possibility of dimming and setting the temperature of the light you can use it for both work and relaxation. You can easily adjust the brightness and temperature of the illumination on the touch control for full support you during any activity.

The Lichta LED table lamp is equipped with a 7.5W Qi wireless quick charger, so it can be used on your office desk as well as on a bedside table. Thanks to the 2-hinge design, you can easily direct the light at an ideal angle to your desktop or wall.

The Lichta lamp works efficiently with energy. While 48 LEDs and 2 timers save power consumption, the wireless quick charger area ensures efficient charging of the latest Samsung and iPhone (especially when the Lichta is connected to a QC 2.0 adapter).

Availability: In stock (More than 5 qty)
If the goods are not in stock, the usual delivery time is between
2 and 3 weeks
We are very grateful for your comments and suggestions
Wholesale conditions for authorized resellers on request
Lighting and Qi charging in one device
Smrter
Lichta combines elegance, functionality and the latest technology.
Foldable table lamp with 48 bright LEDs creates perfect lighting for work, reading, studying or playing games. Just connect it to your PC or adapter.
At the base of the lamp, you will find a centre mark to correctly place your smartphone on the wireless quick charger. The charger is compatible with all Qi-enabled devices and receivers. If you need to
quickly charge a new iPhone or Samsung and take advantage of the fast charge function with extra power of 7.5 W
, connect the Lichta to an adapter with Quick Charge 2.0 support.

Elegant shapes with lots of features
The whole lamp
is hinged
thanks to 2 unobtrusive joints with 90 ° and 145 ° bend. Thanks to them you can tilt the Lichta to the wall when you need to quickly create a pleasant lighting, as well as
direct light to the desktop
.
Elegant
touch buttons make it easy to set the lighting conditions
, so you can tailor your lighting every day. Unprecedented storage and the ability to connect the lamp to the power bank makes it a great travel companion.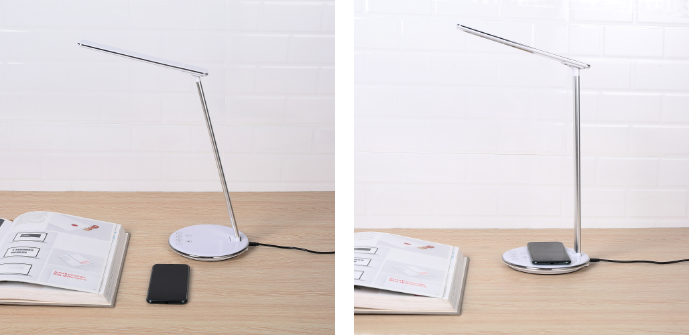 Support your activity with appropriate lighting
The brightness of the table lamp can be adjusted in 8 levels and the light colour can be adjusted in 4 temperature options. The colour temperature of light (the colour of light) has an emotional and biological effect on our mind and body, so
it is important to choose appropriate lighting for different activities
.
Whether you want to
set white light
for activities that require concentration, such as work or study,
or warmer light colours
that evoke comfort and promote relaxation, all you need is a single button.
Lichta imitates various daylight times
2800 K - sunrise / sunset colour, for peaceful feeling
3400 - warm white, for the feeling of coziness
4500 - day white, supports long-term activity
5600 - cool white, neutral feeling
Light with high colour rendering index to prevent tiredness
The colour rendering index of Ra 85, which the LEDs have, creates
ideal viewing conditions.
These act primarily against eye fatigue, headaches, increased error rates and decreased concentration. In other words, this means
that you will see colours more brightly and vividly
.

Feature overview
Table LED lamp with adjustable light and positioning
Qi quick charger in the stand
LED light with 48 LEDs
Touch control with blue LED buttons
Adjust the light intensity in 8 steps
Timer to turn-off in 1/2 hour
Choice of the light colour – colour temperature in 4 steps
Light colours: sunrise / sunset temperature, warm white, day white, cool white
Energy efficient
Technical specifications
Material: plastic, aluminium
Voltage: 5 or 9 V (depends on power supply)
Input: for 9 V to 1.67 A / for 5 V to 2.5 A
LED output approximately 5 W
Qi charger output 5 - 7.5 W
LED battery life min. 50,000 hours
Qi charging efficiency > 75%
48 LEDs type 4014 (4 x 1.4 mm)
High Colour Rendering Index (CRI) - Ra max 85
Luminous flux 120 lm
Comparable luminosity 5 W
MicroUSB charging cable included
Energy efficiency class: LED (A ++ to B)
Dimensions: Ø base with charger 16.5 cm, height 38 cm, length of the lighting part 24.7 cm
Weight: 437 g
Package contents
Smrter Lichta LED desk lamp
USB cable
Quick manual
More Information

| | |
| --- | --- |
| Product code | SMRTER-LICHTA-WT |
| Barcode | 4250551405137 |
| Color | White |
| Manufacturer | MiPow |
| Manufacturer's website | www.mipow.com |
We found other products you might like!