tomtoc Briefcase – 14" MacBook Pro (2021), black
Product code
TOM-A14-C02H
Sustainability and environmental friendliness is currently one of the most pressing industrial issues. Tomtoc is not indifferent to our planet and uses an alternative material for recycled PET bottles to develop the universal A14 briefcase for the 14.2 "MacBook Pro.

In addition to sustainability, however, the company relies on high protection of the transferred equipment, precise design processing and user friendliness. In addition to the main pocket for a laptop or tablet, the briefcase offers plenty of space for accessories and personal needs. Several additional compartments and straps in the spacious front pocket ensure perfect order and organization. The black minimalist briefcase is inconspicuous and, thanks to its timeless design, fits both the suit and leisure outfit.

Tomtoc pays particular attention to the safety of the transmitted equipment. The lower corners of the briefcase are firmly reinforced, so when falling, the briefcase acts as an airbag for your laptop or tablet. The inside of the main pocket is lined with a firm but fine fleece layer and around the YKK zippers there is a fleece hem to prevent scratching the device. Despite the quality of the materials and components used, the bag remains light and, thanks to the soft vegan leather handle, it is also suitable for carrying over longer distances.

• 100% recycled PET bottles used for the top layer of the bag
• Quality materials
• Perfect protection
• User friendly
• Practical organization of pockets
• Compatible with devices 14.2 inches and smaller


Availability: In stock (1 - 5 units)
If the goods are not in stock, the usual delivery time is between
2 and 3 weeks
We are very grateful for your comments and suggestions
Wholesale conditions for authorized resellers on request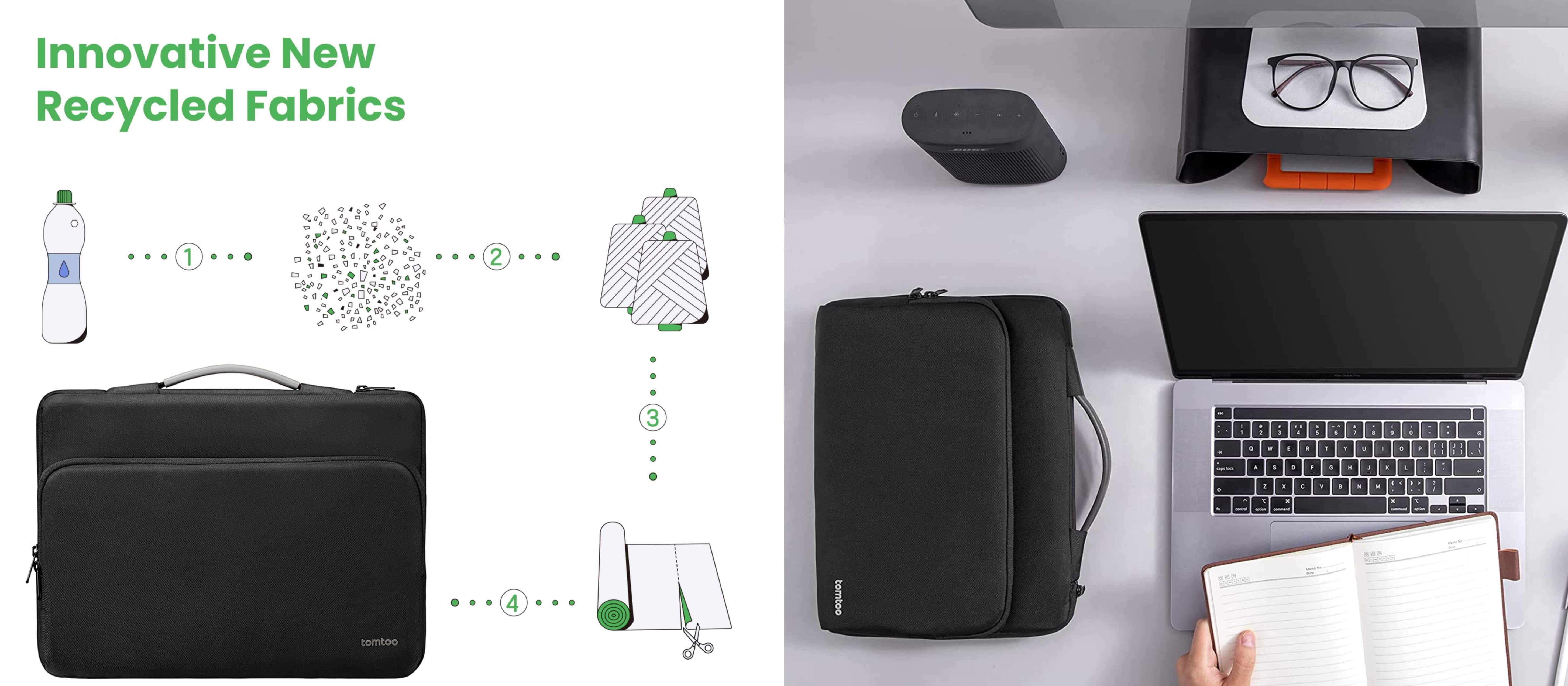 Sustainability first
Nowadays, the search for various ecological alternatives in industrial design needs to be thought about in a sustainable way. Tomtoc therefore decided to go in a slightly different direction and use material from 100% recycled PET bottles to produce the A14 briefcase. The material is environmentally friendly and at the same time has great properties such as strength, impermeability and easy maintenance.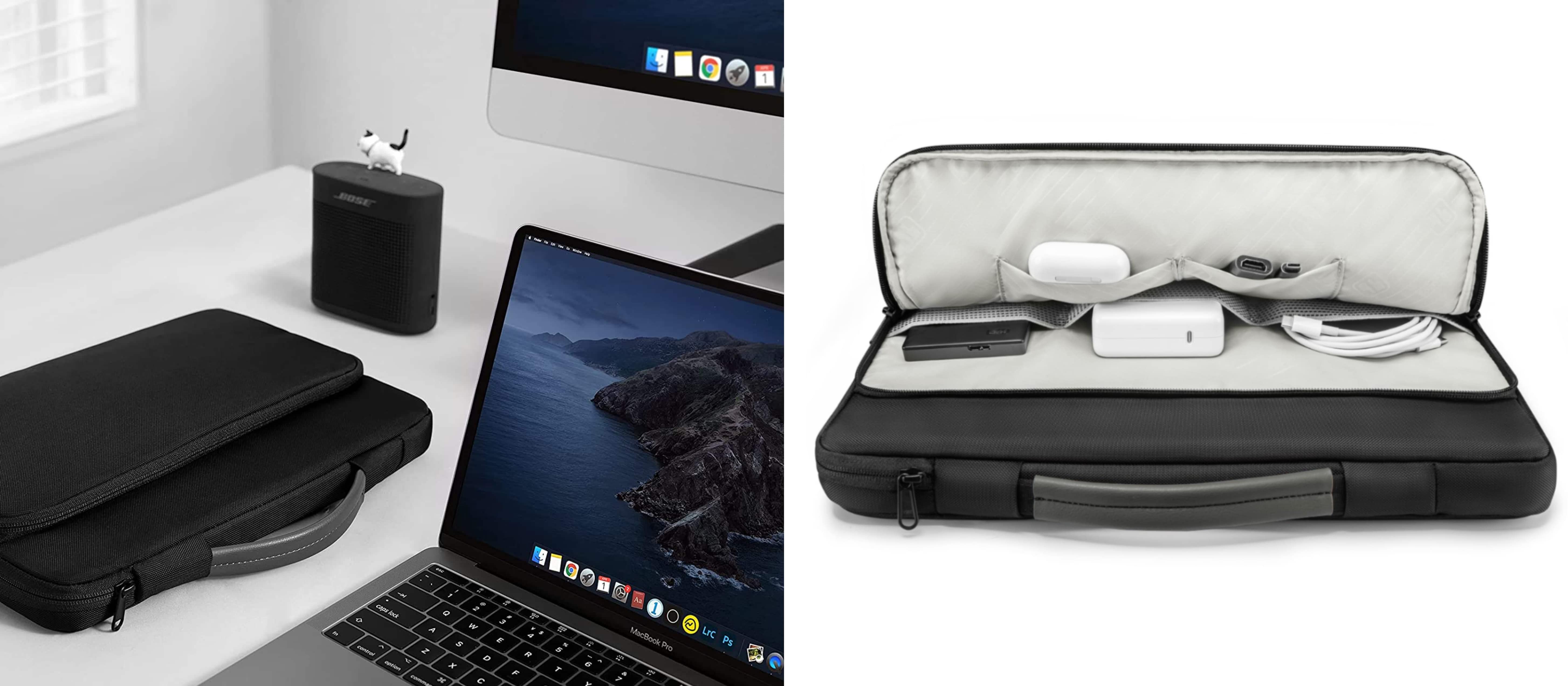 Protect your laptop
Tomtoc's development team is working on bags that can provide the most protection for your device. Therefore, the lower corners of the briefcase are equipped with a solid reinforcement, which works similarly to an airbag in a car accident when it falls or hits. The internal protection against scratches is provided by a soft fleece lining and a fleece hem around the zippers. The outer shell of the bag resists rain and your equipment is taken care of perfectly.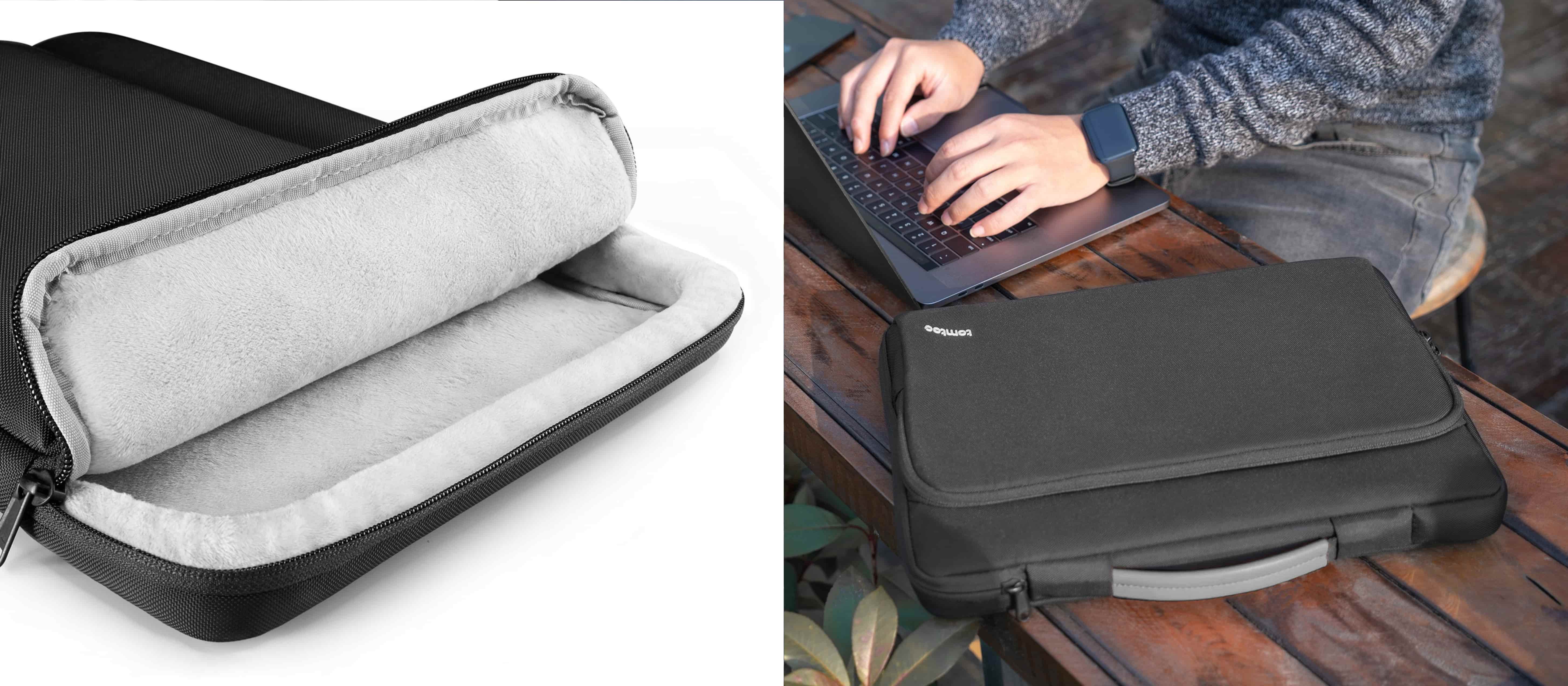 Sophisticated shape and organisation
The Tomtoc A14 briefcase combines current trends with a timeless minimalist design. The luggage is perfectly complemented by an elegant suit and jeans with a sweatshirt. The briefcase is designed to hold everything you need during the day. The spacious front pocket offers plenty of space for accessories and other needs, and thanks to the internal division into compartments and straps, you will find an organized system. The briefcase itself is a very light and soft handle made of vegan leather will ensure comfortable wearing even over longer distances.
Feature overview
High quality material
100% recycled PET bottles used for the top layer of the bag
Smart front pocket organization system
Timeless design
Perfect protection
Comfortable to use
Long life
Compatible with the following devices
Interior- 12.80" x 9.14" x 0.67",
Exterior - 13.8" x 10.2" x 1.26"
13.5" Microsoft Surface notebooky 4/3/2/1
13.5" Microsoft Surface Book 3/2/11
3" Old MacBook Air (A1466 A1369) | MacBook Pro Retina (A1502 A1425)
12.9" iPad Pro (1st/2nd Gen)
Dell Inspiron 13 5000 | 13 7000
Latitude 13 3000 2-in-1HP ENVY 13 | Spectre x360 13 | Chromebook x360 14
Pavilion x360 14Acer Swift 1 | Swift 3 | Spin 1 | Spin 5 | Spin 7
Asus VivoBook 14" | 13" | Flip 13.3" | Flip S 13.3" | S 13.3" | S13
13.9"ThinkPad X1 Carbon (5th/6th/7th/8th/9th Gen)
X390 Yoga | X380 Yoga | L390 Yoga
A285Huawei Matebook 13 | D14
X ProJumper EZbook X3
13.3." What's in the Box: 1 x 13.5" notebook Sleeve
Protect your digital devices.
Tomtoc is an innovative brand from Los Angeles that effectively combines a technical and fashionable approach in the creation of luggage and protection for all your favourite digital devices. Stylish and timeless on the outside, equipped with patented protective and functional elements on the inside - these are tomtoc products appreciated among users and in the media. Tomtoc products will turn your laptops, tablets, mobile phones or consoles into truly "mobile" devices.
More Information

| | |
| --- | --- |
| Product code | TOM-A14-C02H |
| Barcode | 6970412222892 |
| Color | Grey |
| Manufacturer | tomtoc |
| Manufacturer's website | www.tomtoc.com |
We found other products you might like!