tomtoc Urban Shoulderbag – 14" MacBook Pro (2021), grey
Product code
TOM-H14-C01G
The stylish gray Tomtoc Urban H14 bag for 14.2" MacBook Pro combines precise design processing, practicality and high protection of your digital device. Whether you move from the office to a café, take the subway or fly on a business trip abroad, this bag will become an essential accessory for you.

Although the case is sized for the 14.2" MacBook Pro, it is fully compatible with other laptops and tablets with a diagonal of 14.2 inches or less. The main pocket for the laptop is complemented by a practically organized large front pocket, which can hold all the necessary accessories and other work and personal needs. The bag is very light and thanks to the soft vegan leather handle and long shoulder strap, it is also suitable for carrying over longer distances.

For Tomtoc, high protection of portable equipment is a key feature of their products. The lower corners of the bag contain a solid reinforcement and thus function as an airbag in the event of unexpected falls or bumps. The inner laptop pocket is lined on all sides with a foam 3D lining and the collar around the high-quality YKK zippers is covered with a soft fleece. The solid outer fabric is spill-resistant and the bag will last for many years like new.

• High protection for your laptop
• Stylish design
• Practically organized front pocket
• 3D foam lining
• Vegan leather handle
• Quality components

Note: Product pictures are illustrative. Product may have slight colour variations in handles, straps and other accessories compared to the pictures shown.
Availability: In stock (More than 5 units)
If the goods are not in stock, the usual delivery time is between
2 and 3 weeks
We are very grateful for your comments and suggestions
Wholesale conditions for authorized resellers on request
Sophisticated shape
Tomtoc's design team combines current trends with timeless shape and colour. The Tomtoc H14 bag is thus perfect for both a suit and leisure outfit, and thanks to the highly durable outer fabric, it will last for many years like new. Despite the high-quality materials and components used, it remains light and is great for everyday walking to work or on long trips abroad.
Perfectly protected laptop
The Tomtoc H14 bag provides your device with precise protection in all unexpected situations. It has fixed reinforcements in the lower corners, which act as an airbag in the event of an accident during a fall or impact. The inner pocket for the laptop is lined on all sides with flexible but soft 3D foam and a raised fleece collar is stretched around the YKK zippers. The transmitted device is perfectly protected around the entire perimeter. The solid surface fabric will not let in rain or spilled drink, and in the event of such an accident, simply wipe it with a dry cloth.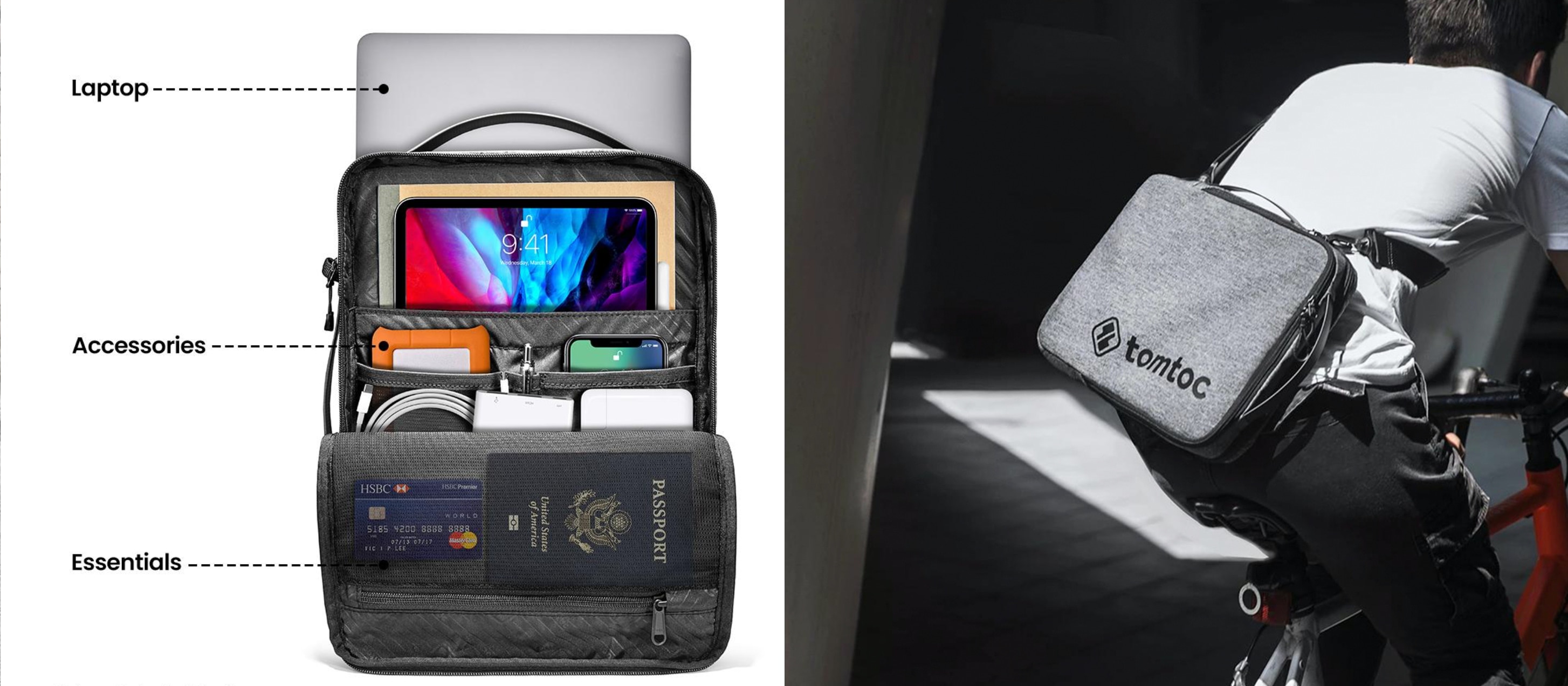 Everyday organisation
The practical organization of the interior space is a great challenge for the everyday bag. The spacious front pocket of the Tomtoc bag provides plenty of space divided by smaller compartments, which will serve as a great organizer for laptop accessories and common things for everyday use such as glasses, wallet, Kindle, diary, or notebook. All the necessary things will fit in the bag, so you can go to work with only one piece of luggage.
Feature overview
High quality material
Timeless design
Perfect protection
Smart front pocket organization system
Comfortable to use
Long life
Compatible with the following devices
Compatible laptop and tablet sizes: 12.80" x 9.14" x 0.9"
Compatible with most 13" to 13.3" devices
13" MacBook Air
13" MacBook Pro
12.9" iPad Pro
Surface Book 3/2/1
Surface notebooky 3/2/1
Dell HP Acer Asus Lenovo HUAWEI 13" laptops
Protect your digital devices.
Tomtoc is an innovative brand from Los Angeles that effectively combines a technical and fashionable approach in the creation of luggage and protection for all your favourite digital devices. Stylish and timeless on the outside, equipped with patented protective and functional elements on the inside - these are tomtoc products appreciated among users and in the media. Tomtoc products will turn your laptops, tablets, mobile phones or consoles into truly "mobile" devices.
More Information

| | |
| --- | --- |
| Product code | TOM-H14-C01G |
| Barcode | 6971937061454 |
| Color | Grey |
| Manufacturer | tomtoc |
| Manufacturer's website | www.tomtoc.com |
We found other products you might like!