Hyper® HyperDrive 60W USB-C Power Hub – GaN Power Adapter and HDMI Hub, Black
Product code
HY-HDNS-60-BLACK
Finally, there is a combined adapter, which is tailor-made for users of modern mobile devices. The most efficient charging and connection of the new iPhones 12, iPads, and other electronics is here in the form of a GaN charging adapter and a USB-C hub with 60W power. The Power Hub is equipped with 4 ports: 2x USB-C, USB-A, and 4K HDMI.

2v1 power adapter and USB-C hub
The combination of a charger and a hub brings not only powerful charging but also great user comfort. You can use the connection to an HDMI 4K @ 60Hz monitor or screen at work or when you want to play on a Nintendo Switch. Thanks to the USB-A port, you also get access to storage or peripheral devices. You can create a workspace tailored to your needs in no time.

Even faster fast charging on the go
The new type of GaN semiconductor allows you to get the energy to run electronics up to 5x faster. What is more, the compact design and minimal dimensions make the Power Hub a great travel accessory that fits in any luggage.

• 60W power adapter and HDMI hub in one
• GaN technology charges 5x faster
• 4K HDMI hub feature for USB-C devices
• Ports: USB-C 45W PD, USB-C 18W PD, USB A 7,5W 5Gbps, HDMI 4K60Hz
• 83 x 60,5 x 32 mm a 247 g
• Compatible also with: USB-C MacBook Pro, MacBook Air, iPad Pro, Android, PC, Chromebook and others
Availability: In stock (More than 5 units)
If the goods are not in stock, the usual delivery time is between
2 and 3 weeks
We are very grateful for your comments and suggestions
Wholesale conditions for authorized resellers on request
Enjoy having a charger and a hub in a single device
Power adapter
As a 60W GaN adapter, Hyper Power Hub allows you to charge the latest USB-C devices at the highest speed from 2 ports. You have a 45W USB-C with a speed of 10 Gb/s and an 18W USB-C port, both ports support Power Delivery. GaN technology then enables 5x more efficient charging, a noticeable reduction in dimensions, and a significant reduction in heating during use.
HDMI hub and connection to peripherals
Power Hub allows you to make efficient use of the ever-expanding connectivity of the latest mobile devices. It is a solution for users who use small and powerful devices, such as iPhones and iPads, for work and play. Therefore, the possibility of connecting to a monitor / TV, storage, or a peripheral device is considered a necessity.
The hub feature of the new Hyper allows you to connect any suitable USB-C device to a 4K @ 60Hz monitor (TV) and watch the video with a crystal-clear image. You can also use the USB-A port to connect an external drive or a USB-A peripheral device, such as a keyboard, mouse, scanner, or printer.
Feature overview
HyperDrive 60W GaN USB-C power adapter and hub
Allows charging USB-C devices and connection to HDMI TV / monitor and USB-A devices
Compact design that makes traveling easier
HDMI output with 4K resolution and frequency at 60Hz
3 USB ports with Gallium Nitride power technology
USB-C hub features: connect HDMI video and USB-A storage, or peripherals
Compatible with: USB-C MacBook Pro, MacBook Air, iPad Pro, iPhone 12, Android, PC, Chromebook, Nintendo Switch and others
Dimensions: 83 x 60,5 x 32 mm
Weight: 246,6 g
Ports
USB-C 45W PD 10Gbps
USB-C 18W PD
USB-A 7.5W 5Gbps
HDMI 4K60Hz
What does ICN GaNFast technology bring? Watch a video: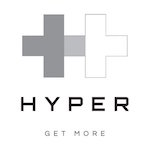 Celebrating our 10th year anniversary in 2015, HYPER by Sanho Corporation is a young, energetic team based in Silicon Valley. We specialize in delivering cutting edge IT & mobile accessories with a focus on Apple, portable power & data storage. Our award winning products include: HyperJuice (MacBook battery pack), HyperDrive (Data storage), iStick (World's 1st USB flash drive with Apple MFi Lightning connector), iUSBport (World's 1st wireless USB port) & HyperThin (World's thinnest HDMI cable).
More Information

| | |
| --- | --- |
| Product code | HY-HDNS-60-BLACK |
| Barcode | 817110015028 |
| Color | Black |
| Manufacturer | Hyper |
| Manufacturer's website | www.hypershop.com |
We found other products you might like!