Hyper® HyperJuice Magnetic Wireless Charger for iPhone 12 and AirPods
2v1 charger with a stand
Forget all your nightmares about chargers - Hyper is a great design piece in the form of a stand with MagSafe technology support for safe wireless charging of the latest iPhones and AirPods simultaneously.

Charge quickly and wirelessly
With Hyper, the perfect design always goes hand in hand with great performance. This is an accessory for Apple products, thanks to which you can charge the 12 Series iPhones and AirPods in no time. The charger is equipped with a 20W USB-C port, which distributes power to both devices at the same time into 7.5W and 3W output.

Check your iPhone during work
The magnetic charger of the iPhone 12 is equipped with articulating mount that allows you to easily set your optimal viewing angle. Even while charging, you will have a perfect overview of everything that happens on the screen. In addition, the magnet keeps the iPhone portrait and landscape mode.

• Dual wireless stand charger
• Premium materials and design
• MagSafe for the newest iPhones
• Articulating mount
• iPhone 7,5 W / AirPods 3 W

Availability: On the way from the manufacturer
If the goods are not in stock, the usual delivery time is between
2 and 3 weeks
We are very grateful for your comments and suggestions
Wholesale conditions for authorized resellers on request
Magnetic wireless charger designed for iPhone 12 and AirPods
The HyperJuice wireless charger is compatible with the MagSafe technology of the new iPhones 12. It also simultaneously charges AirPods with a wireless charging case. The LED indicator tells you when the devices are charged. The 20W USB-C input divides the power for super-fast wireless charging of both devices up to 7.5 W and 3 W.
You will never miss a phone call again
HyperJuice is not only a 2in1 charger, but also a design stand, thanks to which you will have great access to the screen of your iPhone. The iPhone charger is equipped with an articulating joint, thanks to which you can set your preferred viewing angle of the iPhone, portrait or landscape. From now on, not only will you not miss any call, but it will also be much easier for you to watch videos or video conferences.
Premium materials and maximum electronics protection
The Hyper brand is known for the high quality of the materials and electronic components used. The metal construction of the stand charger underlines the clean design of the charger and creates a perfect complement to Apple devices. Stainless steel ensures flawless functionality of the movable joint. Built-in short-circuit, overheating and overvoltage protection protects the iPhone and AirPods from accidental electric shock.
Feature overview
Wireless 2in1 charger with articulated magnetic holder
Designed for iPhone 12 models
Charges AirPods earphones at the same time
Holds iPhone securely in a portrait or landscape mode
Adjustable tilt angle for a perfect overview
LED indicates charging status
Aluminum and stainless-steel construction
Technical specifications
Wireless charging for iPhone 7,5 W
Wireless charging for AirPods 3 W
Height: 150,20 mm
Diameter of the charging stand: 62,4 mm
Diameter of the charging pad: 92,0 mm
Weight: 250 g
USB-C port 20 W
Supports MagSafe technology
Built-in protection against short circuit, overheating and overvoltage
Cable is not included in the package
Compatibility
Wireless charging for iPhone (7,5 W) – iPhones series12
Wireless charging for AirPods (3 W) – AirPods with a wireless charging case
20W USB-C
Introducing wireless charger for iPhone 12 and AirPods in a video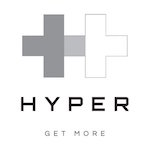 Celebrating our 10th year anniversary in 2015, HYPER by Sanho Corporation is a young, energetic team based in Silicon Valley. We specialize in delivering cutting edge IT & mobile accessories with a focus on Apple, portable power & data storage. Our award winning products include: HyperJuice (MacBook battery pack), HyperDrive (Data storage), iStick (World's 1st USB flash drive with Apple MFi Lightning connector), iUSBport (World's 1st wireless USB port) & HyperThin (World's thinnest HDMI cable).
More Information

| | |
| --- | --- |
| Product code | HY-HJ461 |
| Barcode | 817110015479 |
| Color | Silver |
| Manufacturer | Hyper |
| Manufacturer's website | www.hypershop.com |
We found other products you might like!