tomtoc Briefcase – 16" MacBook Pro (2021), black
Product code
TOM-A14-E02H
Sophisticated design, use of quality materials and high protection for your laptop or tablet - this is the universal Tomtoc briefcase for 16 "MacBook Pro. Give yourself and your equipment a real luxury.

Although the Tomtoc universal briefcase is designed for a 16" MacBook Pro, it is suitable for most devices with a size of 16 inches or less. Thanks to the inconspicuous black colour and timeless design, it fits both the suit and leisure outfit. In addition to a large laptop pocket, it contains a spacious front pocket with a sophisticated layout for storing all accessories and personal needs.

The universal Tomtoc A14 briefcase offers high protection of the transported device. The lower corners are firmly reinforced in the event of an impact or fall, and the inside of the pocket is lined with a thick but fine fleece layer to prevent the device from being scratched. The intelligent solution for the side opening of the main pocket will help you protect your laptop from theft in crowded vehicles, and the upper fabric will not let you drop even on rainy days. Despite the high quality of the materials, the bag is light and thanks to the soft vegan leather handle, it is great to wear even at longer distances.

• Quality materials
• Safe side opening
• Practical organization of pockets
• Perfect protection
• User friendliness
• Compatible with 16-inch or smaller devices


Availability: In stock (1 - 5 units)
If the goods are not in stock, the usual delivery time is between
2 and 3 weeks
We are very grateful for your comments and suggestions
Wholesale conditions for authorized resellers on request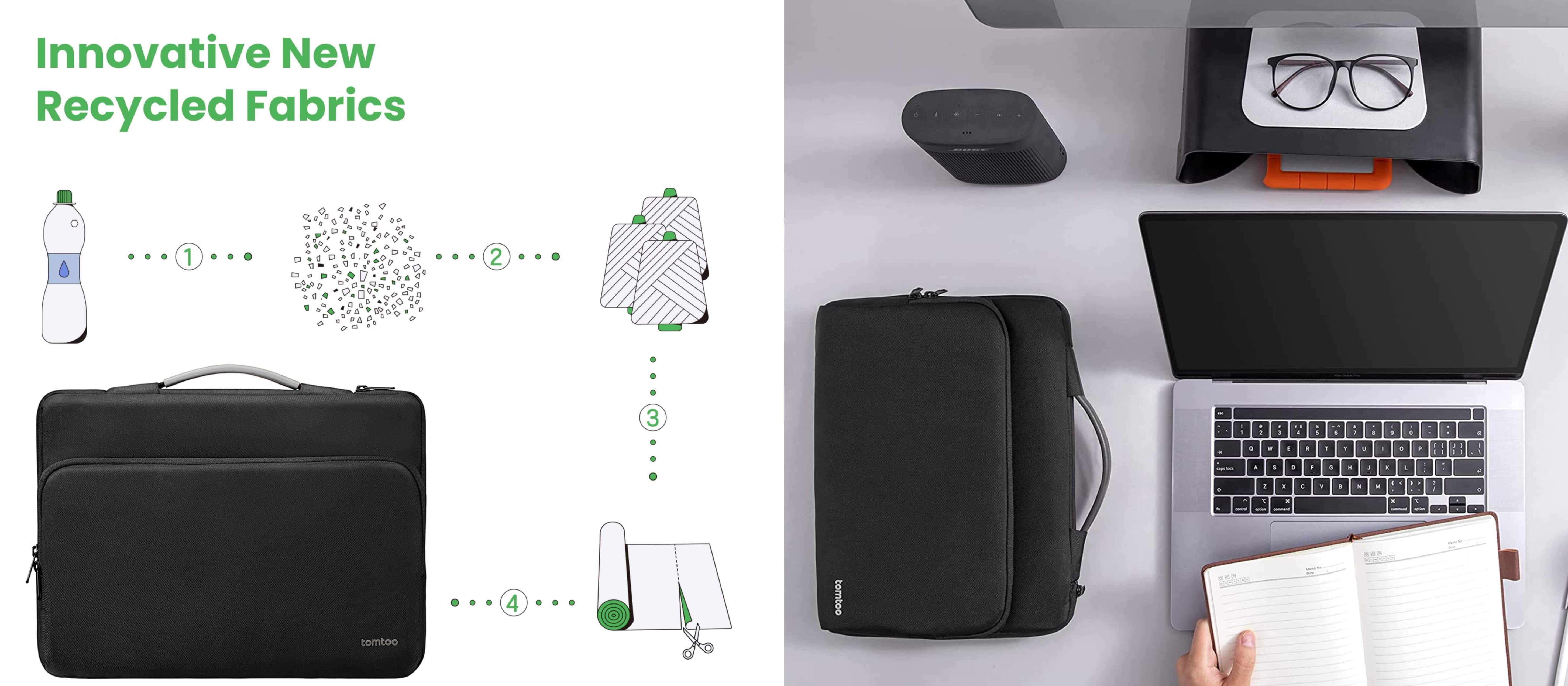 Safety for your laptop
Tomtoc knows that a laptop bag should, above all, act as a protection for the device being carried. They left nothing to chance and firmly reinforced the lower corners of the briefcase so that it would not be damaged even by sharp bumps and falls from a greater height. The inside of the pocket is lined on all sides with a soft fleece insert and the zipper surrounds the raised fleece collar, which prevents from any scratching of the device. When traveling in crowded vehicles, you will appreciate the side opening, which will make it difficult to steal a potential attempted theft.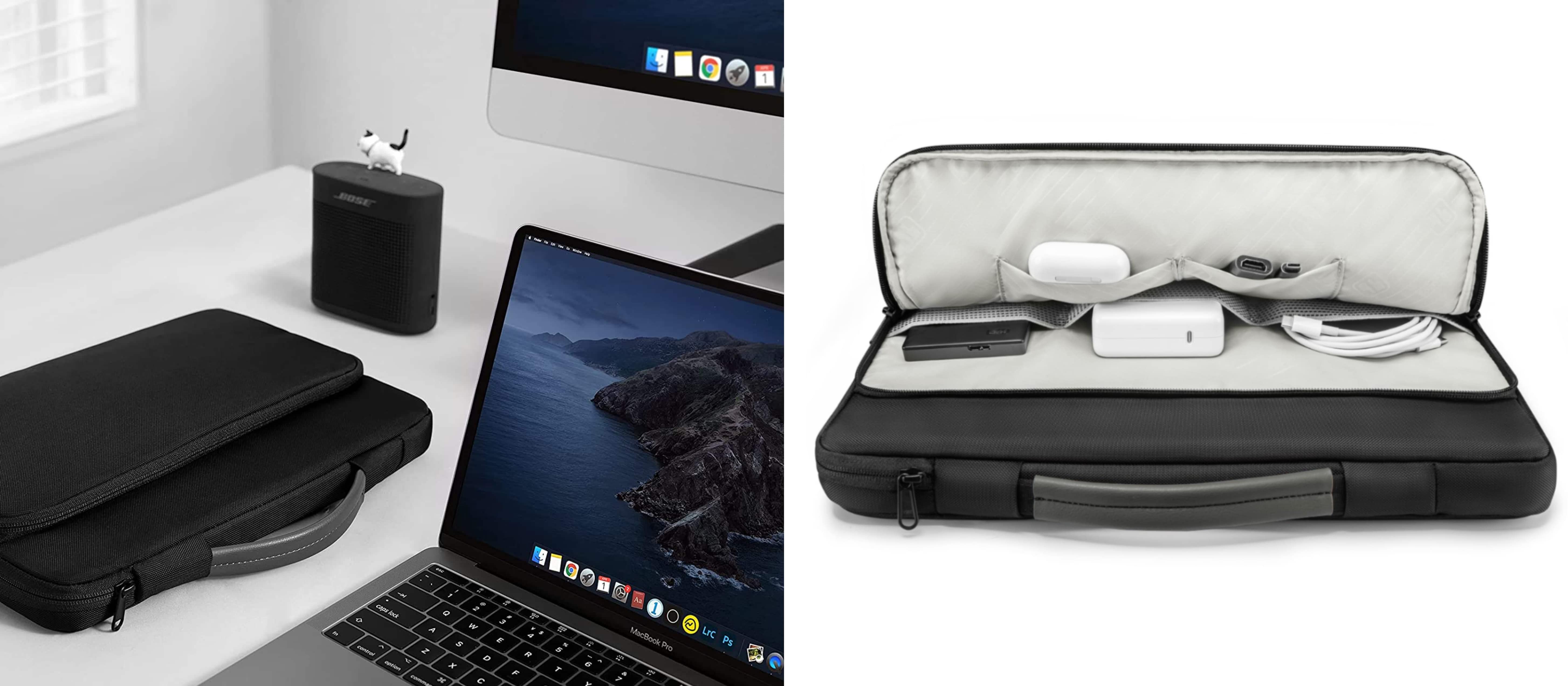 Sophisticated shape
As the name of the product suggests, this model of the Tomtoc bag strives for inconspicuousness and versatility without violating the principles of current design trends. The bag fits perfectly with a suit and polished shoes as well as jeans with a sweatshirt. In addition to carrying a laptop, it also allows you to store all the necessary accessories and personal items such as glasses, a wallet or a notebook. The spacious front pocket offers a organizational system so you know exactly where to look.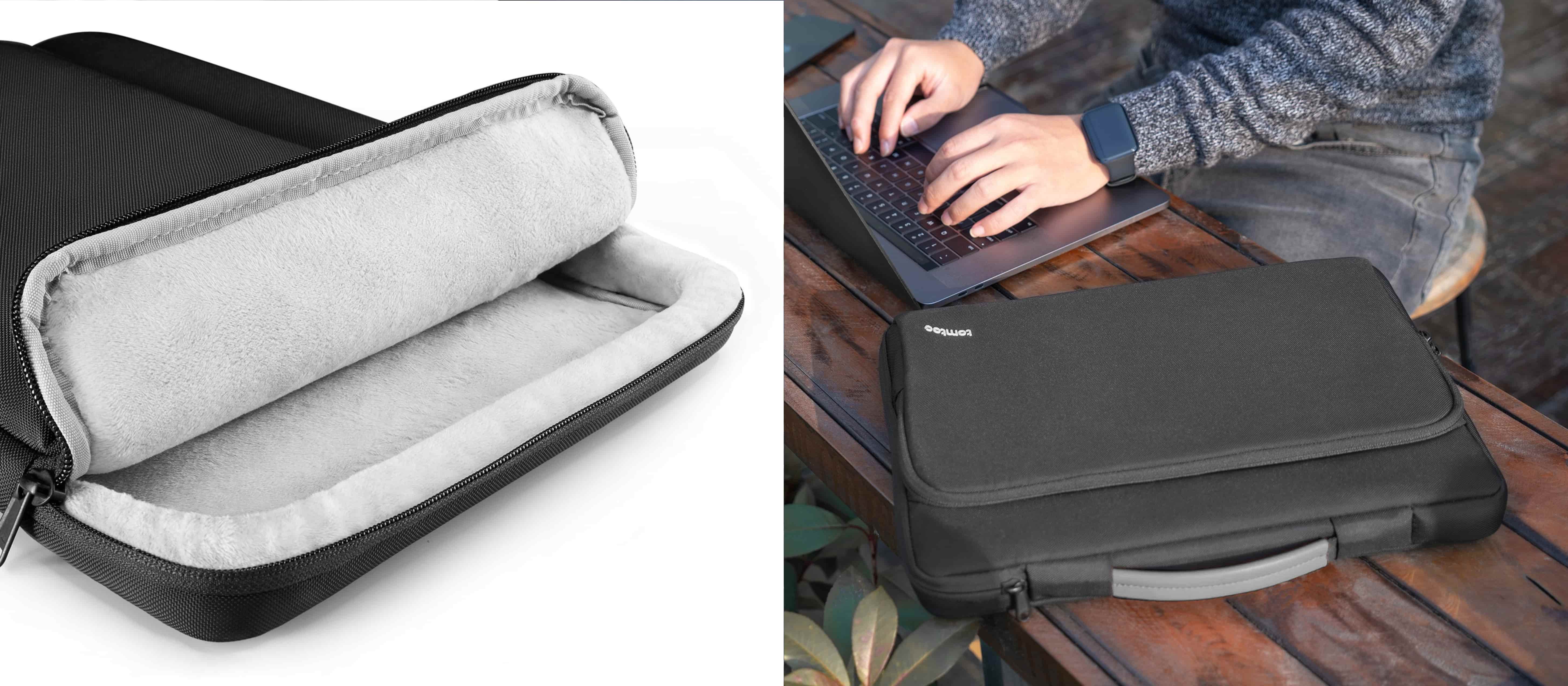 Quality and comfort
Despite the high quality of the material used and the use of solid components, the bag remains very light and, thanks to the soft vegan leather handle, it will become a good helper even when traveling longer distances. Everything you need for a normal day will fit in this one bag so you do not have to carry multiple bags. If you travel abroad, you simply slip your bag and laptop into other suitcases or other larger luggage.
Feature overview
High quality material
Secure side opening of the main pocket
Comfortable to wear over longer distances
Perfect protection
Smart front pocket organization system
Timeless design
Long life
Compatible with the following devices
Interior - 14.13" x 9.87" x 0.64"
Exterior - 15" x 10.8" x 1.26"
16" MacBook Pro 2019 | 15 inch MacBook Pro Retina (A1398)
15" Microsoft Surface Book 2
Dell XPS 15
ThinkPad X1 Extreme Gen 2 (15") Laptop
HP Spectre x360 Laptop - 15t touch | ENVY x360 Laptop - 15t touch | Pavilion x360 – 15
Lenovo IdeaPad 500 Series S540 (15")
HUAWEI MateBook D 15.6"
ASUS Zenbook 15 | VivoBook 15
Acer Swift 5 SF515
Protect your digital devices.
Tomtoc is an innovative brand from Los Angeles that effectively combines a technical and fashionable approach in the creation of luggage and protection for all your favourite digital devices. Stylish and timeless on the outside, equipped with patented protective and functional elements on the inside - these are tomtoc products appreciated among users and in the media. Tomtoc products will turn your laptops, tablets, mobile phones or consoles into truly "mobile" devices.
More Information

| | |
| --- | --- |
| Product code | TOM-A14-E02H |
| Barcode | 6970412229693 |
| Color | Black |
| Manufacturer | tomtoc |
| Manufacturer's website | www.tomtoc.com |
We found other products you might like!