tomtoc Sleeve Kit - 14" MacBook Pro, Black
Product code
TOM-A13D2D1GP
Do you want the best possible protection for your MacBook Pro? A case in which it will be protected from falls, bumps, but also from ordinary scratches from a zipper? The tech geeks at tomtoc have heard your wish!

Get to know their new product - the Defender case stands out for its unrivalled military-level protection, top quality and perfect compatibility. It is perfected down to the smallest detail. There is a robust YKK zipper, a thick plush lining, soft padding, a protective ridge around the zipper and a pocket on the front for accessories.

Need to pack a little more for trips with a laptop? No problem! Tomtoc equips you with another small case for your tech essentials. You can always have the hub, charging cables, memory cards or airpods with you - perfectly organized and in a great-looking bag!

Note: Product pictures are illustrative. Product may have slight colour variations in handles, straps and other accessories compared to the pictures shown.

Availability: On the way from the manufacturer
If the goods are not in stock, the usual delivery time is between
2 and 3 weeks
We are very grateful for your comments and suggestions
Wholesale conditions for authorized resellers on request
Unrivalled 360° protection for your device
The tomtoc company has designed a
360° protection concept
, with which your laptop will be completely safe. It doesn't matter if it goes with you to a work meeting or the wildest adventure with a bunch of friends. Thanks to the
increased protection of corners and edges with plastic reinforcement
, nothing will happen to it. Not even if it accidentally falls out of your hand.
The case has successfully passed the Military-Standard-Drop-Test
. As the first and only of its kind!
It fits the 14-inch MacBook Pro M1 Pro/Max like a glove. It will be pampered inside by a
precisely fitted thick lining
, which absorbs energy during impacts, shocks and even falls. A
soft plush lining
and a protective ridge around the entire zipper ensure that the chassis remains like new without a single scratch.
Stylish down to the last detail
The case is equipped with a
Japanese YKK zipper of the highest quality
. For its smooth operation, safe and long-term use, tomtoc swears by it. And we together with it! The main pocket is complemented by another outer pocket. You can conveniently hide small items that you regularly use together with your laptop in it.
Another asset is the use of
durable recycled fabric for the top of the case
.
Eco-friendliness and sustainable production are definitely not small deeds, and tomtoc thus cares to be a few steps ahead of its competitors.

The overall design of the case is very simple and will perfectly complement your formal as well as casual style. Clean, elegant design, moderate colours - this is a timeless classic that simply goes with everything.

Custom made for MacBook
In an effort to promote sustainable design, this case has been made using durable recycled fabric, sourced exclusively from used plastic bottles and bags. In addition to daily protection for your laptop, tomtoc also perfectly fulfils its commitment to be kind to our environment. Of course, this innovative material is also waterproof.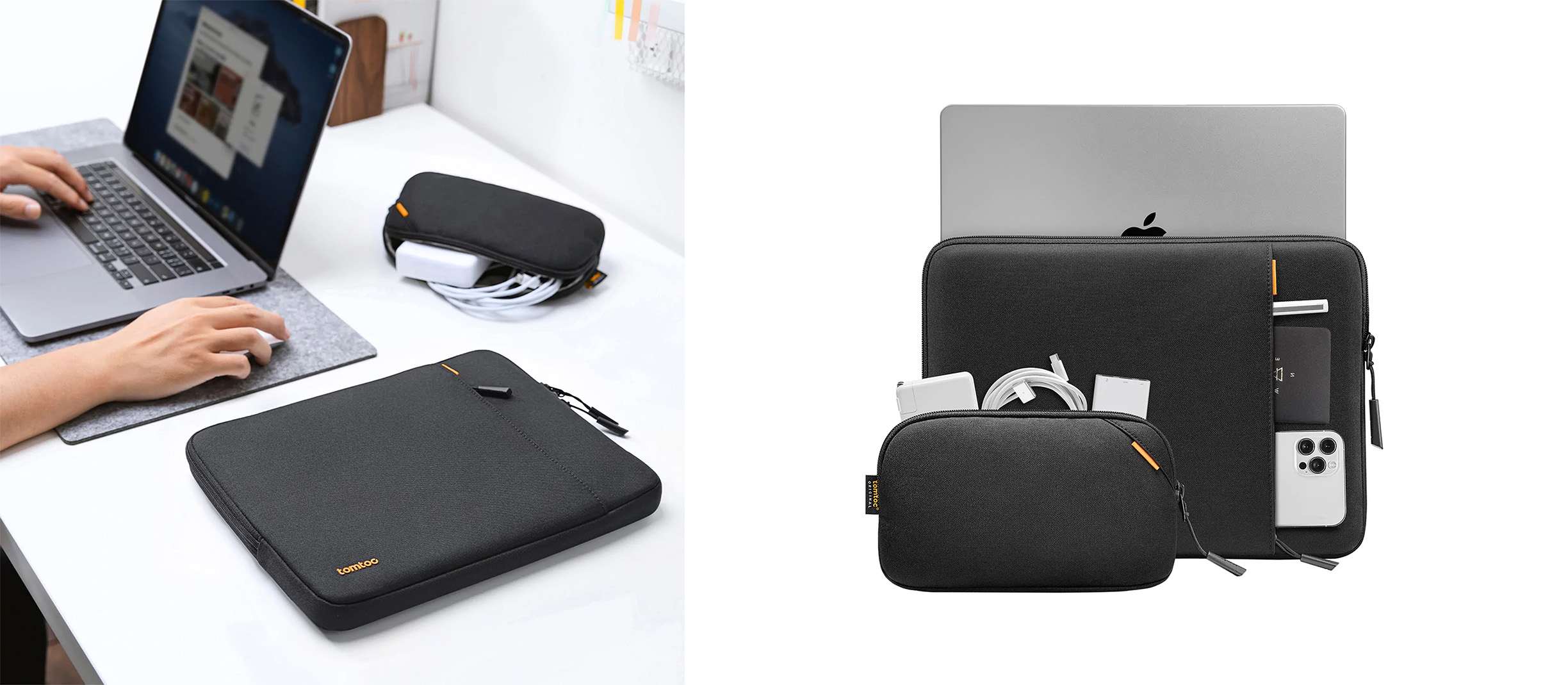 Organize your accessories
Scattered cables, chargers, headphones or memory cards? Never more! Tomtoc will add another smaller bag with the case for just such little things. It is light, stylish and equipped with two side mesh pockets. Even those who have problems with keeping order always find everything in its place.

Compatible devices
14 inch MacBook Pro M1 Pro/Max 2021
13 inch new MacBook Air M2 2022 with a hard-shell case
Feature overview
Set of a protective laptop case and an accessory bag
Military grade protection - resistant to drops, shocks and impacts
Top robust YKK zipper, water-resistant recycled fabrics
Thick plush lining and padding on the inside
Reinforced edge construction, reinforced corner protection
Soft protective ridge around the zipper to protect your device from scratches
Internal dimensions: 31,3 x 22 x 1,5 cm
External dimensions: 33,8 x 25 x 2,8 cm
Accessory bag dimensions: 22,5 x 13 x 5 cm
Colour: black
Package contents: 14-inch laptop case, accessory case

Meet the tomtoc Sleeve Kit - 14" MacBook Pro in the video




Protect your digital devices.

Tomtoc is an innovative brand from Los Angeles that effectively combines a technical and fashionable approach in the creation of luggage and protection for all your favourite digital devices. Stylish and timeless on the outside, equipped with patented protective and functional elements on the inside - these are tomtoc products appreciated among users and in the media. Tomtoc products will turn your laptops, tablets, mobile phones or consoles into truly "mobile" devices.
More Information

| | |
| --- | --- |
| Product code | TOM-A13D2D1GP |
| Barcode | 6971937064431 |
| Color | Black |
| Manufacturer | tomtoc |
| Manufacturer's website | www.tomtoc.com |
We found other products you might like!