Acefast USB-C to Lightning charging data cable with display
Product code
ACE-C6-01-BK
Don't wait longer than necessary for your device's battery to charge! Use the full potential of your charger with the extra powerful USB-C to Lightning cable from Acefast.

With an output current of 3 A and a power of up to 30 W, it will add energy to your devices with great speed. Thanks to the digital LED display, you will be able to monitor the current energy transfer in real time. This handy feature is not only playful, but helps you compare your individual chargers and choose the most powerful one among them. Another superpower of this cable will also save you time, namely lightning-fast data transfer. With a transfer speed of 480 Mbps, you can transfer 100 of your favourite songs in just 5 seconds!

How is this cable doing with durability and protective features? More than good! Robust nylon braiding and zinc housing means only one thing - extraordinary durability. After all, it survived demanding mechanical tests with more than 30,000 bends even under strain. It is flawlessly shaded along its entire length. Powered devices are monitored by an integrated E-marker smart chip, which protects them from current fluctuations. These are parameters that Apple does not hesitate to guarantee for such a piece. The MFi certification is proof of that.

Availability: In stock (More than 5 units)
If the goods are not in stock, the usual delivery time is between
2 and 3 weeks
We are very grateful for your comments and suggestions
Wholesale conditions for authorized resellers on request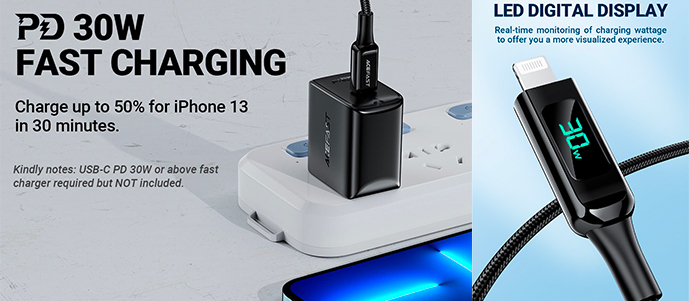 No more boring waiting for a full battery
Can you guess how long it might take to charge an iPhone 13 from zero to 50%? When you
pair up your phone together with the Acefast Lightning cable, you don't have to wait more than 30 minutes
!
That's because it shows off with an output current of 3A and a maximum power of up to 30W PD
! If you like to be in the know, then be sure that in this case you will know literally about every flowing Watt. A cool digital display informs you about them in real time. Try comparing the actual performance of your existing chargers and choose the most powerful and fastest one!
Transfer data in the blink of an eye
With the Acefast cable, you get a strong ally that will certainly not keep you waiting with
the support of a transmission speed of 480 Mbps
. In a dash, you
can synchronize photos, music and other data files with any device with a USB-C interface
. What does this great performance mean in practice? For example, you can transfer your favourite playlist with 100 songs from your laptop to your phone in just 5 seconds. Can you tie your shoelaces in such a short time?
Perfect with Apple products
You have in front of you a piece that Acefast made
directly for the iOs system
. The cable is
compatible with any iPhone 8-14 series, iPad, MacBooks, AirPods and other devices with a Lightning interface
.
The MFi certification
proves that your baby is in the best hand with it. However, the obtained certifications certainly do not end there. The quality of this product and its trouble-free operation are evidenced by
CE, RoHS, FCC and EAC certificates
.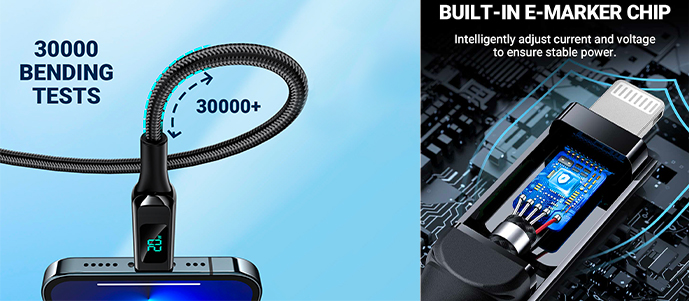 Charging safety and cable durability at a premium
Are you looking for a partner who can stand the test of time? Here it is! Acefast takes particular care in the safety and durability of their products. The Lightning cable has a
durable zinc case and nylon braiding
, which is
sufficiently resistant
while
maintaining
the necessary
flexibility
. It has successfully
passed the demanding bending life test with more than 30,000 deflections even under strain
. You can be sure that it will withstand daily use without the slightest problem. Of course, there is also
high-quality shielding along its entire length
. Acefast did not underestimate anything when it came to safety, and integrated a
smart E-marker
chip into the cable.
It corrects and adjusts the through current so that your devices are not exposed to the danger of short circuits, overheating, too high voltage and current, or its fluctuations
. Thanks to the chip, charging remains smooth and risk-free even at this speed.
Technical specifications
USB-C/Lightning charging cable with a digital display
Extremely fast charging and data transfer
Maximum power 3 A, 30 W
Fast data transfer of 480 Mbps
Extremely durable materials and construction
Extremely durable cable mechanically tested for 30,000 bends under load
Certifications MFi, CE, RoHS, FCC, EAC
Cable length: 1,2 m
Compatible with Apple devices with Lightning interface
Weight: 35 g
Colour: black
The rapid development of the electronic and digital technology industry requires an equally high-speed response to consumer needs. And that's exactly what Acefast is all about. Since its inception, it has focused on the development of standard electronic and digital products of the best quality. It comes with practical and multifunctional solutions for charging, audio, cables, smart electronics and personal health care that are also beautiful to look at. So if you're looking for more creative products to make your digital life richer, more exciting and on the latest technology trends, Acefast is your brand!
More Information

| | |
| --- | --- |
| Product code | ACE-C6-01-BK |
| Barcode | 6974316281030 |
| Color | Black |
| Manufacturer | Acefast |
| Manufacturer's website | www.acefast.com |
We found other products you might like!