Bluetens Duo Sport, 4x3 spare electrodes
The electrodes are of high quality and have better conductivity. One package contains 4x3 spare electrodes for the smart electrostimulator Duo Sport. In the package you will find 3 electrodes of size M and 6 electrodes of size S. Electrodes in size M allow you to target 2 parts of the body at once (hands, feet). Size S, on the other hand, is suitable for treating smaller areas of the body, such as the elbows, ankles, arms, or neck.

Duo Sport solves several chronic and acute pains without the burden of analgesics. It helps improve your sports performance and eliminates muscle tension.

The electrodes can be used repeatedly, but their service life is 20-30 uses. You will support their longer-term functionality by applying it to dry and clean skin. It is best to keep the electrodes in the original resealable container to prevent the conductive gel from drying out.

The electrodes and gel are made of high-quality non-allergenic materials and are designed for better conductivity and current dissipation in electrotherapy. With the Blueten Get Better application, you get an exact description of which electrode size to use and where.
Availability: In stock (More than 5 qty)
If the goods are not in stock, the usual delivery time is between
2 and 3 weeks
We are very grateful for your comments and suggestions
Wholesale conditions for authorized resellers on request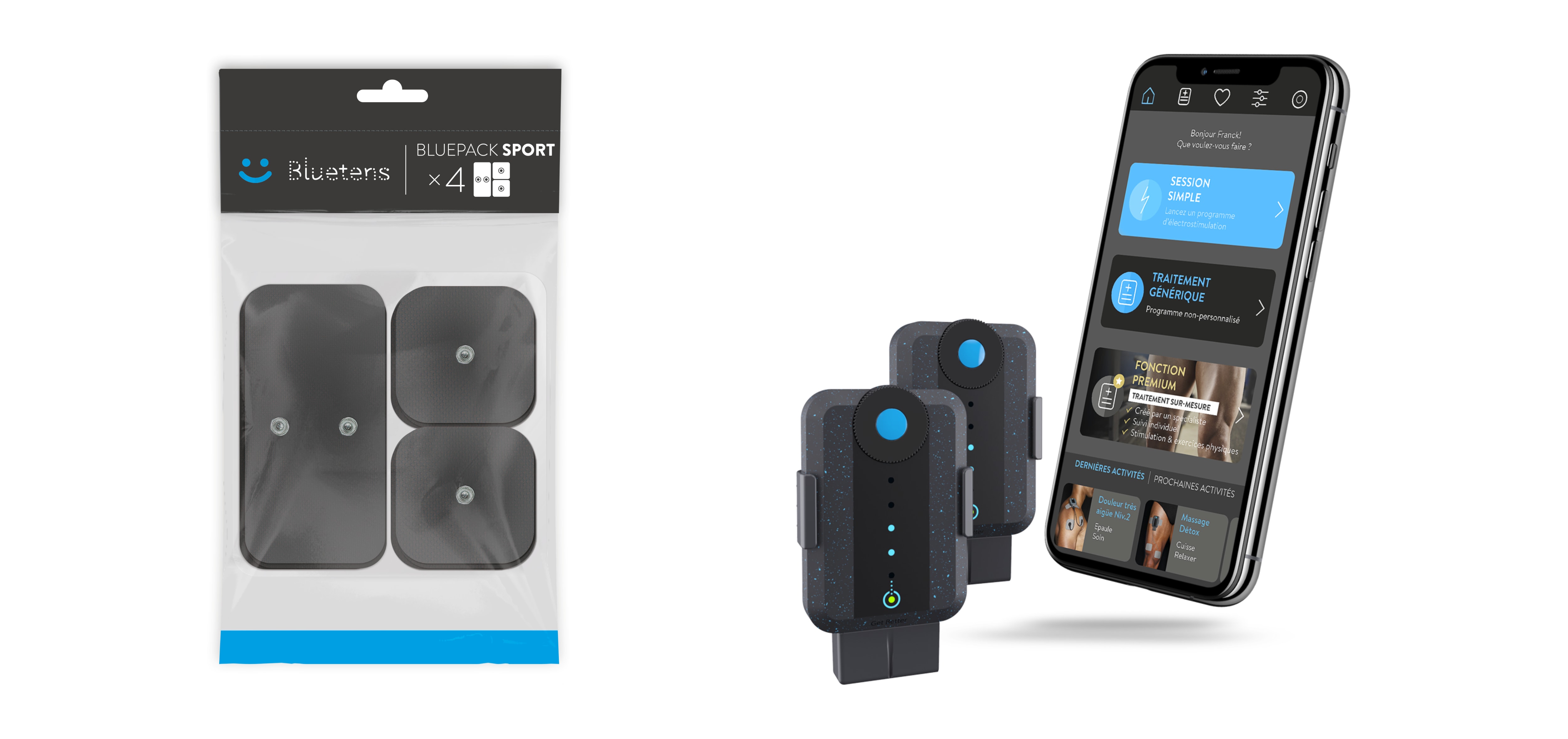 Tips for proper use of electrodes
Due to the polarity, you may feel that some of the electrodes are not working - no worries, the electrodes are working properly and independently of each other. If you wish, you can turn off the Bluetens and easily move the electrodes so that they are correctly positioned on the nerve endings.

The electrodes must be placed on the skin without overlapping. At the same time, make sure that the cable is properly connected to the Bluetens Duo Sport. If the electrodes dry out, you can gently rub 1 or 2 drops of water into the gel area with your fingers.

It is advisable to replace the electrodes if their adhesion deteriorates or if you feel tingling after starting the program.
Feature overview
4 spare electrodes size M and 4 and 6 size S for Bluetens Duo Sport
Reusable for 20-30 programs (electrode wear depends on skin type and hair)
Resealable cover protects the electrodes from drying out
The package is sufficient for approximately 3 months of electrotherapy
Important warning:
People with a pacemaker or prone to seizures should not take Bluetens. The use of an electrostimulator is not recommended for pregnant women, people suffering from hernias and events. People with heart disease must avoid using electrodes in areas around the heart. You should also not use Bluetens if you have implants or metal prostheses, heart disease or arrhythmias, diabetes (loss of sensation), severe lower circulatory disorders.

Since 2014, the French company Bluetens has been focusing on the development of a unique electrostimulator connected to the application, which you control with a single button. Developed by healthcare professionals and sports professionals, Bluetens, as an approved healthcare facility, relieves pain and improves sports performance through the beneficial effects of electrotherapy on the human body.
More Information

| | |
| --- | --- |
| Product code | BL-ELECDS |
| Barcode | 3760071201115 |
| Color | Black |
| Manufacturer | Bluetens |
| Manufacturer's website | www.bluetens.com |
| Canonical URL | bluetens-duo-sport-4-3-spare-electrodes |
We found other products you might like!