Bluetens Power Pack for Abdominals
We all want healthy and strong abdominal muscles. Who wouldn't want beautiful and firm abdominal muscles, which are the pride of every man, and not only in the summer at the beach. Few people today have the motivation to address their core. And yet it is the most important part of weight training, because a strong core provides great support for all the other muscles. Bluetens Power Pack is a great choice for helping you with this not only during the workout itself, but it helps speed up recovery after a strenuous workout. Know your best and improve every day thanks to increased muscle loading efficiency.

The Power Pack includes an electrostimulator, belt clip, cable and specially designed ABS electrodes to help you develop abdominal muscle growth. A special option created by sports specialists has been added to the app to give you abs of steel!

Bluetens electrodes are high quality and have the best conductivity. One pack of replacement electrodes contains 3 sets of 2 electrodes for abdominal muscles. Exercising with an electrostimulator solves a multitude of chronic and acute pain without the burden of analgesics. It helps improve your athletic performance and relieves muscle tension.

Unbeatable benefits of Bluetens Power Pack:
• Effective in 4 weeks
• Let the app guide you: choose your level, exercise, recover and then stretch.
• Ergonomically designed electrodes that conform to the shape of your abdominal muscles
• Integrated videos for performing physical exercises simultaneously with electrostimulation
• Complete kit including electrostimulator
Availability: In stock (More than 5 units)
If the goods are not in stock, the usual delivery time is between
2 and 3 weeks
We are very grateful for your comments and suggestions
Wholesale conditions for authorized resellers on request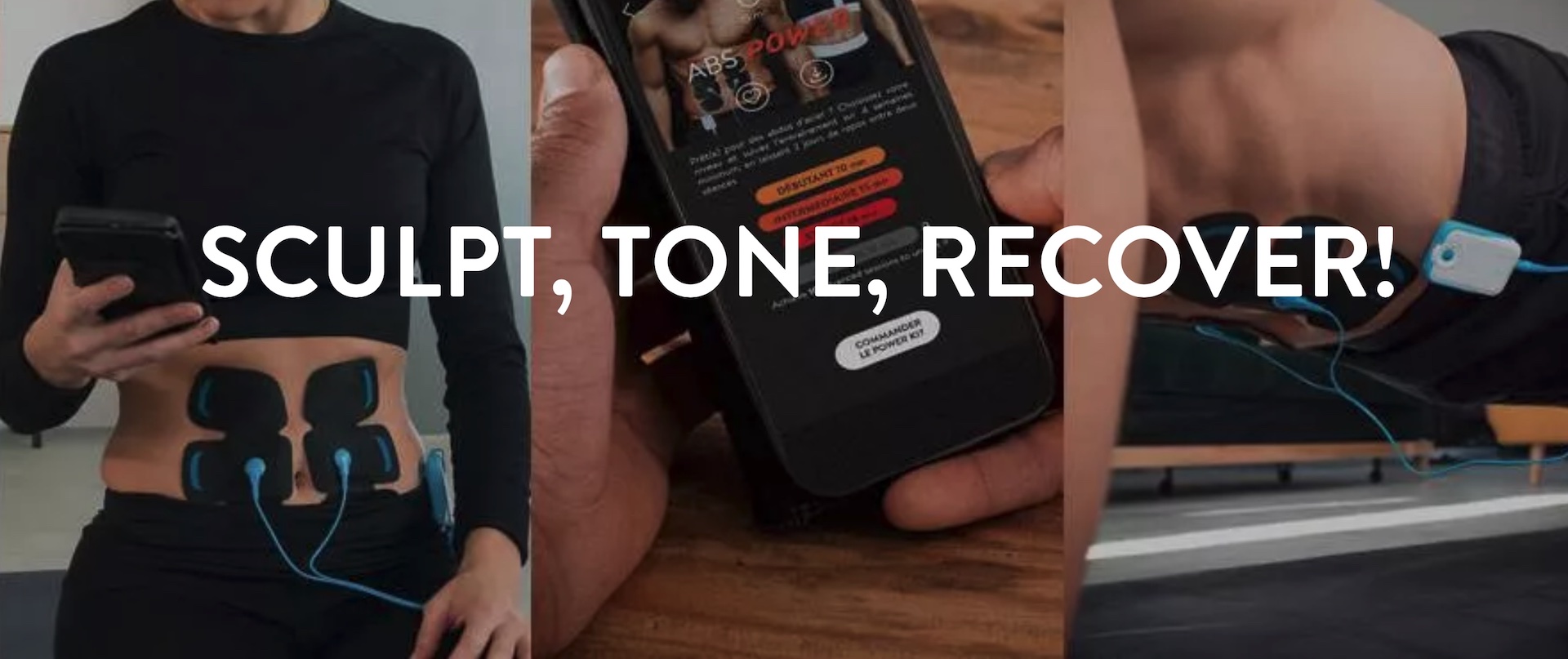 We all want healthy and strong abdominal muscles
Who wouldn't want beautiful and firm abdominal muscles, which are the pride of every man, and not only in the summer at the beach. It is the most important part of bodyweight training, because a strong core - abdominals provides great support for all the other muscles. Bluetens electrodes are great for helping you with this not only during the workout itself, but they help speed up recovery after a strenuous workout. Know your best and improve every day thanks to increased muscle loading efficiency.
The ideal partner for a complete core strengthening
Looking for an oartner to help you increase your abdominal muscle strengthening performance, look no further. you just found it! There's the Bluetens Power Kit, a complete kit for strengthening your abdominal muscles and fast recovery after exercise.
Discover the Power Pack ABS set specially designed to strengthen your abdominal muscles!
Find a complete range of conditioning exercises, stretching, electrostimulation and new accessories.Learn good exercise habits and take your abilities to the next level.
Tips for the correct use of electrodes
Due to polarity you may feel that some of the electrodes are not working - no worries, the electrodes work correctly and independently. If you wish, you can turn the Bluetens off and gently move the electrodes so that they are positioned correctly on the nerve endings.


The electrodes must be placed on the skin without overlapping. At the same time, make sure that the cable is correctly connected to the electrostimulator.
If the electrodes dry out, you can gently rub 1 or 2 drops of water into the gel part with your fingers.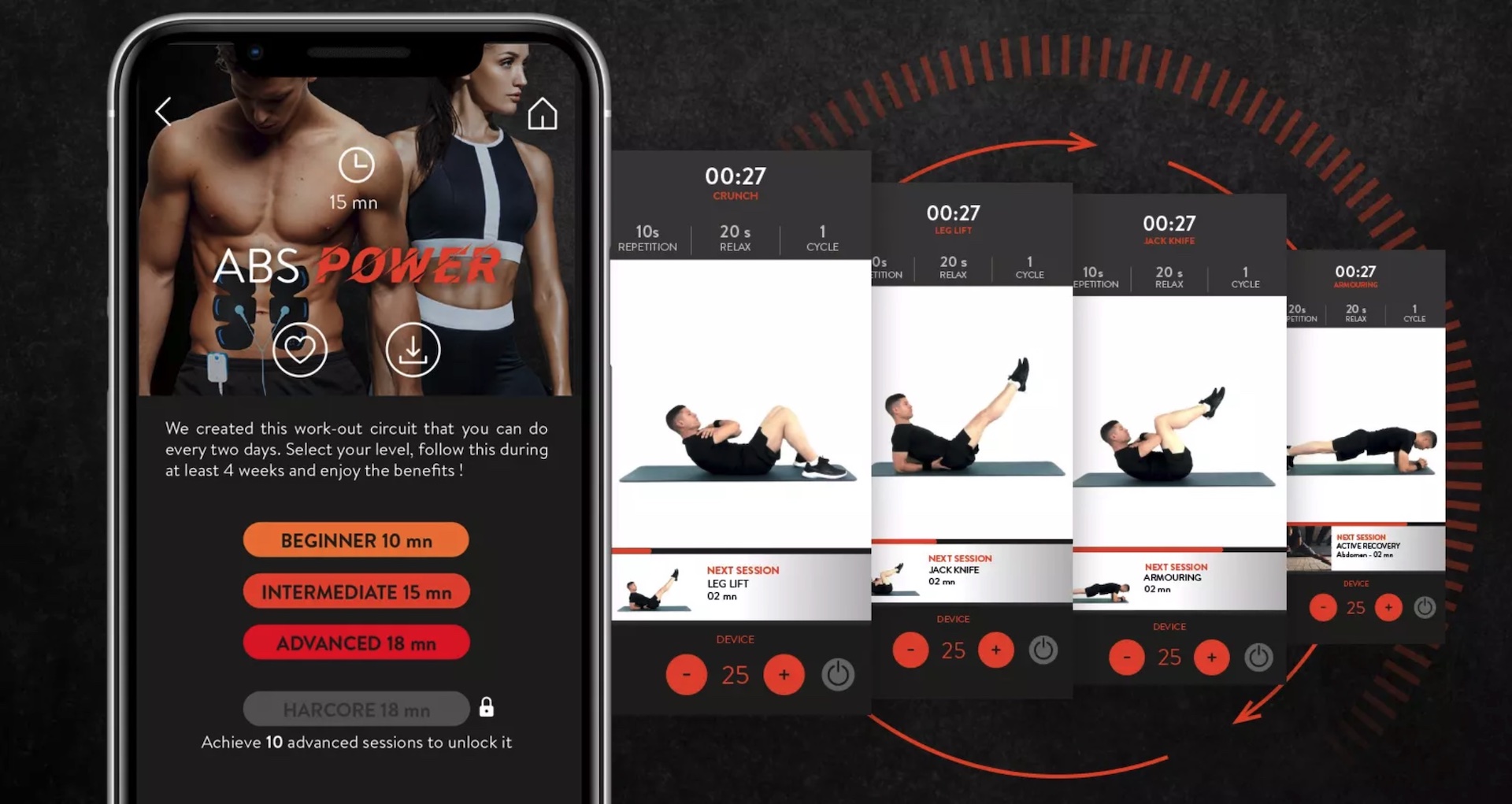 Summary of Features
Effective in 4 weeks
Let the app guide you: choose your level, exercise, recover, then stretch
Ergonomically designed electrodes that conform to the shape of your abdominal muscles
Integrated videos to perform physical exercises simultaneously with electrostimulation
6 top quality electrodes for abdominal muscle care and growth
Reusable for 20-30 programs (electrode wear depends on skin and hair type)
Sealable packaging protects electrodes from drying out
Pack lasts for approximately 3 months of electrotherapy
Package contents:
A total of 3 sets of 2 electrodes for the care and growth of abdominal muscles
1 belt clip
1 electrode cable
2 carabiners
Sealable packaging
Instructions
Important Notice:
Persons with a pacemaker or who are prone to epileptic seizures should not take Bluetens. The use of an electrostimulator is not recommended for pregnant women, people suffering from hernias and eventracies. People with heart disease must avoid using electrodes in areas around the heart. You should also not use Bluetens if you have implants or metal prostheses, heart disease or arrhythmia, diabetes (with loss of sensation), severe lower extremity circulatory disorders.

Since 2014, the French company Bluetens has focused on developing a unique app-connected electrostimulator that you control with a single button. Developed by medical and sports professionals, Bluetens, as an approved medical device, relieves pain and improves sports performance through the beneficial effects of electrotherapy on the human body.
More Information

| | |
| --- | --- |
| Product code | BL-PPOW |
| Barcode | 3760071201856 |
| Color | Black |
| Manufacturer | Bluetens |
| Manufacturer's website | www.bluetens.com |
| Canonical URL | bluetens-duo-sport-prislusenstvi |
We found other products you might like!