Hyper® HyperJuice 245W GaN – USB Charger
Despite its compact dimensions, the Hyper 245W GaN charging adapter is the most powerful multi-functional charger you can buy.

As one of the world's first and smallest at the same time, it boasts an unrivalled power of 245 W. Whether you're a professional working from home or using your smart devices purely for fun, you'll never have a problem charging them again. You can deliver juice to four at once at full speed thanks to the 100W USB-C Power Delivery ports powered by top GaN technology.

It's clear that the Hyper certainly didn't skimp out on performance. They didn't leave the design of this piece to chance either. The inspiration from the style of Apple products and their Space Gray colour is not accidental. This time too, Hyper managed to create a little gem that will surely stand out on your desk. And it will also accompany you on the road just as well.

Availability: On the way from the manufacturer
If the goods are not in stock, the usual delivery time is between
2 and 3 weeks
We are very grateful for your comments and suggestions
Wholesale conditions for authorized resellers on request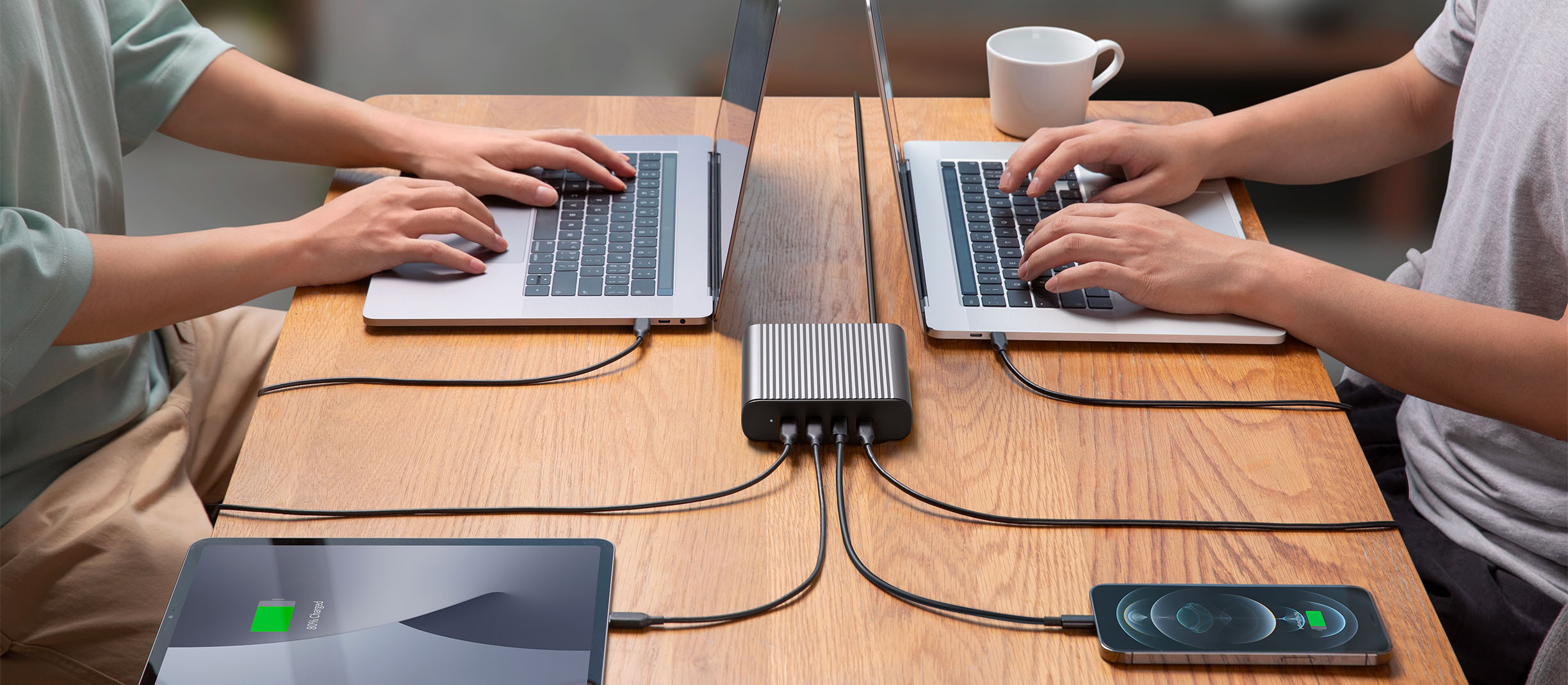 Charge 4 devices simultaneously
As devices grow in size and performance, so do their power requirements. In response, this year Apple introduced its charger with the highest output of 140 W to date. But this adapter from Hyper surpasses it, and by quite a bit. You can get up to 245 W from it. It has four USB-C charging ports, each of which has a power of 100 W. You can easily use them all at once. The performance you get from each of the ports when fully engaged will be determined by the power draw for each device. Don't worry, it can handle even the more energy-demanding ones.
Perks of innovative GaN technology
The abbreviation GaN hides the innovative gallium nitride semiconductor technology, which charges faster and more efficiently than traditional silicon-based chargers. At the same time, this solution makes it possible to maintain the minimum dimensions of the power adapter. You will thus be able to enjoy a little more free space on your desk.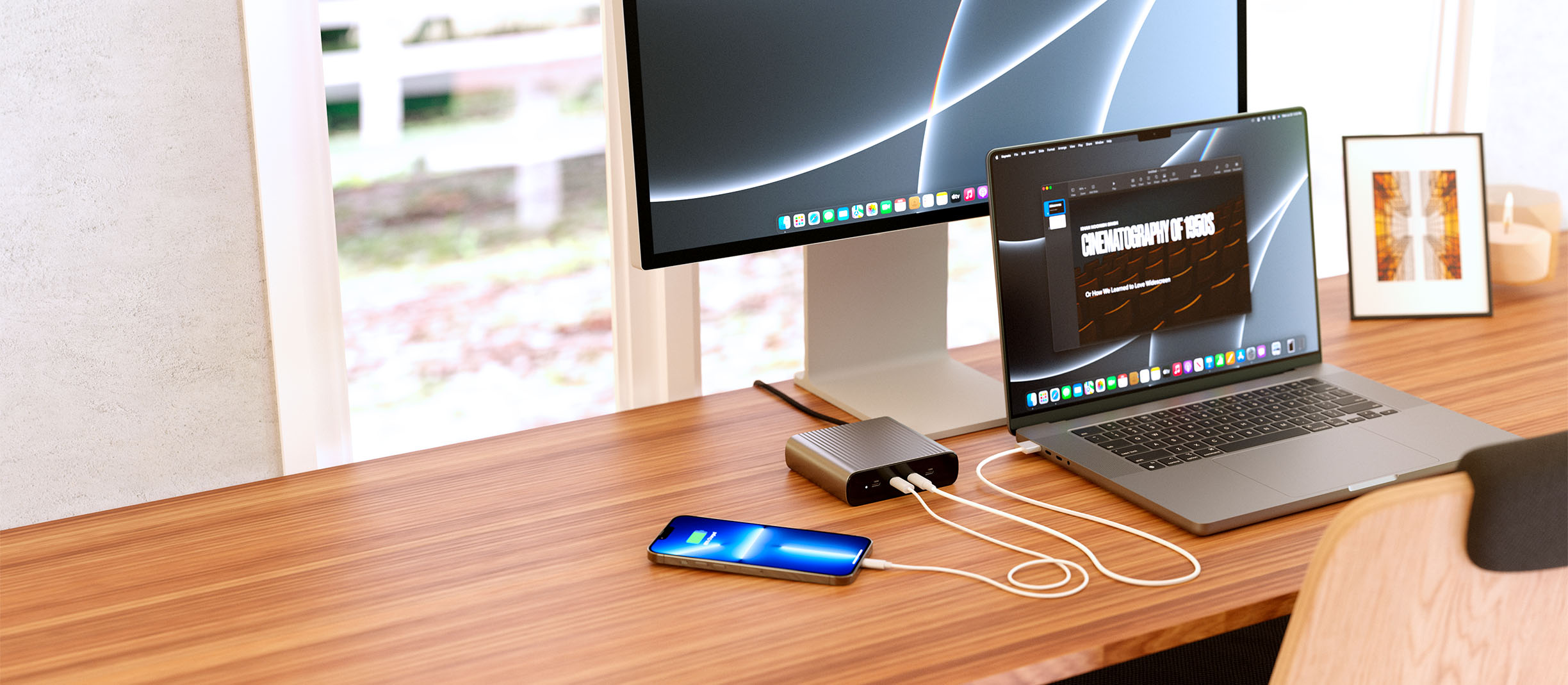 Ideal solution for life on the go
Modest dimensions do not only mean better organized workspace. Feel free to pack the adapter with you on your trip - it really won't take up much space in your backpack or bag. Hyper also equips you with a full 2-meter-long AC extension cord so you are never tied to the immediate vicinity of an outlet again. Perfect for living on the go, working at the airport, in a coffee shop or anywhere else where it's hard to find a plug and enough space, don't you think?
Impressive design that gets you
Love stylish electronics and accessories? Then you will be a big fan of this charger as well. Its plastic body is decorated with small ridges at the top and bottom, its surface is smooth on the sides. The overall elegant design of the adapter, including the colour design, will perfectly compliment your Apple darlings.
Fantastic safety features to protect electronics while charging
Enjoy your peace in mind when charging your electronics. Hyper designed this extraordinary charger to protect powered devices against too high current, overvoltage, over temperature and short circuit.
Compatibility
Compatible with USB-C devices
Supports PD 3.0, QC 4.0+ and PPS for iPhone, iPad, Android, PC, Chromebook and Samsung fast charging
Feature overview
Charging adapter with 4 ports
Ports: 4 x USB-C (100 W; PD 3.0)
Maximum power 245 W
Ability to charge 4 devices simultaneously
Fast charging thanks to innovative GaN technology
Portable with compact dimensions, ideal for travel
Protection of charged electronics against overcurrent, overvoltage, excessive temperature and short circuit
Superior design
Supplied with network cable C 7, length 2m
Dimensions: 105 x 100 x 32 mm
Weight: 582 g
Package contents
HyperJuice 245W GaN charger
Network cable
User manual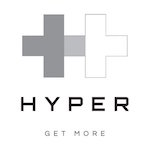 Based in Silicon Valley, Hyper maintains its enthusiasm and sense of innovation in computer and mobile gadgets, power transmission and data storage even after more than 10 years of existence. The brand is responsible for several successful and award-winning products. It is also known for, many of the world's best: for example, the first wireless USB port or the thinnest HDMI cable. Hyper is an irreplaceable helper for working with MacBooks, iPads and devices with USB-C connectors. High transfer speed and precise processing are essential in our selection.
More Information

| | |
| --- | --- |
| Product code | HY-HJGAN245 |
| Barcode | 6941921148652 |
| Color | Space Gray |
| Manufacturer | Hyper |
| Manufacturer's website | www.hypershop.com |
We found other products you might like!