Rolling Square MAGSAFE DOCK MINI – wooden stand
Product code
RS-MAGMIW01R
Keep MagSafe firmly in place with the elegant wooden stand! The Swiss company Rolling Square has created an incredibly effective accessory that will win you over with its functionality and style.

MagSafe Dock Mini is characterized by minimalist trendy design. It is more space-saving, so it can easily find its place even in the smallest area. There are no limits to its location. A special adhesive layer on its underside allows it to be repeatedly attached to any smooth surface.

Thanks to the patented "Take It or Leave It" system, handling the phone while it is charging is very easy. If you simply lift the iPhone from the stand, MagSafe will remain attached to it, while the neodymium feedback magnets will keep the charger in the dock when you slide the phone to the side. You no longer have to complicate the separation of MagSafe from the device - now you can comfortably do it in one go.

Lovers of originality will certainly enjoy the fact that each individual piece of MagSafe Dock Mini is completely unique with a unique wood pattern.

• Convenient charging in the magnetic dock
• Anti-slip base
• Easy handling
• Made of solid wood
• Compatible with Apple MagSafe
Availability: In stock (More than 5 qty)
If the goods are not in stock, the usual delivery time is between
2 and 3 weeks
We are very grateful for your comments and suggestions
Wholesale conditions for authorized resellers on request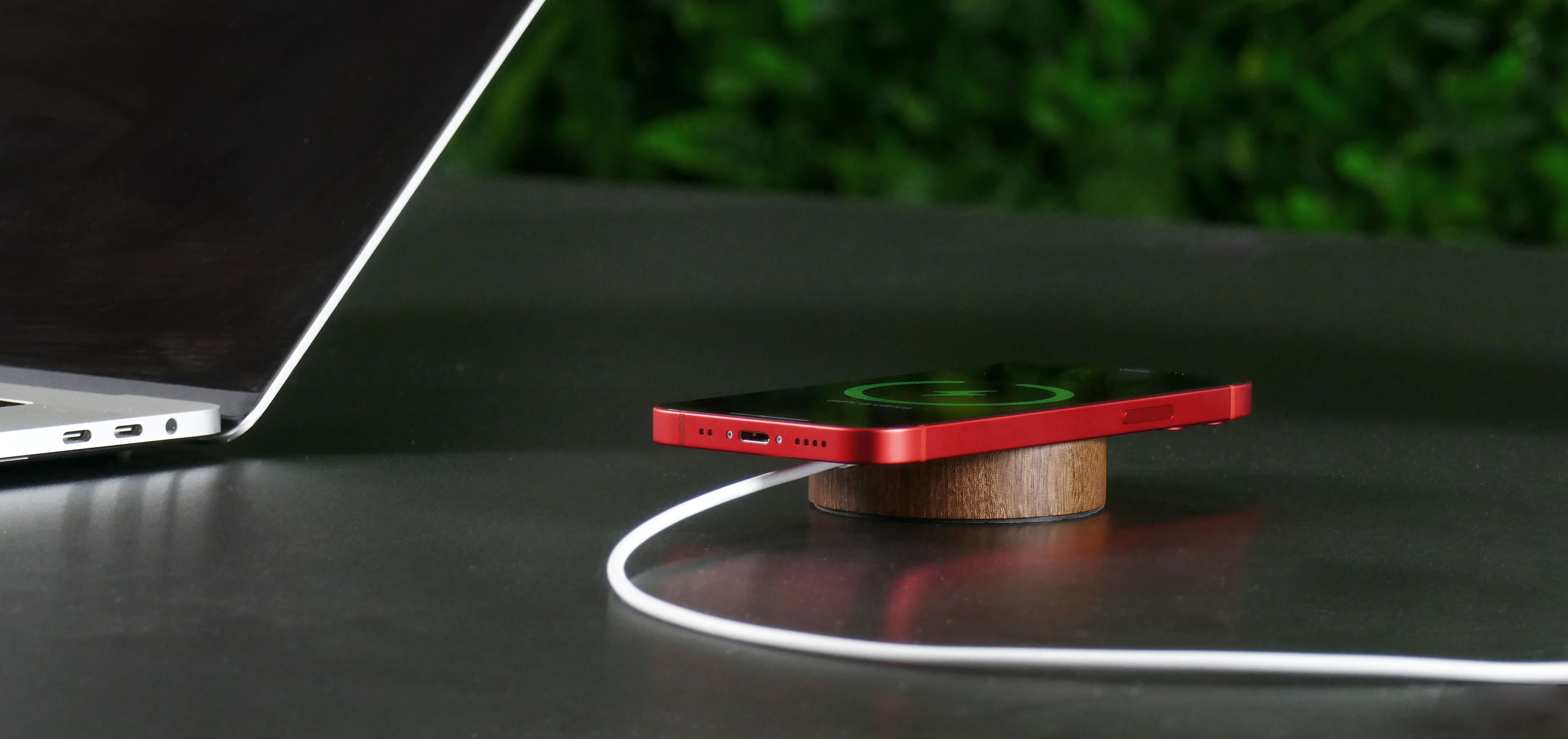 MagSafe Dock Mini - a tiny but mighty helper
With the new iPhone models, Apple has introduced MagSafe technology, which allows charging via magnetic bond. However, the simple design of the charger soon revealed its impractical aspects. The Rolling Square stand will playfully cope with these shortcomings. MagSafe will no longer slip on the ground or otherwise bother you on the desktop. Simply place it in the MagSafe Dock Mini and safely stabilize it there. The stand is more modest in size, so it is an ideal choice for smaller spaces where we often charge the iPhone - typically bedside tables.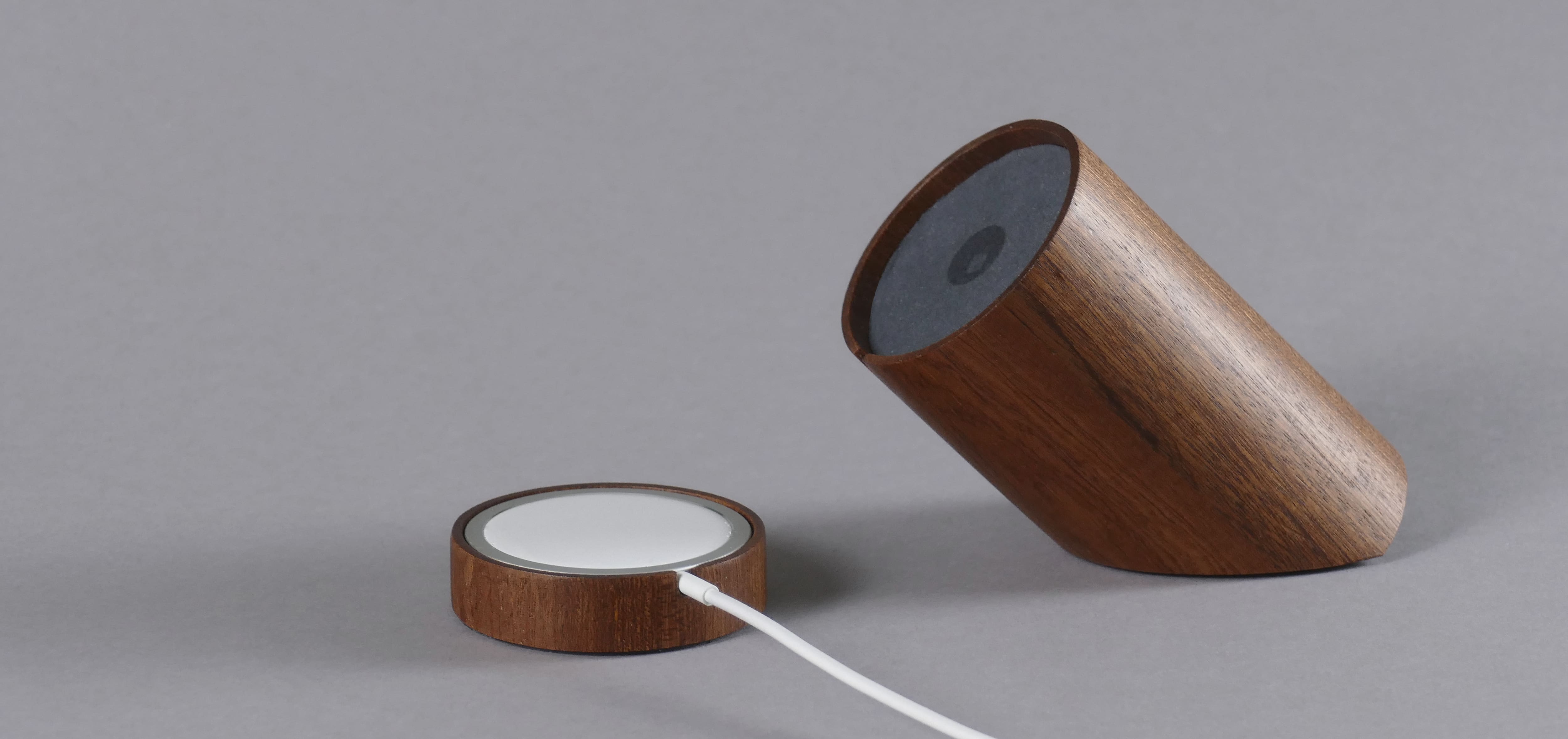 Original material and style
Solid walnut wood gives the charging stand an elegant and distinctive look. Thanks to the minimalist design, it will complement any interior as a tasteful and original element. Each MagSafe Dock Mini is beautifully unique and differs from each other in the pattern of the piece of wood used. Its durability and long-lasting beauty are guaranteed by a special surface treatment.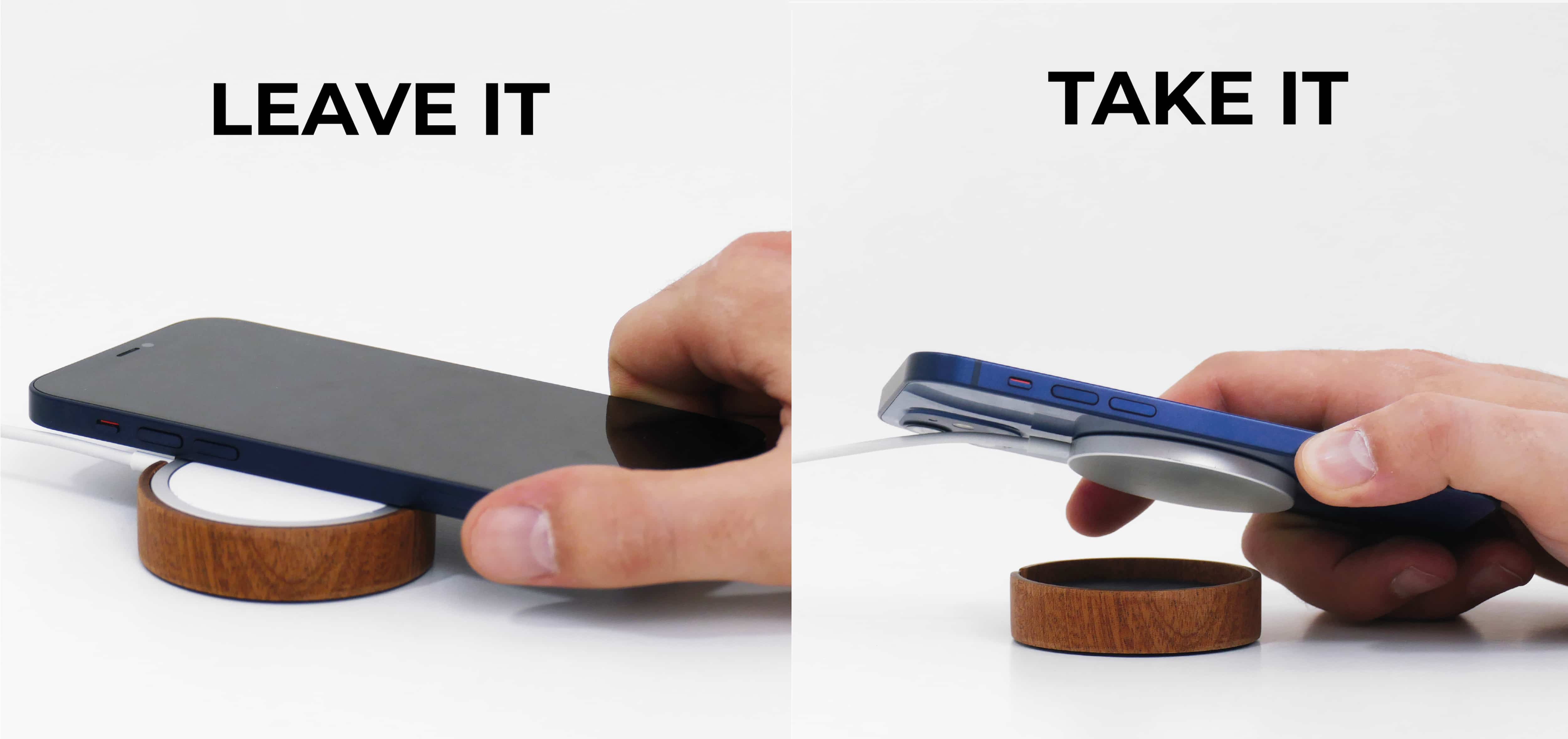 Patented "Take It or Leave It" technology
Apple MagSafe is held in the base by small neodymium magnets. These are discreetly hidden under a suede pad, which also protects the charger from scratches. The innovative patented design makes handling the phone during charging more convenient than ever before. To separate the iPhone from MagSafe, simply move the phone aside. The magnetic bond between the device and the charger is broken and MagSafe remains docked. While with the classic iPhone lift, its connection to the charger will be maintained.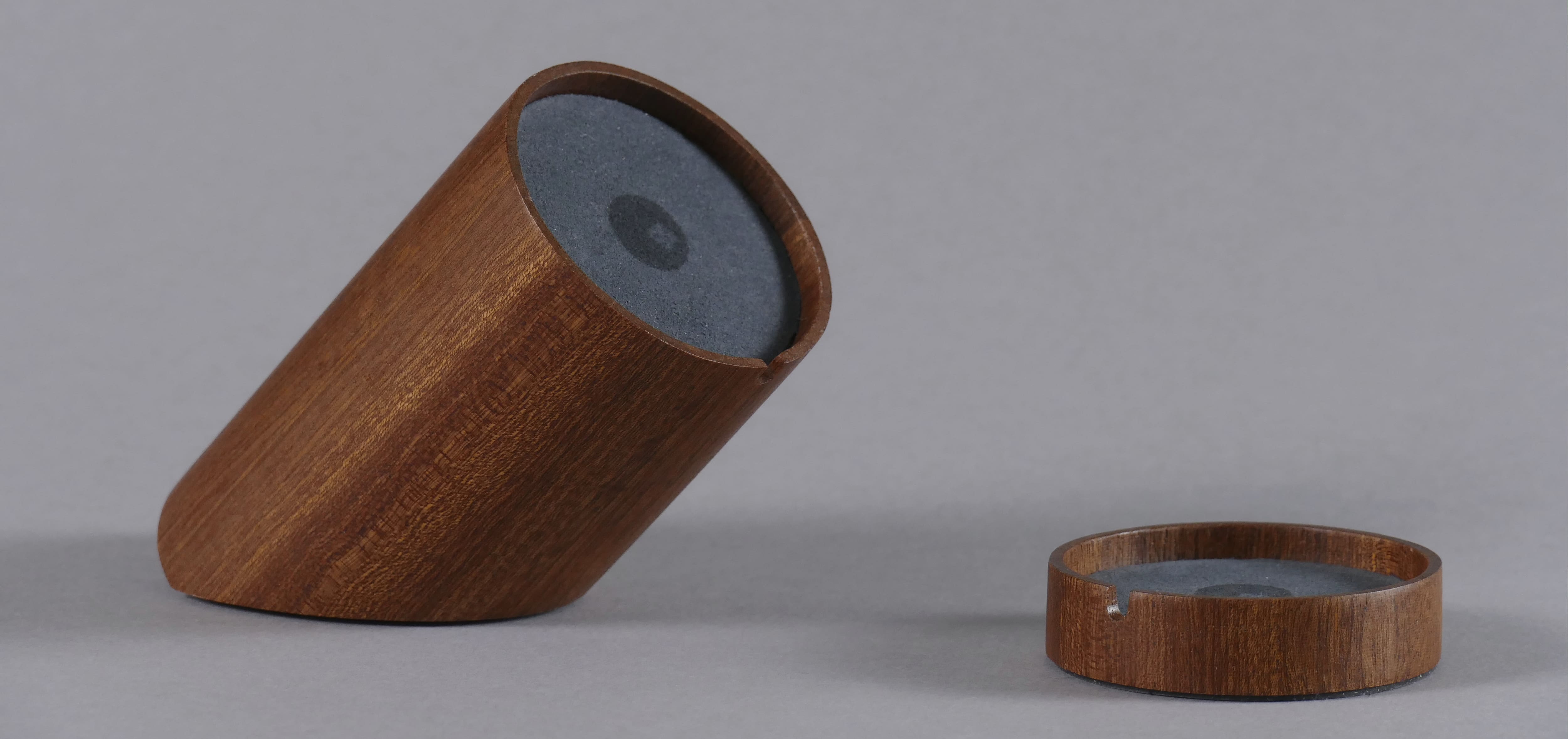 Nanotechnology for perfect stability
The base of the stand is equipped with a non-slip high-tech layer that adheres to any smooth surface. Forget the adhesives, the flawless stability of MagSafe Dock is due to nanotechnology, resp. a large number of mini suction cups. Thanks to them, the stand can be easily moved as often as you need, without damaging it or deteriorating the furniture underneath it. To restore the suction function of the base, rinse it under running water.
Specifications:
Material: walnut / sapele solid wood
Anti-slip base
PU suede anti-scratch pad
N52 magnets
Compatible with Apple MagSafe
Note: The MagSafe charger is not included.
Rolling Square indicates a solved problem.
That is
the philosophy of a team of innovators
based in Switzerland, who strive to create really useful products that will
make your life a little bit easier
. The success of Rolling Square lies in products that effectively solve everyday problems in an affordable and best possible way. The fact that they hit the jackpot is most often verified among future users in terms of the crowd funding, because the production of other useless electronics is definitely not their style.
More Information

| | |
| --- | --- |
| Product code | RS-MAGMIW01R |
| Barcode | 7640170460810 |
| Color | Wood |
| Manufacturer | Rolling Square |
| Manufacturer's website | rollingsqua.re |
| Canonical URL | incharge-magsafe-dock-mini |
We found other products you might like!