Ozobot STEAM Kits: OzoGoes to the Solar System
Product code
OZO-035010-01
Three - two - one – blast off! Embark on an exciting journey of space exploration while mastering fundamental STEAM concepts and technical skills. The game OzoGoes to the Solar System will take you there.

Your task will be to build models of all the planets of the solar system, arrange them on the board in the correct order and match them with fact cards. Then all that remains is to set them in motion and by carefully observing them get the answers to the attached worksheets.

The game is designed as a supplement to school education for children over 8 years old. It develops and supports inquisitive, creative and critical thinking, logical judgments and teamwork. One set is suitable for a group of up to 4 students.

Availability: In stock (More than 5 units)
If the goods are not in stock, the usual delivery time is between
2 and 3 weeks
We are very grateful for your comments and suggestions
Wholesale conditions for authorized resellers on request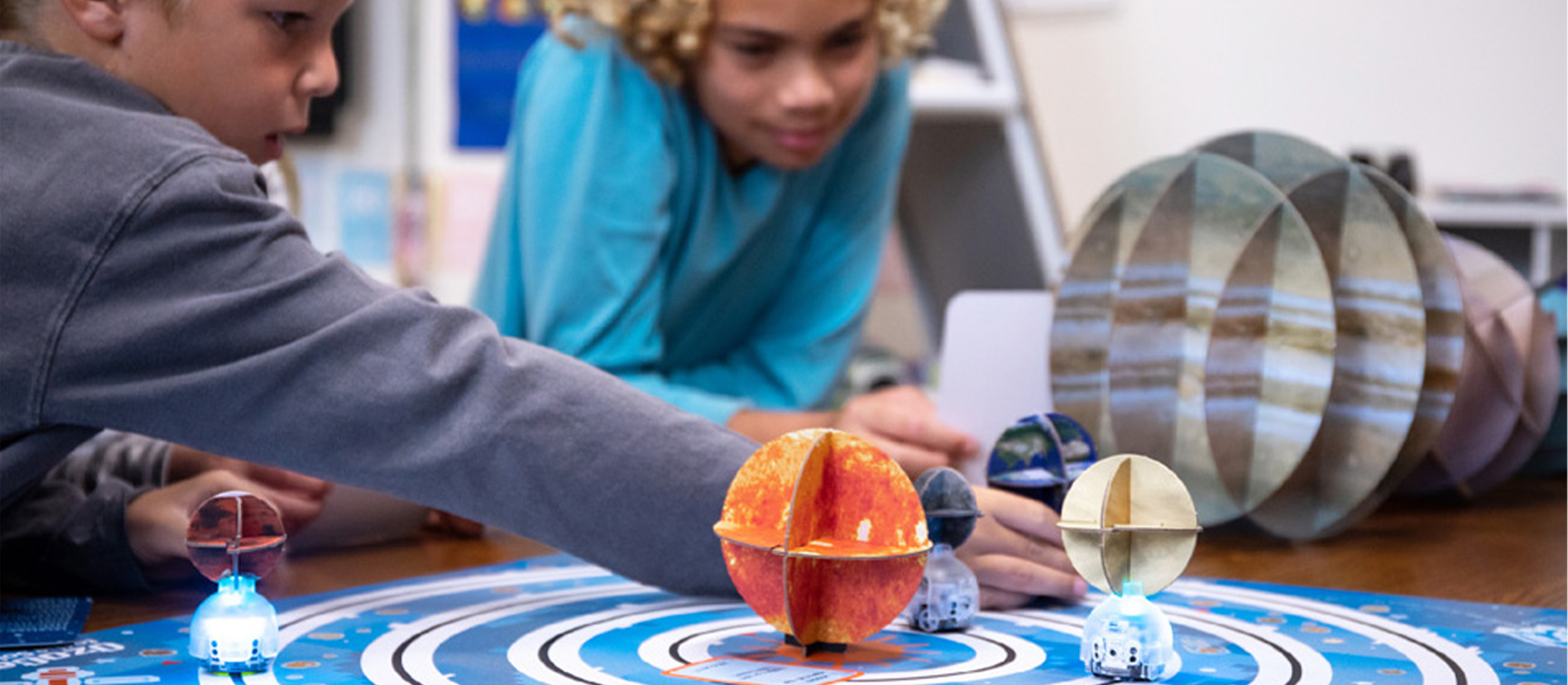 Uncover the secrets of the Solar System with an interactive project
It would be a huge shame to learn about space just by reading a textbook. Encourage the curiosity of younger students with the OzoGoes to the Solar System game, which is guaranteed to draw them in. Together, they can build models of the planets, place them on the game board and assign cards with corresponding properties to them. The four planets closest to the Sun
can be set in motion with the help of small Ozobot robots
. By subsequently observing the model of the solar system, children get answers to the
attached worksheets, strengthen the acquired knowledge, but also develop critical thinking
.
Spice up your lessons with lots of fun activities
One set can engage a group of up to 4 students
. Together with it, you will get ready-made thematic activities and lessons. In addition, Ozobot offers
access to additional STEAM Kit digital lessons
in Ozobot Classroom, completely free of charge. All you have to do is scan the QR code on the game's package.
Feature overview
Interactive and educational game
Supports technical and creative skills
Strengthens critical thinking and teamwork
Suitable for schools as a supplement to teaching
One set contains
1x game board
4x Evo hats
8x planet models
10x learning cards
36x cards to assign to planets
Assembly instructions
Lesson plans, answer key
*Ozobot robots are not included in the package. These can be purchased separately. The game can be used even without them.

In 2012, Ozobot comes up with a new small robot prototype, and after 2 years of development, the robot is presented at the largest consumer electronics fair in Las Vegas. In the next years children and students all over the world quickly took a liking to . . Since then, the
Ozobot company has been making fun programmable robots for the next generation
.
The mission of Ozobots is to inspire young people to develop new technologies, instead of passively using them. Currently,
the entire Ozobot concept perfectly fulfills the principles of STEAM education
– linking polytechnic fields and a creative approach with the goal of developing a sustainable future.
More Information

| | |
| --- | --- |
| Product code | OZO-035010-01 |
| Barcode | 8809405237774 |
| Color | White |
| Manufacturer | Ozobot |
| Manufacturer's website | www.ozobot.com |
We found other products you might like!