tomtoc Hard Shell - 14" MacBook Pro / Air, black
When we say that tomtoc cases will be like a perfect fitting suit of armour for your laptop, we're definitely not exaggerating! But don't imagine a cumbersome bag or sleeve that relies on a massive liner. Tomtoc uses the most advanced protective features to ensure that the new range of cases retain an ultra-slim and sleek design.

Hard Shell relies on minimalism and smooth lines. No frills or extras, just elements that are truly functional and will get you by their quality. For example, the internal pocket - it has a system that helps to fix your device firmly and protect it during shocks. Together with reinforced edge reinforcement, it guarantees absolute security. There is also a soft grip handle to make even all-day wearing of the case comfortable. And let's not forget the special treatment of the top fabric, after which drops of water or other liquids simply roll off without even coming close to the stored device.

The sturdy construction, two side stabilizing straps and a zipper around almost the entire perimeter allow you to open the case wide and work on your laptop without having to take it out. This comes in handy whenever you're catching up on chores or having fun on the go, or whenever your personal space is a little more cramped.

Note: Product photos are for illustration purposes. Product may have minor color variations in handles, straps and other accessories compared to the pictures shown.
Availability: On the way from the manufacturer
If the goods are not in stock, the usual delivery time is between
2 and 3 weeks
We are very grateful for your comments and suggestions
Wholesale conditions for authorized resellers on request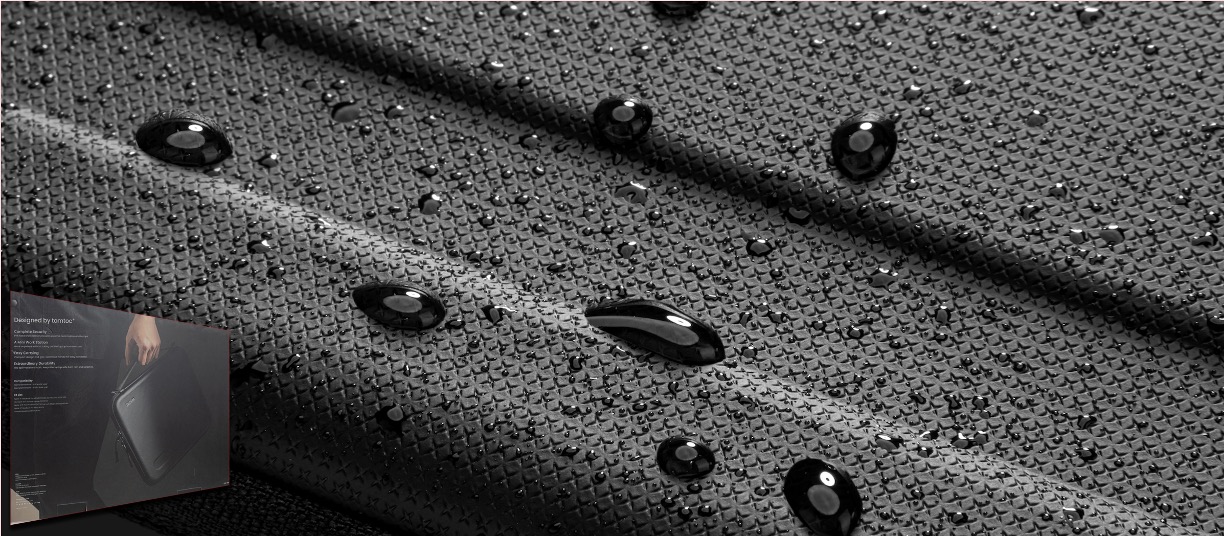 Perfectly fitting, weatherproof armour
But don't imagine a cumbersome bag you won't even want to walk to your car with. HardShell is different - lightweight yet incredibly durable. It fits your Macbook so perfectly you'll feel like it's been cast on it, that's how perfect HardShell is. Tomtoc uses the most advanced protective features to ensure that the new line of cases retains an ultra-thin and sleek design.The top material is extremely resistant and can keep your device dry in the rain or if you accidentally spill a cup of coffee near it.
A must-have for working professionals and full-time students
We have no doubt that you keep a close eye on your favourite accessories. But even with the utmost care, you simply can't do without a holster. Especially if you take your laptop with you every time you commute or travel. It's not just about avoiding unsightly scratches. What's at stake is your often irreplaceable data. But with thisc Hard Shell, they'll be perfectly safe.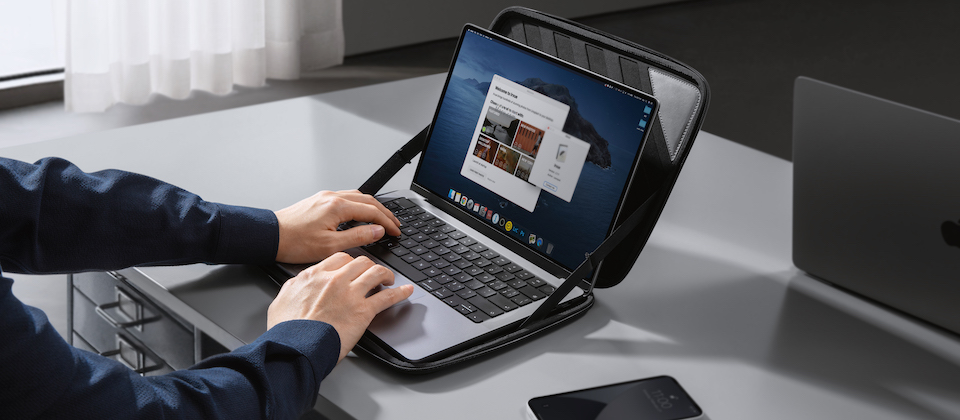 Stability thanks to perfectly fixed position
The case's extremely robust construction is built to withstand everyday challenges and accidents that would otherwise have disastrous consequences. What is its main weapon? First of all, the device fixation system in the storage pocket and the durable edge reinforcement. The laptop won't budge an inch inside and won't be threatened by even a fatal-looking drop on its most vulnerable parts.
Functionality that doesn't compromise design
I'm sure you can think of classic laptop bags that, while providing a good level of security, are quite heavy, too chunky and just plain old-school. Their opposite are fashion sleeves, which look nice but don't hold up very well. And then there's this new one from tomtoc - a case that guarantees you the highest level of protection for your electronics with an extremely sleek design, minimal size and weight. Its elegant design is ageless, unisex, suitable for any outfit and occasion. Despite its minimalism, it is certainly not boring. Its smooth lines let the interesting embossing inside the pocket stand out, as well as the unique texture of the upper fabric. The sleek impression is not disturbed by the handle, which perfectly follows the curves of the case and makes even all-day wear comfortable.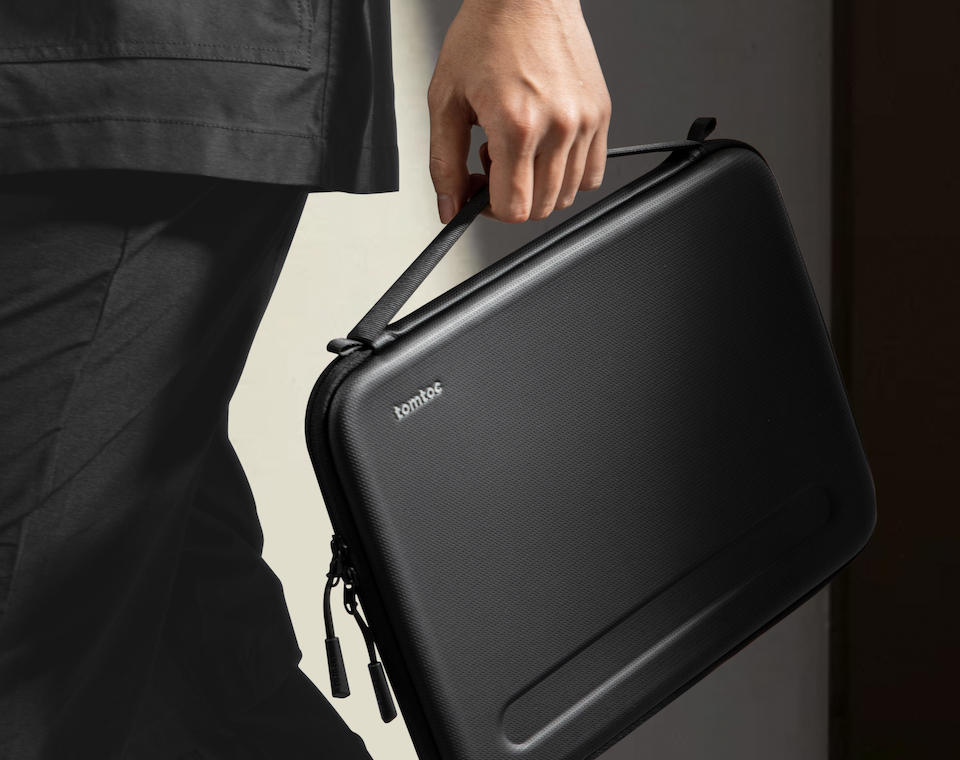 Magnificent decisive details
Just as you won't find any extraneous stuff on the Hard Shell, you won't come across a single component that fits the average. After all, even a detail like the YKK zipper used stands out for its reliability and is one of the absolute top. The top fabric of the case also has premium features. As well as being waterproof, it is a great example of sustainability, which is central to tomtoc - it is made from recycled materials. The design of the case is strong enough that you can open it wide and work on your laptop without having to take it out. The hinged top of the case is held at a comfortable angle by two stabilizing straps on the sides. You'll appreciate this when you're working on the train, in a coworking space or in the library, for example, when you have very limited space around you. Or you want to use it for coffee and work materials rather than putting your bag away.
Compatible devices
14" MacBook Pro M1/M2/A2779/A2442 2021-2023
13" MacBook Pro A1502 A1425
12,9" iPad Pro 6. | 5. | 4. | 3. generation with Magic Keyboard Folio
13.5" Microsoft Surface Laptop 5/4/3/2/1
Huawei MateBook 13/D14/X Pro
Acer Swift 1 | Swift 3 | Spin 1 | Spin 5 | Spin 7 | Chromebook R 13
Asus ZenBook | VivoBook 14" | 13" | Flip 13,3" | Flip S 13,3" | S 13,3" | S13 13,9"
ThinkPad X1 Carbon (5. | 6. | 7. | 8. | 9. gen.) | X390 Yoga | X380 Yoga | L390 Yoga | A285
Feature overview
14" laptop bag
Extra protection for your device
Drop, shock and impact resistance
Smart locking system to secure the device in the storage pocket
Easy access to the stored device, the possibility of wide opening of the case and its stabilization in this position
Top-quality, reliable YKK zipper
Water-resistant recycled fabric
Handle for comfortable all-day carry
Timelessly elegant design
Subtle minimalist design
Internal pocket dimensions: 31.3 x 22 x 1.5 cm
Overall dimensions: 35 x 25.5 x 3 cm
Colour: black
Package contents:
Laptop bag tomtoc HardShell for 14" Macbook/Notebook
Protect your digital devices.
Tomtoc is an innovative brand from Los Angeles that effectively
combines both technical and fashion approaches
in creating luggage and packaging for all your favorite digital devices. Stylish and timeless on the outside, and equipped with
patented protective and functional features
on the inside - these are the user and media appreciated tomtoc products that turn your laptops, tablets, mobile phones or consoles into truly "mobile" devices.
More Information

| | |
| --- | --- |
| Product code | TOM-A06D2D1 |
| Barcode | 6971937066329 |
| Color | Black |
| Manufacturer | tomtoc |
| Manufacturer's website | www.tomtoc.com |
We found other products you might like!