Zendure SuperBase Pro Dustproof Bag
When Zendure designed its SuperBase power station, Zendure envisioned it to be your companion on outdoor adventures. That is also why they really cared about the selection and processing of materials, as well as its extra durable construction.
Now it comes with an accessory to help you to make your power station even cooler. We present to you a special dust-proof bag, which primarily takes care of the protection of exposed ports and effectively helps it to prevent their damage.

The bag is equipped with a storage pocket in which you can conveniently store charging cables and other accessories. You will have everything clearly organized and ready at a moment's notice so that you can safely store the SuperBase or, on the contrary, go on trips with it.

If the goods are not in stock, the usual delivery time is between
2 and 3 weeks
We are very grateful for your comments and suggestions
Wholesale conditions for authorized resellers on request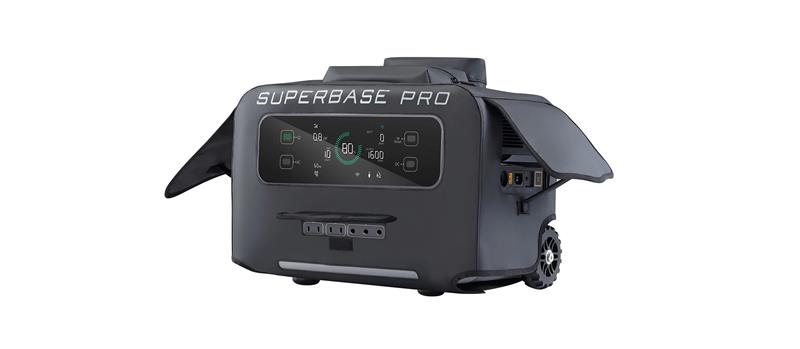 Extend the life of the SuperBase by protecting its exposed parts
What part of the SuperBase charging station is the most vulnerable? Power outlets! Their damage by dust or other impurities could literally have fatal consequences. This dustproof bag is designed to protect them all while allowing convenient access to them.
A practical helper at home or on the go
Although Zendure assumes that you will go off-road with the SuperBase in its protective jacket, you will also use the bag for its storage. This way the ports stay safe and retain their 100% functionality. And you won't be in for an unpleasant surprise when you use it again.
Sophisticated details for trouble-free operation of the station
In addition to the power sockets, the bag also protects the 6-inch display of the base from scratches. In this part, it is equipped with a transparent cover so that you can continue to monitor important information about the operation and status of the device. You can leave the SuperBase in the protective bag even when the base is in full operation. It doesn't interfere with its ventilation in any way, so you don't have to worry about the device dangerously overheating because of it.
Something extra for lovers of order
Do you like everything in its place? Then the Zendure hits the mark with another storage pocket located on the back of the bag. This is big enough for all the charging cables and accessories you might need while using the base.
Properties
Dustproof bag for the SuperBase Pro/P series
Protection of ports and display from damage, ingress of dust and dirt
Protects the device during transport and storage
Equipped with a storage pocket for the neat organization of power cables and other accessories
Retention of all functions including ventilation of the base during operation
Technical specifications
Weight: 0,5 kg
Dimensions: 47 x 27 x 35cm
Colour: black
Package contains
1x Dustproof Bag
Meet the Zendure SuperBase Pro Dustproof Bag, Solar Panel and Power Base Zendure SuperBase Pro 2000 in the video

Zendure is a Californian company founded in Silicon Valley in 2013. Its team is made up of eager campers and tech adventurers who want to empower mobile life. Their goal is to help ensure availability and access to energy when you need it most. Regardless of where you are at the moment. In doing so, they try to use the most ecological and clean energy sources, such as solar and wind. Their quality is confirmed, among other things, by the fact that it is one of the fastest growing EnergyTech start-ups ever. Zendure's products are currently sold all over the world and in addition to the US, it also has branches out in China, Japan and Germany.
More Information

| | |
| --- | --- |
| Product code | ZD-SBP-BR |
| Barcode | 850034639758 |
| Color | Black |
| Manufacturer | Zendure |
| Manufacturer's website | zendure.com |
We found other products you might like!