Hyper® HyperDrive™ USB-C To Duel HDMI Adapter+PD over USB (M1)
Connect your device to two HDMI monitors in parallel and enjoy the image in phenomenal quality on both - does it seem impossible to you? The company Hyper will convince you otherwise with its sleek accessories!

This is precisely what their new Dual 4K HDMI adapter can do. This allows you to connect two monitors, one with a 4K resolution and a frequency of 60 Hz via HDMI and DP Alt mode, and one with the same resolution and a frequency of 30 Hz via the HDMI interface and Silicon Motion's InstantView technology.

Its abilities certainly do not end there. You can also enjoy fast charging of the connected device using the 100 W USB-C charging port. On top of that, it's a truly universal adapter, fully compatible with MacBook Air/Pro, Windows computers, and Chromebooks. Compatible with MacBook Air/Pro (M1/M2).

Availability: On the way from the manufacturer
If the goods are not in stock, the usual delivery time is between
2 and 3 weeks
We are very grateful for your comments and suggestions
Wholesale conditions for authorized resellers on request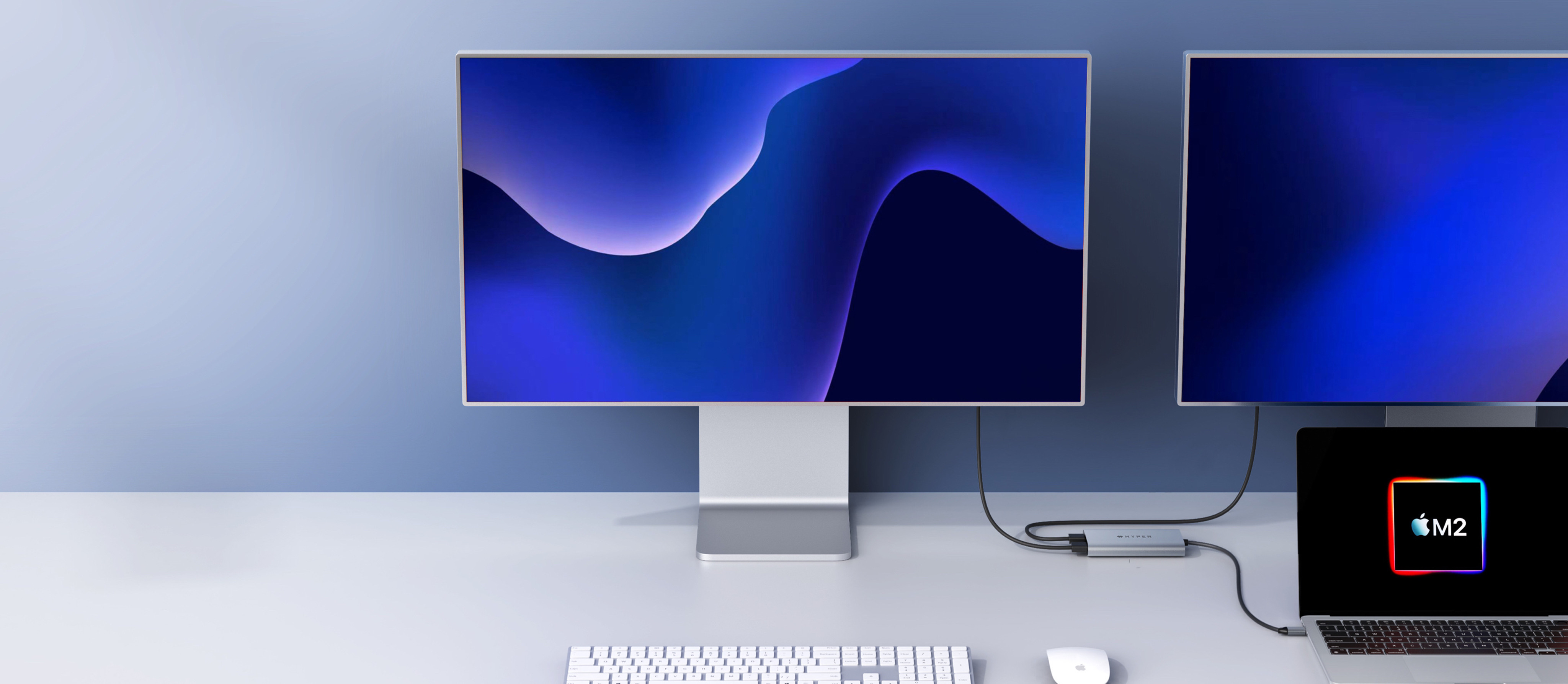 Connection of 2 displays with 4K resolution
Give your computer the ability to connect two external monitors with crystal clear 4K resolution image! One will work with 60Hz, the other with 30Hz refresh rate. These are great parameters to enjoy a thrilling sports broadcast at home, create your own home cinema or enjoy playing games on a completely different level!
Fast and easy setup
It will not take a lot of time to setup the adapter. Just connect it to your device via USB-C and wait for the HyperDisplay APP icon to appear on your desktop. All you have to do is double-click it and the fun can begin.
Fast charging
The fact that you are currently watching an action movie or working on your presentation at a work conference does not prevent you from using the adapter for fast charging at the same time! This is made possible by USB-C Power Delivery technology with a power of 100 W.
Durable and functional design
The Hyper company was able to perfect the design of the adapter down to the last detail. Its precisely milled aluminium case perfectly matches MacBook's design and instantly becomes its elegant accessory. In this case too, style meets maximum functionality. Top-notch materials and their quality processing ensure advanced heat dissipation to prevent overheating of the adapter. In addition to reliable operation, this also contributes to extending the life of the product.
Compatibility
MacBook Air/Pro (M1/M2 and with Intel processors)
Windows computers
Chromebooks
Note:
DP Alt Mode requires the "USB-C" port on your computer to support this feature - DP Alt Mode. SMI InstantView function requires a USB-C port on the host computer that supports USB data transfer.
Feature overview
Dual HDMI - USB-C adapter
USB-C Power Delivery (100W pass-through power)
4K support, one monitor with a 60Hz frequency, second monitor with 30Hz frequency
Simple setup and installation
Versatile use
Dimensions: 102 x 60 x 15 mm
Weight: 98 g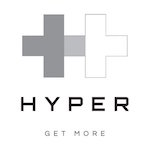 Hyper is a brand of Sanho Corporation, based in Silicon Valley, which celebrated its 10th anniversary in 2015. Hyper is not just a newcomer or a short-term miracle brand, but they keep the enthusiasm and sense of innovation in the field of computer and mobile accessories, portable power and data storage.
Over the course of its existence, Hyper has come up with many successful and award-winning products, such as HyperJuice, external battery for MacBook, HyperDrive, external storage, iStick, the first USB flash drive with Lightning connector and MFI certification, iUSBport, the first wireless USB port in the world, and HyperThin, the thinnest HDMI cable in the world.
More Information

| | |
| --- | --- |
| Product code | HY-HDM1-GL |
| Barcode | 6941921147815 |
| Color | Silver |
| Manufacturer | Hyper |
| Manufacturer's website | www.hypershop.com |
We found other products you might like!