ShiftCam Pro Camera Neck Strap - Charcoal
Product code
SC-AC-LY-CH-E
Want to expand your arsenal of mobile accessories? How about a gadget that allows you to always have your phone ready for action while keeping your hands free!

As a companion to its ProGrip, ShiftCam introduces a lightweight cotton neck strap. It does not lack other great details - a quick-release buckle or a mini case for a microfiber cloth for cleaning the lens.

Are you not using the ProGrip attachment? No problem, thanks to the special included anchor, the strap is compatible with most phone cases. Making the strap easy to use and to keep your phone safely in sight at all times or to take the perfect shot in seconds.


Availability: In stock (More than 5 units)
If the goods are not in stock, the usual delivery time is between
2 and 3 weeks
We are very grateful for your comments and suggestions
Wholesale conditions for authorized resellers on request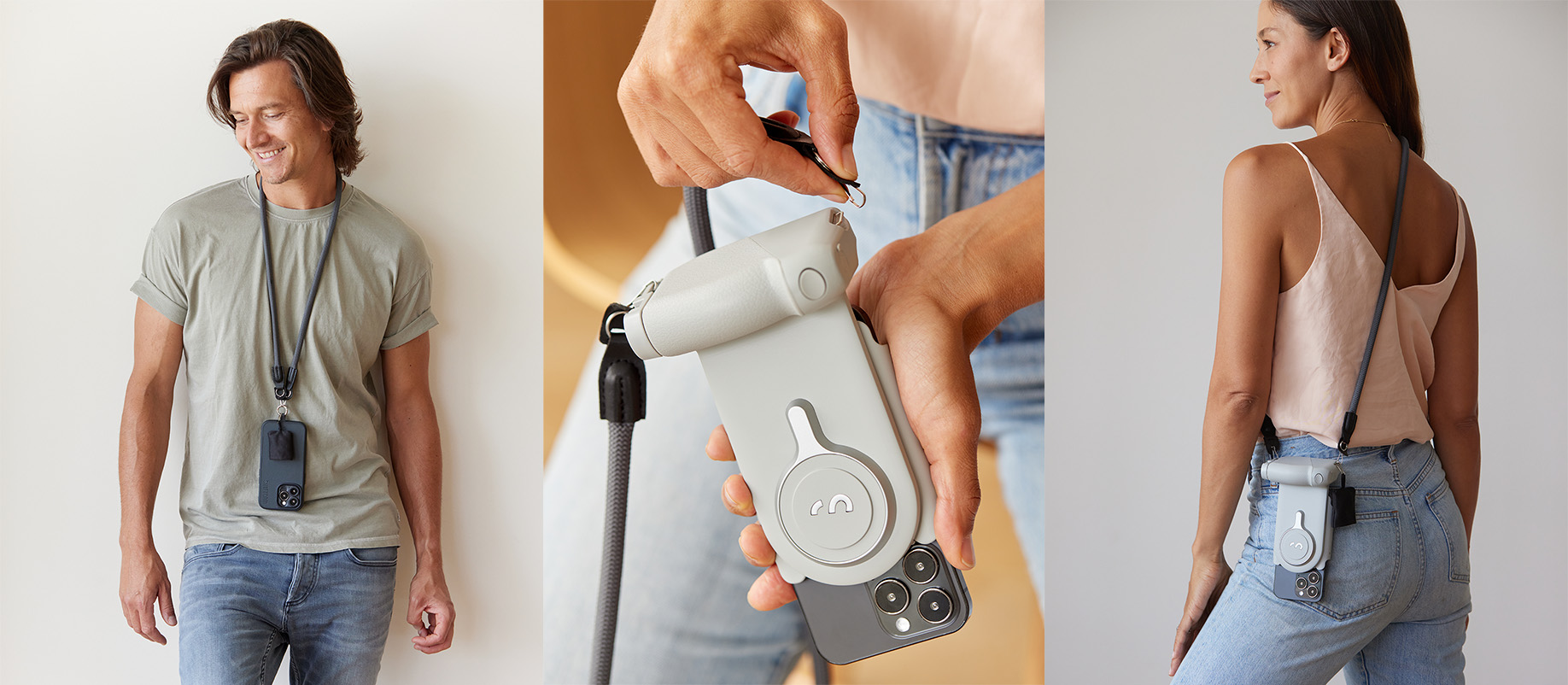 Mobile accessories with fresh details
Are you a detailistic pedant about phone straps? ShiftCam has prepared one for you that boasts several great extra features. It is lightweight and made of cotton to make wearing it around the neck as comfortable as possible. It allows you to keep your smartphone safe at all times. You can thus put aside the worry that your phone will fall out of your pocket or that strangers' persistent hands could reach it. The strap also has a small case with a microfiber cloth, which is always close at hand for cleaning the lens or display. You can fasten/unfasten your phone to the strap using the quick-release buckle. Thanks to the included set of adapters, the strap is compatible with most smartphone cases. The perfect match is made with ShiftCam ProGrip.
Feature overview
Lightweight cotton neck strap
Compatible with ProGrip and most phone cases
Length 1 m
Fastening and releasing the strap using a quick-release buckle
Mini pouch for microfibre lens cleaning cloth
High quality materials
Colour: dark grey
Package contents
Neck strap
Mini pouch + camera/lens cleaning cloth
Phone case strap adapter kit
Quick release buckle

ShiftCam was founded in early 2017 with the goal of helping users reinvent mobile photography and make it even more convenient, compact and more complex. Its founders believe that the ability to take a perfect photo or video should be available to everyone, not just professionals. That's why it tries to support the smoothest possible transition from a smartphone to a professional camera with its sophisticated mobile accessories. Thanks to it, everyone can simply pick up their smartphone and capture precious memories in a creative way.
More Information

| | |
| --- | --- |
| Product code | SC-AC-LY-CH-E |
| Barcode | 0655729667487 |
| Color | Dark Grey |
| Manufacturer | ShiftCam |
| Manufacturer's website | shiftcam.com |
We found other products you might like!