Acefast USB-C to USB-C 100W charging data cable with display
Product code
ACE-C6-03-BK
Charge to the max! Acefast cable with the support of unprecedented 100W PD technology can't do it any other way.

Watch as it recharges your device's dead battery in the blink of an eye. Its handy digital display gives you information about the current amount of flowing energy. You literally know about every Watt. The maximum output current of 5A is nothing to scoff at, yet your phone, tablet or game console remains safe while charging. The integrated E-marker smart chip protects your favourite accessories from short circuit, overheating, too high current and voltage.

Great performance deserves a powerful package. Acefast therefore adapted an integrated construction made of high-purity zinc alloy. It is resistant to corrosion, wear and guarantees fast heat dissipation. The robust nylon braiding further underlines the extraordinary durability. The cable withstood demanding mechanical tests with more than 30,000 bends even under strain. Don't doubt for a second that it can handle everyday use!

Availability: In stock (More than 5 units)
If the goods are not in stock, the usual delivery time is between
2 and 3 weeks
We are very grateful for your comments and suggestions
Wholesale conditions for authorized resellers on request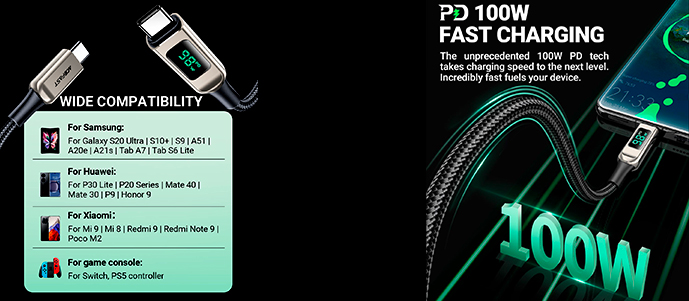 Get ready for new era of charging
How many times has a dead battery slowed down your workflow? And how many times have you had to put your entertainment on hold because of it or watch videos in an awkward position glued to the charger? Well, that's over now! You can charge
all devices with a USB-C interface
at lightning speed. Acefast comes with a sleek charging cable that shows off with a
power output of up to 100W (5A)
. To give you a better idea, you can charge for example a MacBook Pro 16'' from zero to almost 40% in just 30 minutes, and the popular Samsung Galaxy S22 Ultra to 90% in about the same time. However, if you don't want to wait even a minute, know that you can use your device while charging without sacrificing your comfort. The
cable length of 2 meters
gives you enough space. When it comes to compatibility, USB-C is currently the most versatile and powerful connector type. The cable therefore
works seamlessly with a wide range of laptops, including the aforementioned MacBooks, smartphones and countless other devices such as the Nintendo Switch and PS5 game consoles
.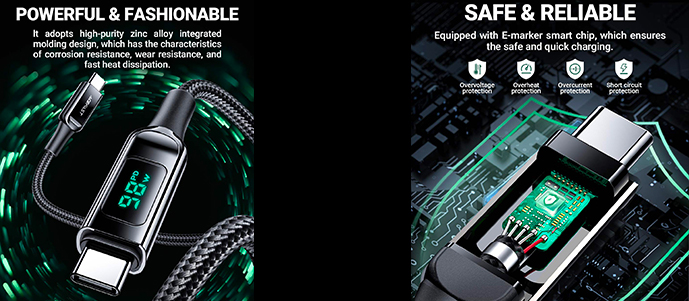 Keep charging under your control
The charging cable is
equipped with a practical digital display
. On it, you can
monitor the amount of flowing energy in Watts
, in real time. At the same time, it informs you about ongoing
charging with Power Delivery technology
. At just a glance, you can check to what numbers your charger can pull through with this cable. If they seem low to you, we recommend getting stronger equipment that will allow you to use the potential of this cable to the fullest. Acefast certainly does not overlook the issue of safety for performance. The
integrated E-marker smart chip corrects and adjusts the passing current so that your devices are not exposed to the risk of short circuits, overheating, excessively high voltage and current, or its fluctuations
. Thanks to this small detail, even at this speed, charging remains smooth and risk-free.
Fast data transfer that won't have you yawning
There's nothing better than when lightning charging goes hand in hand with ultra speed data transfer! Acefast knows very well what users want, and that's why they gave their cable the
support of a fantastic transfer speed of 480 Mbps
. You can thus
synchronize data, photos, music and other data files with your devices in a fraction of the time than you are used to
. Seriously, can you believe that you'll ever need just 25 seconds to transfer a 1GB movie? Or 5 seconds to transfer a hundred songs?
Incredible durability and maximum reliability
Are you looking for a partner who can stand the test of time? Here it is! Acefast chose a
zinc alloy construction and high-quality nylon braiding
. The zinc housing
resists corrosion and wear and guarantees fast heat dissipation
. While nylon is a
sufficiently resistant
material, which at the same time gives the cable the
necessary flexibility
. It is not surprising that with such parameters it successfully
passed the demanding bending life test with more than 30,000 deflections even under strain
. There is also
high-quality shielding along its entire length
. All in all, you can be sure that it will keep up with you and withstand daily use without the slightest problem.
Technical specifications
USB-C/USB-C charging cable with a digital display
Extremely fast charging and data transfer
Maximum power 5 A, 100 W
Fast data transfer of 480 Mbps
Extremely durable materials and construction
Wide combability
Certifications CE, RoHS, FCC, EAC
Cable length: 2 m
Weight: 64 g
Colour: black
The rapid development of the electronic and digital technology industry requires an equally high-speed response to consumer needs. And that's exactly what Acefast is all about. Since its inception, it has focused on the development of standard electronic and digital products of the best quality. It comes with practical and multifunctional solutions for charging, audio, cables, smart electronics and personal health care that are also beautiful to look at. So if you're looking for more creative products to make your digital life richer, more exciting and on the latest technology trends, Acefast is your brand!
More Information

| | |
| --- | --- |
| Product code | ACE-C6-03-BK |
| Barcode | 6974316281054 |
| Color | Black |
| Manufacturer | Acefast |
| Manufacturer's website | www.acefast.com |
We found other products you might like!