AOHi Magline PRO+ 100W cable, USB-C to USB-C
Recharge your dead phone battery fast like lightning! AOHi presents the Magline PRO+ charging cable with a fantastic 100W power.

You will be able to monitor information about the amount of flowing energy in real time on the sophisticated digital display. The multi-coloured LED diode also signals the Power Delivery fast charging from a distance. Although the maximum portion of 5 A is already quite solid, your device remains safe. The built-in E-marker smart chip protects it from short circuit, overheating, too high current and voltage.

In addition to performance, the Magline PRO+ stands out for its robustness and unrivalled durability. Aluminium ends and a high-quality alloy housing help protect the charging connectors. While the double nylon braid guarantees the extraordinary resistance of the cable. It passed extremely demanding bending tests under strenuous conditions. Don't doubt that it can't handle the daily stress easily!
Availability: In stock (More than 5 units)
If the goods are not in stock, the usual delivery time is between
2 and 3 weeks
We are very grateful for your comments and suggestions
Wholesale conditions for authorized resellers on request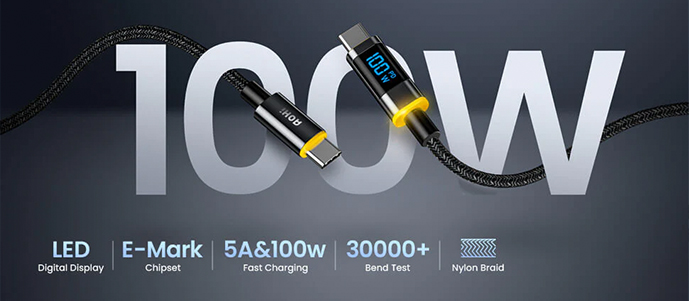 Supports faster charging to save your time
The endless waiting for a fully charged battery is over! Now you can recharge to all your
devices with a USB-C interface
at lightning speed. AOHi has prepared a great Magline PRO+ charging cable for you, which can take
its power up to 100 W (5 A)
. That this amount of input current for small electronics and accessories could lead to damage? Don't worry, the
integrated E-marker chip
will take care of the safety of your devices. It corrects and adjusts the through current so that your devices are not exposed to the danger of short circuits, overheating, too high voltage and current, or its fluctuations.
Thanks to the chip, even at this speed, charging remains safe and smooth
.
Keep the charging process under your control
Magline PRO+ is
equipped with a practical digital display
. On it, you can monitor the current performance in Watts, as well as
indicate charging with Power Delivery technology
. A
multi-coloured LED
also gives you a visual indication of the progress of charging: yellow indicates fast charging at full power, blue indicates normal speed, while green indicates slow charging. In that case, we recommend purchasing a more powerful charger. This will help you fully utilize the potential of this sleek accessory and really save time.
The amazingly fast data we've all been waiting for
Ultra speed is useful not only for charging, but also for data transfer. And even here, the AOHi Magline will not let you down.
With a support of 480 Mbps transfer
speed, you can easily
sync data, photos and music with your USB-C laptop
. To give you a better idea - with this great performance, you will only need 25 seconds to transfer a 1G movie. Once you try this speed, you'll never want anything else!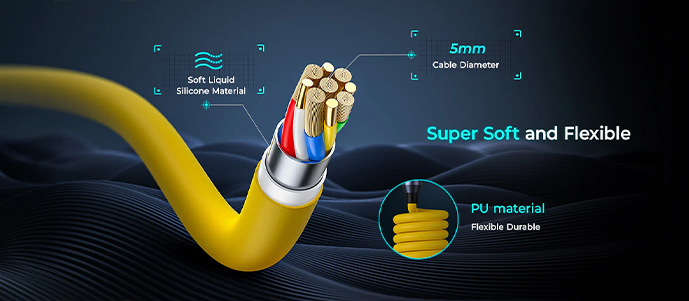 Made to last
AOHi used
high-quality Swedish aluminium
to manufacture the end caps and housing.
Thanks to the premium materials, they resist internal damage during frequent plugging and unplugging from the socket
.
The fibre core is reinforced
and protected from wear, breakage or any other damage by
nylon braiding in combination with TPE
. The extraordinary durability of the cable is also demonstrated by the fact that it has successfully
passed a demanding bending life test with more than 30,000 bends and more than 10,000 plug in tests
. It
can even carry 80kg
load. With its great speed, high level of safety and exceptional durability, Magline leaves the competition far behind!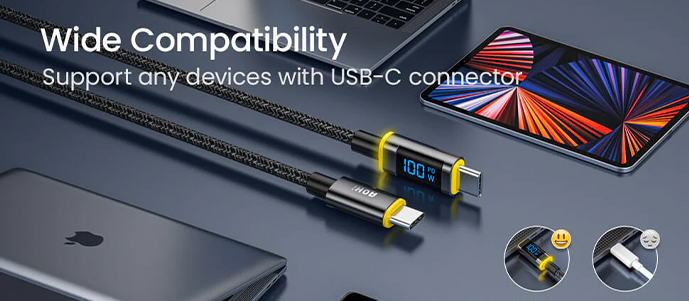 Compatibility
Compatible with Android, Windows PC and all devices with a USB-C connector
Technical specifications
USB-C/USB-C charging cable with digital display
Extremely fast charging and data transfer
Maximum power 5 A, 100 W
Three-stage LED signalling of the charging status
Fast data transfer of 480 Mbps
Extremely durable materials and construction
Built-in E-marker smart chip
Protection against short circuits and overheating, excessively high voltage and current, or its fluctuations
Cable length: 122 cm
Colour: black
Package contents
1x Magline nylon cable USB-C to USB-C with digital display
AOHi is an independent brand of Aohai Technology. It aims to use pioneering solutions and the latest technology in the development of new charging devices and smart additional services. Innovation, quality and determination are the basis of its philosophy. And that he really takes it seriously is proven by the fact that it has a professional research and development team with more than 300 engineers, 267 registered patents and is a world leader in its field.
More Information

| | |
| --- | --- |
| Product code | AOC-L010 |
| Barcode | 6973939550295 |
| Color | Black |
| Manufacturer | AOHi |
| Manufacturer's website | iaohi.com |
| Canonical URL | aohi-future-creative-power-cables |
We found other products you might like!