Robobloq Coding Express Stickers
A ride with the Robobloq smart train can be even more adventurous! A set of 19 induction stickers will help you expand the track's possibilities and make the most of the cute express's features. Each one will program it to perform a different task - change direction or speed, or play a sound. A unique light signal also corresponds to each action. Thanks to these distinctive sensory perceptions and attractive colour design, even the little ones will enjoy playing with them!

The stickers are reusable and can be easily changed again and again. The functions of the individual pieces are expressed by the labels, always accompanied by a small, concise picture. Children don't even need to be able to read in order to immediately understand and master the commands.

Various fun effects teach children the basics of robotics and coding, stimulating their creativity, imagination and sense of working in a group. They allow them to learn and develop in the most natural and enjoyable way, i.e. through play. The large number of stickers, the variability of their commands and the endless possibilities of their combinations will not give boredom a chance!

Availability: On the way from the manufacturer
If the goods are not in stock, the usual delivery time is between
2 and 3 weeks
We are very grateful for your comments and suggestions
Wholesale conditions for authorized resellers on request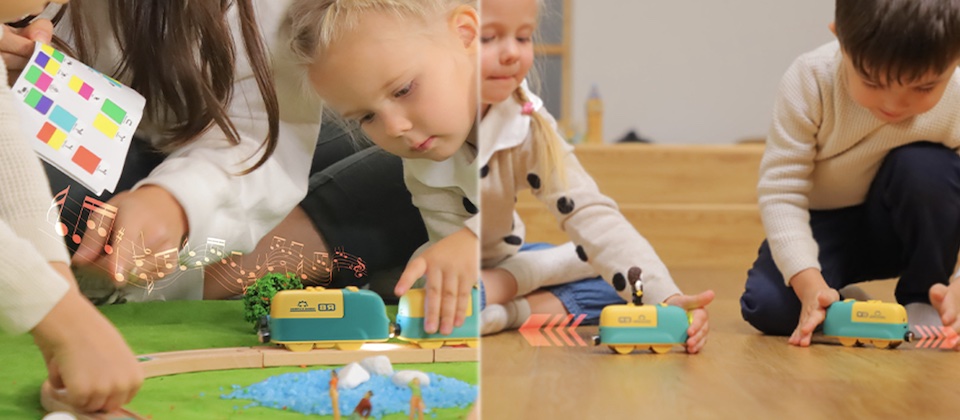 Robotics basics without watching displays
Have you built a track full of curves, straights, switches or even bridges, but it seems like your train game is still missing something? A set of 19 induction stickers will help you expand the possibilities of the track and take full advantage of all the features of the cute express. Each one triggers a different original function, such as reversing, turning, playing sounds, changing from normal speed to rocket speed or slowing down to snail pace. The fun new options are guaranteed to excite children and draw them back into the game. And without even noticing it themselves, they'll master the basics of robotics and simple coding. Thinking about changing the behaviour of the train and observing it, watching and perceiving the different sticker effects or physically changing the track itself develops children in every way. It offers a great opportunity to stimulate their creativity, imagination and logical thinking. All this without watching screens and displays, for which they will still have plenty of time.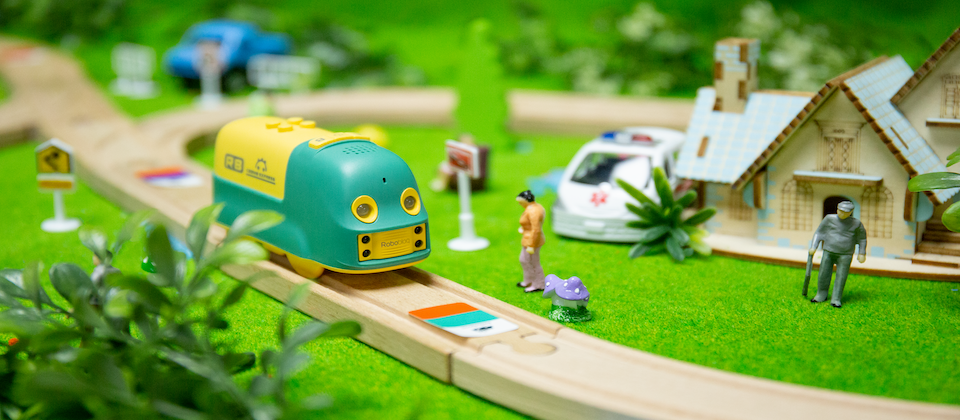 Programming that everyone can do
The words "robotics" and "programming" often give adults the creeps. Even very young children can be introduced to the secrets of programming very easily. Show them that there is nothing to be afraid of! Show them how coding can be extremely useful and actually a lot of fun! The large colourful sticker system is ideal for this. The colours represent a clear and obvious distinction between the different commands at a glance. In addition, they are always accompanied by a caption and a graphic representation of the effect. The individual actions performed by the train are enhanced by a specific sound and light signalling. This creates a very strong and simple sensory stimulus that children can put into context. This will playfully broaden their horizons and arouse their curiosity. Who knows, you might have a future top IT expert at home!
Note: The descriptions on the stickers are in English.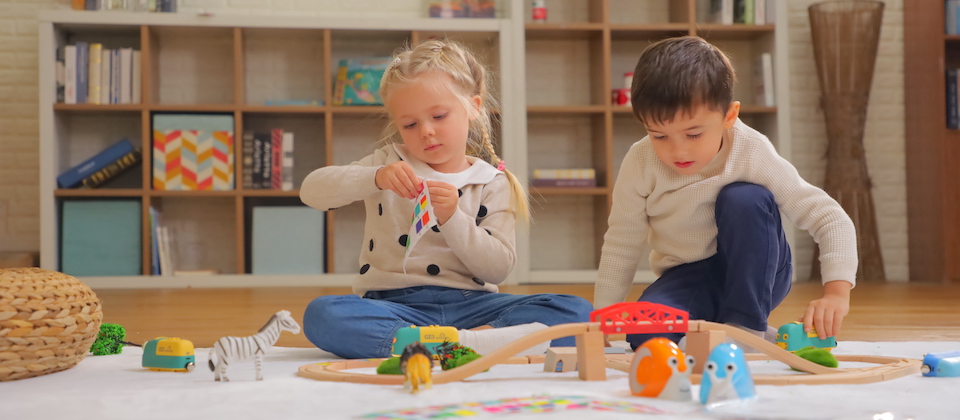 Adapted for the little ones
Robobloq has done everything possible to ensure that playing with and using induction stickers is suitable for children as young as 3 years old. Even young preschoolers who can't read yet and don't have fully developed fine motor skills can work with them without any problems. The stickers are long-lasting and can withstand even a little rough handling by children. They are also quite sturdy to make handling them as comfortable as possible. They adhere securely to wooden rails without further ado, while you can easily peel them off and use them on another part of the overall construction. This opens up plenty combinations and possibilities to program your next train adventure in a completely different way than the last.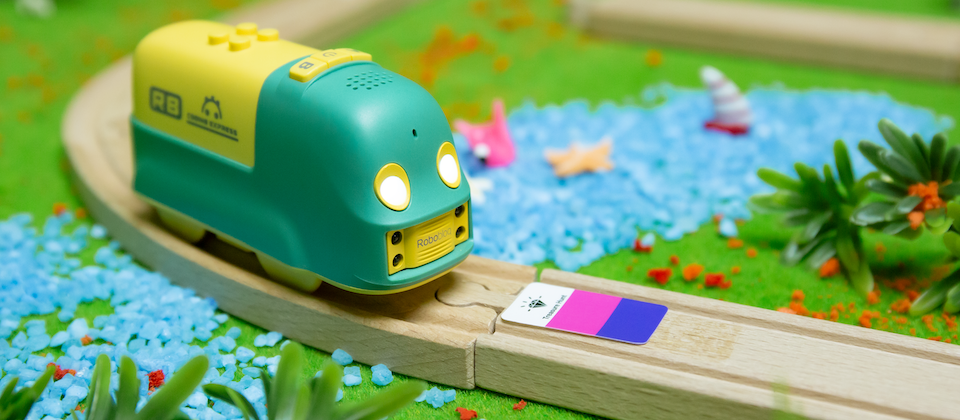 A creative toy that kids and students will love
The 19 colourful original stickers can provide an educational fun game for children to learn basic knowledge about robotics and coding, as well as stimulate their creativity and imagination through various fun effects without the need for screen or mobile control.
Feature overview
Set of 19 spare stickers
Modern form of STEAM teaching
A fun and natural way to learn the basics of programming and coding
Suitable for children 3-17 years
Develops children's talent
Creative playing and unlimited possibilities
Snadné obohacení hry s vláčkem Robobloq Express
Simple graphical representation of the command on each sticker
Note: This set contains stickers with the same features as the Robobloq Coding Express - a complete smart train set with a track. It is therefore used to extend it or replace lost/damaged stickers.
Package Contents
Set of 19 spare stickers

In the age of smart technology, we need smarter toys. Educators around the world are trying to take education to the next level. They are keeping up with modern technology and trying to incorporate it into children's everyday lives. The best tool for achieving quality education is modern toys that instil new knowledge in a non-violent way from a young age. Robobloq has come up with a clever solution in the form of modern interactive toys that draw children into the action and, using the STEAM method, teach them many new skills and improve their independent logical thinking.
More Information

| | |
| --- | --- |
| Product code | RB-Stickers |
| Barcode | 12345678910 |
| Color | Multicolored |
| Manufacturer | Robobloq |
| Manufacturer's website | Robobloq.com |
We found other products you might like!