Hyper® EcoSmart™ Gen.2 USB-C 7-in-1 Hub 100W PD Pass-thru
The next generation of the popular Hyper® EcoSmart™ Gen.2 USB-C 7-in-1 Hub 100W PD Pass-thru is finally here! It offers everything you need to work fully on the latest MacBook Pro or Windows PC. Your single side port expands to seven connectors, dominated by two USB-A ports that provide pass-through power and full data transfer speeds up to 10Gbps or connect a 5K Thunderbolt display. So you can simultaneously charge your MacBook and connect an external monitor, for example. You also get an HDMI port, USB-C Power Delivery 100W PD 3.0 and, most importantly, Gigabit Ethernet.
The Hyper® EcoSmart™ Gen.2 retains the slim and sleek design of the original Hyper Hubs while offering much more powerful performance. The design is a perfect match for Apple's original MacBook Pro series laptops. Turn your MacBook into a powerful workstation with all the connectivity you've always needed. The newest second-generation HyperDrive EcoSmart™ will become your perfect companion for everyday peak performance, not just at work.

Best benefits of Hyper® EcoSmart™ Gen.2:
• 4K HDMI at 60Hz
• 2 x USB-A 10 Gbps USB 3.2
• microSD 312MB/s 4.0
• SD 312MB/s 4.0
• Gigabit Ethernet
• USB-C Power Delivery 100W PD 3.0
• Compatibility with MacOS, Windows, Chrome OS

Availability: In stock (More than 5 units)
If the goods are not in stock, the usual delivery time is between
2 and 3 weeks
We are very grateful for your comments and suggestions
Wholesale conditions for authorized resellers on request

7 ultra-fast ports designed for creators, video editing, photography, and more
The Hyper EcoSmart™ Gen.2 offers everything you need to work fully on the latest MacBook Pro or Windows PC. Your single side port expands to seven connectors, dominated by two 2 x USB-A 10 Gbps USB 3.2 ports that provide pass-through power and full data transfer speeds up to 10Gbps or connect a 5K Thunderbolt display. So you can simultaneously charge your MacBook and connect an external monitor, for example. You also get an HDMI port, USB-C Power Delivery 100W PD 3.0, SD 4.0 and micro SD 4.0 card reader and most importantly Gigabit Ethernet.
Extended 4K 60 Hz monitor support for Mac, PC, and Chromebook
Enhance your productivity and multitasking capabilities by providing a spacious and immersive workspace, allowing users to simultaneously view and work on multiple high-resolution content, such as videos, images, documents, and applications, with smooth and crisp visuals.

Hyperflash data transfer
You can start transferring large files instantly, or back up data and sync devices - all in a fraction of the time compared to traditional USB connections, increasing productivity and efficiency. Time is fast, so it's important to speed up the transfer of data from your PC or MacBook. You'll never wait for a file to finally copy.
Transfer photos and video at 3x speeds
Super-fast transfer of photos and videos thanks to SD and microSD 4.0 cards with speeds of up to 312 MB/s. Provides significant time savings in video editing and photography by enabling ultra-fast and efficient transfer of high-resolution images and videos, enabling seamless editing, faster file backups and faster post-production processes.

Faster than the blink of an eye
Fast and reliable gigabit Ethernet provides a high-speed and reliable wired internet connection, enabling faster data transfer, smooth video streaming and a better online gaming experience. Time is money, which is why the second-generation Hyper EcoSmart™ USB-C Hub comes to the rescue. This data sprinter takes your work to the next level.
Pass-through charging with 100 W PD 3.0
Power and charge your devices up to 85W with a 100 W PD 3.0 charger* while using the hub, ensuring uninterrupted productivity, making it ideal for power- hungry devices and busy professionals on the go.
 *When connected to a PD 3.0 host.
EcoSmart™ sustainability without compromise
Higher speed and better for the planet thanks to 100% recycled aluminium and 85% recycled plastic. Hyper products are the best choice not only for you as a user, but for the planet. Hypertechnology without regrets!
Compatibility
MacBook Pro 2016 - 2023
MacBook Air 2018 - 2023
iPad Pro 2018 - 2023
iPad Air 2020 - 2023
MacBook 2015 and later
Windows laptop with Thunderbolt 3 or USB-C*
Laptop with Chrome OS and USB-C*
Any other device with USB-C*
* Requires DisplayPort over USB-C + charging + data
Summary of features
USB-C hub with 7 ports
Ports: HDMI, 2 x USB-A 10 Gbps USB 3.2, USB-C Power Delivery 100 W PD 3.0, Ethernet, micro SD 4.0, SD 4.0
USB-C Power Delivery 100 W (Pass-through power) PD 3.0
Support 4K 60 Hz with double refresh rate
Sleek design to match Apple devices
Premium materials and workmanship
Dimensions: 136 x 37 x 15 mm
Weight: 76 g
Color: Blue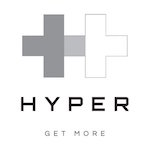 Hyper, headquartered in Silicon Valley, retains its passion and sense of innovation in computing even after more than 10 years of existence and mobile accessories, power transmission and data storage. The brand stands behind successful and award-winning products. It is also known for some of the world's best: the first wireless USB port or the thinnest HDMI cable. Hyper is an indispensable tool for working with MacBooks, iPads and devices with USB-C connectors. High transfer speeds and precision workmanship are essential in our selection.
More Information

| | |
| --- | --- |
| Product code | HY-HD4003GL |
| Barcode | 6941921149055 |
| Color | Blue |
| Manufacturer | Hyper |
| Manufacturer's website | www.hypershop.com |
We found other products you might like!