Hyper HD USB4 Mobile Dock, Black
Support for the simultaneous connection of two displays with a quality resolution of 4K at 60 Hz or one with epic 8K, the possibility of fast charging of the host computer with a power of 85 W, or lightning-fast data transfer via USB-A ports. These are the key extras of this new USB4 docking station from Hyper.

It is equipped with a total of seven ports ready to expand the capabilities of your device at a moment's notice. There is an integrated HDMI port and DisplayPort, two USB-A and one USB-C, a classic combined audio connector and the option to connect to Gigabit Ethernet. With such equipment, playing games, watching sports broadcasts or working with any media will get the real boost.

In addition to fantastic technical parameters, the docking station impresses with its refined design. It is elegant and ultra-slim; with compact size and low weight, it does not take up much space either on your desk or in your bag. You will be able to take it with you at any time, either to the office or for leisure. Compatible with MacBook Air/Pro (M1/M2).


Availability: On the way from the manufacturer
If the goods are not in stock, the usual delivery time is between
2 and 3 weeks
We are very grateful for your comments and suggestions
Wholesale conditions for authorized resellers on request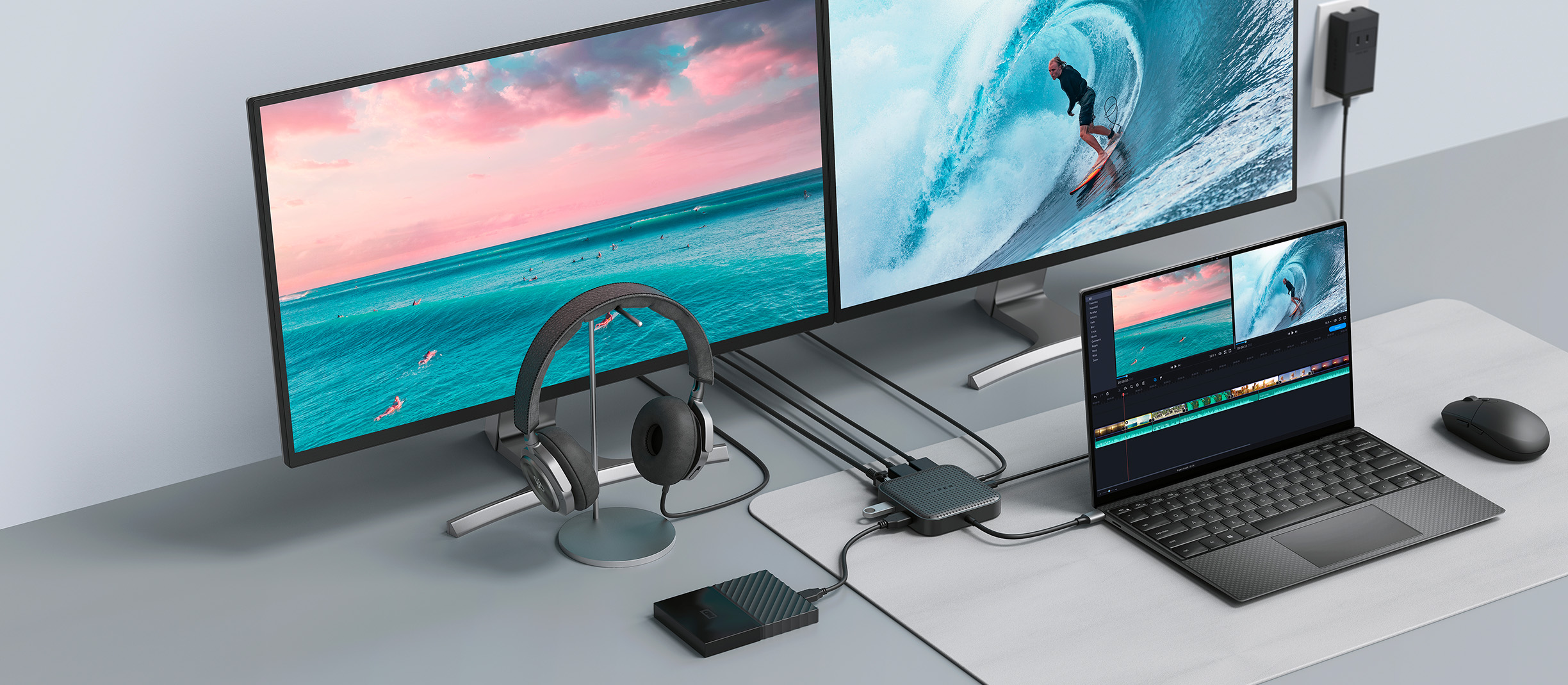 Exceptional image resolution, dual display support
Enjoy watching movies, sports broadcasts or playing games on a whole new level! The ¨latest docking station from Hyper allows you to connect a second display and enjoy a crystal-clear image with a 4K resolution and a refresh rate of 60 Hz. You can use the integrated HDMI 2.1 and DisplayPort 1.4 ports to connect two displays. If you stick with just one, you can look forward to an image with an incredibly realistic 8K 30Hz resolution.
Note: Dual Extended Display is only supported on devices that support MST. Not supported for Mac OS.
Ultra-fast data transfer without unnecessary delay
Endless waiting during lengthy data transfers can be a real nuisance. With this docking station, you can forget about such a problem. Its two USB-A ports will win you over with an incredible transfer speed of 10 Gb/s. This means that you can transfer photos, files or movies in high HD resolution in less than 30 seconds. And speaking of speed, USB4 provides 4x more downstream bandwidth at 40Gbps compared to USB-C Gen 2's 10Gbps data transfer rate.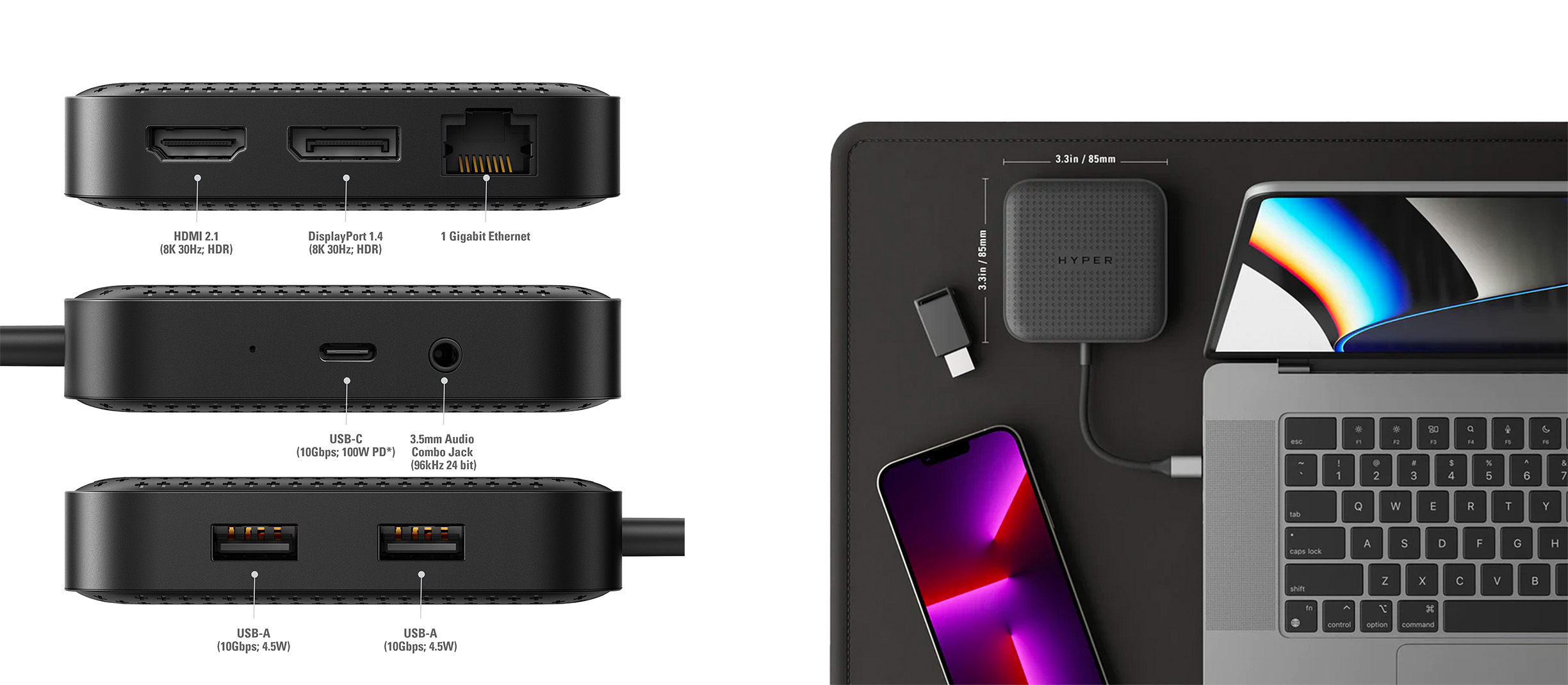 Make the most of the additional ports for entertainment
Hyper has always been established on multifunctional products. This station also allows its users to use other gadgets. One of them is fast charging of the host device thanks to USB-C with 85W Power Delivery technology. You can charge your devices without having to interrupt what you are working on. There is also a connector for connecting to a Gigabit Ethernet network, as well as a standard combined audio jack for connecting headphones or a microphone.
Slim design and light weight
Thanks to its compact size and very low weight, the docking station from Hyper is made for traveling. Take it with you to work or to meet friends, it really won't take up much space in your backpack. At home on the worktable, it will stand out among other accessories with its timeless design. The elegant colour design, clean lines and top-quality durable materials make it a stylish gem that is not only attractive and durable.
Compatibility
Works with Mac OS 10.16 or later, Windows 8 or later, Chrome OS, Linux, iPad
Compatible with USB4 devices, Thunderbolt 4 and 3 computers, and Thunderbolt docking stations
Ports
1x HDMI - 8K 30Hz
1x Gigabit Ethernet
1x 3,5mm audio connector
1x DisplayPort - 8K 30Hz
2x USB-A - 10Gb/s
1x USB-C - Power Delivery 85 W
Feature overview
Docking station with USB4 interface and additional 7 ports
8K 30 Hz resolution support
Support for two 4K 60 Hz displays
High data transfer rate of 10 Gb/s (USB-A)
Fast connection to local Ethernet networks
Elegant and ultra-slim design
Dimensions: 8,49 x 8,49 x 1,94 cm
Weight: 110 g
Colour: black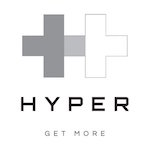 Hyper se sídlem v Silicon Valley si i po více než 10 letech existence zachovává nadšení a smysl pro inovaci v oblasti počítačového a mobilního příslušenství, přenosu energie a ukládání dat. Značka stojí za úspěšnými a oceňovanými produkty. Je také známá několika světovými nej: třeba prvním bezdrátovým USB portem nebo nejtenčím HDMI kabelem. Hyper je nezastupitelným pomocníkem pro práci s MacBooky, iPady a zařízeními s USB-C konektory. V našem výběru je zásadní vysoká přenosová rychlost a precizní zpracování.
More Information

| | |
| --- | --- |
| Product code | HY-HD583GL |
| Barcode | 6941921147709 |
| Color | Black |
| Manufacturer | Hyper |
| Manufacturer's website | www.hypershop.com |
We found other products you might like!