HyperDrive 140W GaN - USB Charging Adapter
The HyperDrive 140W GaN - USB charging adapter with its extraordinary performance has the ambition to become your new favourite item! It is small and easy to carry, with a foldable wall plug. Allows you to charge up to 3 devices simultaneously. And that's not the only way it comes out on top of other chargers.

You can enjoy lightning 140W charging with it. It takes care of your Apple devices, including the most energy-demanding MacBook Pros. It won't leave you hanging even on the go - thanks to the included EU, UK and AU adapters, you'll be able to use it anywhere in the world.

Its integrated circuits will take care of protecting your electronics during charging. They are designed to protect it from excessively high current, overvoltage, overheating and short circuits. All this is hidden in an elegant compact box of really modest dimensions.
Compatible with MacBook Air/Pro (M1/M2).

Availability: In stock (More than 5 units)
If the goods are not in stock, the usual delivery time is between
2 and 3 weeks
We are very grateful for your comments and suggestions
Wholesale conditions for authorized resellers on request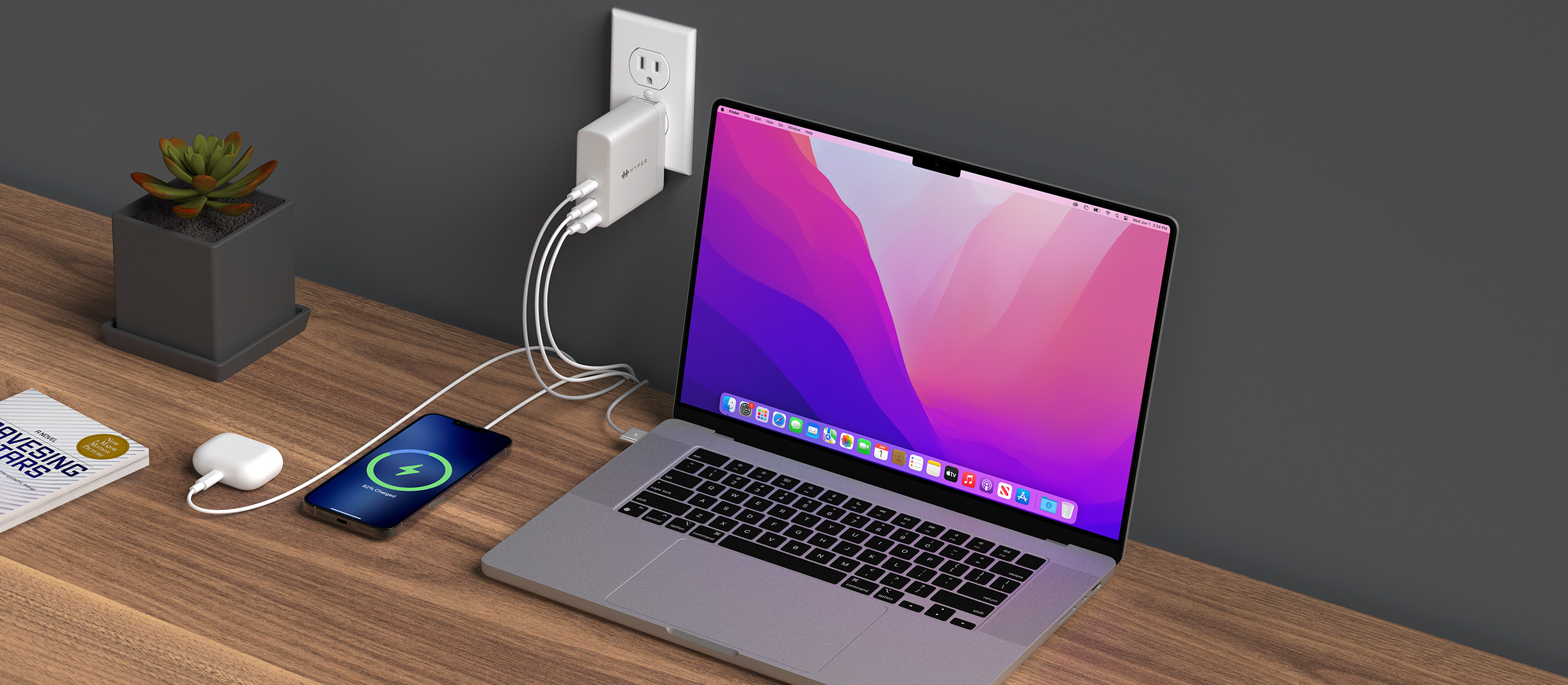 Maximum power for super-fast charging
Thanks to the 140W maximum power, you will be able to charge your devices really fast! And that includes even the most demanding MacBook Pros. They can charge their battery to 50% in just 30 minutes. That way, you will no longer lack the juice to get to work or play. In addition to Macbooks, the adapter is also compatible with iPhones and iPads, and of course with other computers and Android devices.
Portable and ready for your next adventure
Although the charger can offer a significant amount of power, it maintains a minimal size thanks to the GaN technology. Just imagine a regular deck of cards, this adapter is no bigger than that. It's even a quarter smaller than the equivalent 140W Apple charger. These parameters, including the foldable connectors, make it a perfect travel companion that you can always have on hand in a backpack, purse or briefcase. You can easily take it with you in your hand luggage when you go out into the world. Hyper has equipped it with EU, UK and AU adapters, so nothing catches you off guard. In addition to them, you will also find a USB-C charging cable that is 2 meters long.
Charge up to 3 devices simultaneously
The HyperJuice charger has a total of three outputs for simultaneous charging of several devices. You can use a USB-C port with support for 140W pass-through charging, a second USB-C port for 100W pass-through charging and finally a USB-A port with a power of 30 W. If the numbers don't tell you much, know that there is a charging adapter with a power of up to 140 W powerful more than enough to power all common smart devices - from a smartphone to a high-end gaming laptop.
Fantastic safety features to protect devices while charging
Enjoy your peace in mind when charging your electronics. Hyper designed this extraordinary charger to protect powered devices against too high current, overvoltage, over temperature and short circuit.
Compatibility
Compatible with USB-C devices
Charging protocol (USB-C): PD2.0/3.0/3.1, PPS, QC2.0/3.0, Apple 2.4A, Samsung 2.0A, BC1.2, AFC, FCP
Charging protocol(USB-A): QC2.0/3.0, Apple 2.4A, Samsung 2.0A, BC1.2, AFC
Feature overview
Charging adapter with 3 ports
Ports: USB-C (140W; PD 3.1; PPS), USB-C (100W; PD 3.0; PPS), USB-A (30W; QC 3.0)
Ability to charge 3 devices simultaneously
Fast charging thanks to innovative GaN technology
Portable with compact dimensions, ideal for travel
Equipped with a foldable wall plug
Protection of charged electronics against overvoltage, excessive current and overheating
Supplied with a 2m USB-C charging cable
Supplied with EU, UK and AU pin adapters
Dimensions: 73 x 74,1 x 29 mm
Weight: 256 g
Package content
HyperJuice 140W PD 3.1 USB-C charger
EU / UK / AU adapters
USB-C charging cable
User manual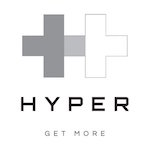 Based in Silicon Valley, Hyper maintains its enthusiasm and sense of innovation in computer and mobile gadgets, power transmission and data storage even after more than 10 years of existence. The brand is responsible for several successful and award-winning products. It is also known for, many of the world's best: for example, the first wireless USB port or the thinnest HDMI cable. Hyper is an irreplaceable helper for working with MacBooks, iPads and devices with USB-C connectors. High transfer speed and precise processing are essential in our selection.
More Information

| | |
| --- | --- |
| Product code | HY-HJG140WW |
| Barcode | 6941921148829 |
| Color | White |
| Manufacturer | Hyper |
| Manufacturer's website | www.hypershop.com |
We found other products you might like!