Ozobot Color Code Magnets, Speed Kit, 18 Tiles
Product code
OZO-035016-01
The Ozobot Magnetic Color Code Extension Set is a fun and interactive way to teach coding principles to students as young as preschool age. The Speed Kit contains 18 puzzle pieces that connect to the basic Ozobot magnetic kit and Evo the robot. When paired with Ozobot Bit+ or Evo and the base kit, they allow hands-on practice of coding and programming skills. Discover an effective way for students to practice their skills to create sequences of commands, work with logic, and strengthen problem solving skills. The color-coded magnets are appropriately sized and easy to use. They are ideal for young learners who are just beginning to explore the world of coding.

Ozobot magnet sets are durable and long-lasting. Looking for another fun way to code? Buy the Special Moves expansion set and the Speed set, which are designed to be used as supplements to the basic set.

Great benefits of the Ozobot magnetic expansion set:

• Ideal size
• Simple and fast handling
• Great addition to the Ozobot base magnetic set

Availability: On the way from the manufacturer
If the goods are not in stock, the usual delivery time is between
2 and 3 weeks
We are very grateful for your comments and suggestions
Wholesale conditions for authorized resellers on request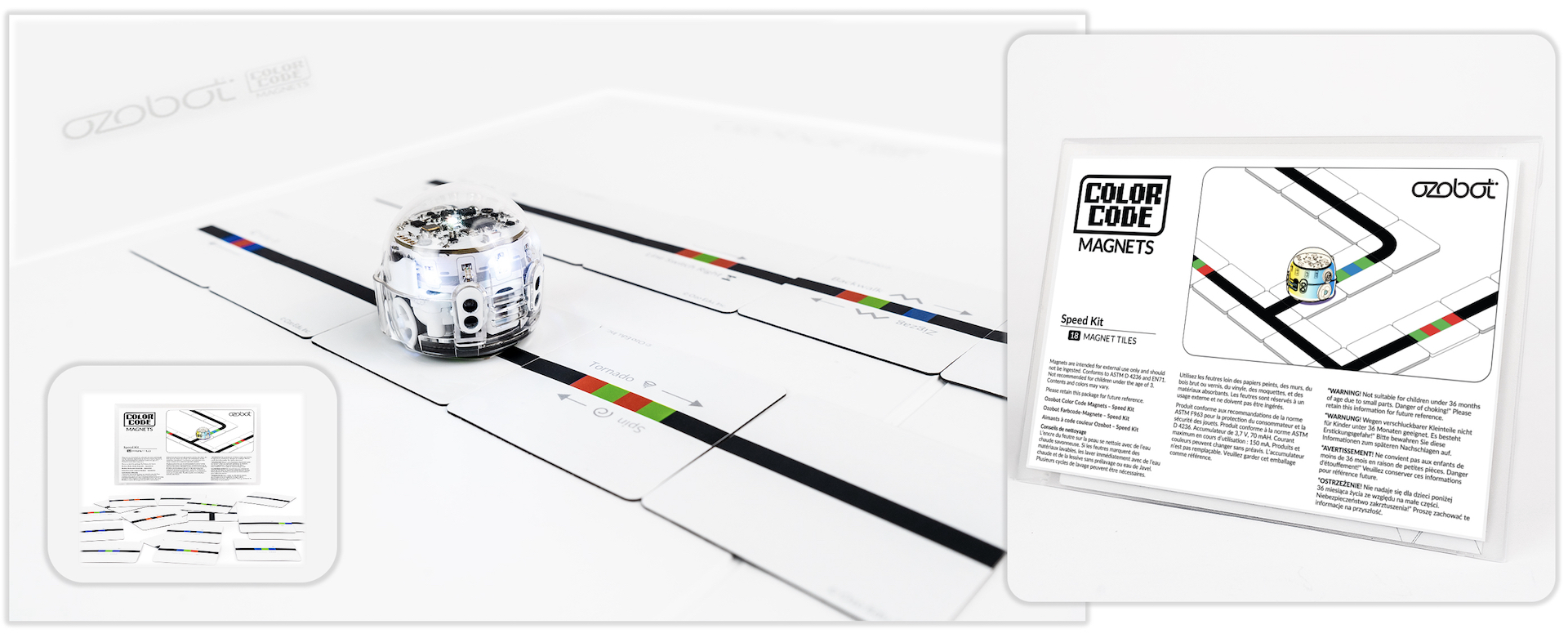 Expanding Interactive Magnetic Set
The Ozobot Magnetic Extension Kit is an interactive way to teach coding principles to students from preschool age. The Expanding Magnetic Set includes 18 puzzle pieces that combine with the Ozobot Basic Magnetic Set and Evo robot for hands-on learning of basic and advanced coding and programming concepts.
Experiment with sequencing, logic and finding solutions
The Ozobot Magnetic Expansion Set combines Ozobot colour codes and pieces to follow a route using a black line. It allows pupils to develop experience in a wide range of skills. The colour code and line magnets are appropriately sized and easy to use. They are easy to handle due to their handy size and are ideal for young learners who are just beginning to explore the world of interactive coding.
Quality and durability
The magnets in the Ozobot magnet set are designed with all students' needs in mind. They are resistant to light wear and have a long life. The quality materials used ensure that they can withstand wear and tear not only at home but also with regular use in the classroom. All sets are designed for a heavier load of active use, so you can be sure they will get the job done and last a long time. Tested under the most rigorous operating conditions. Kits that last!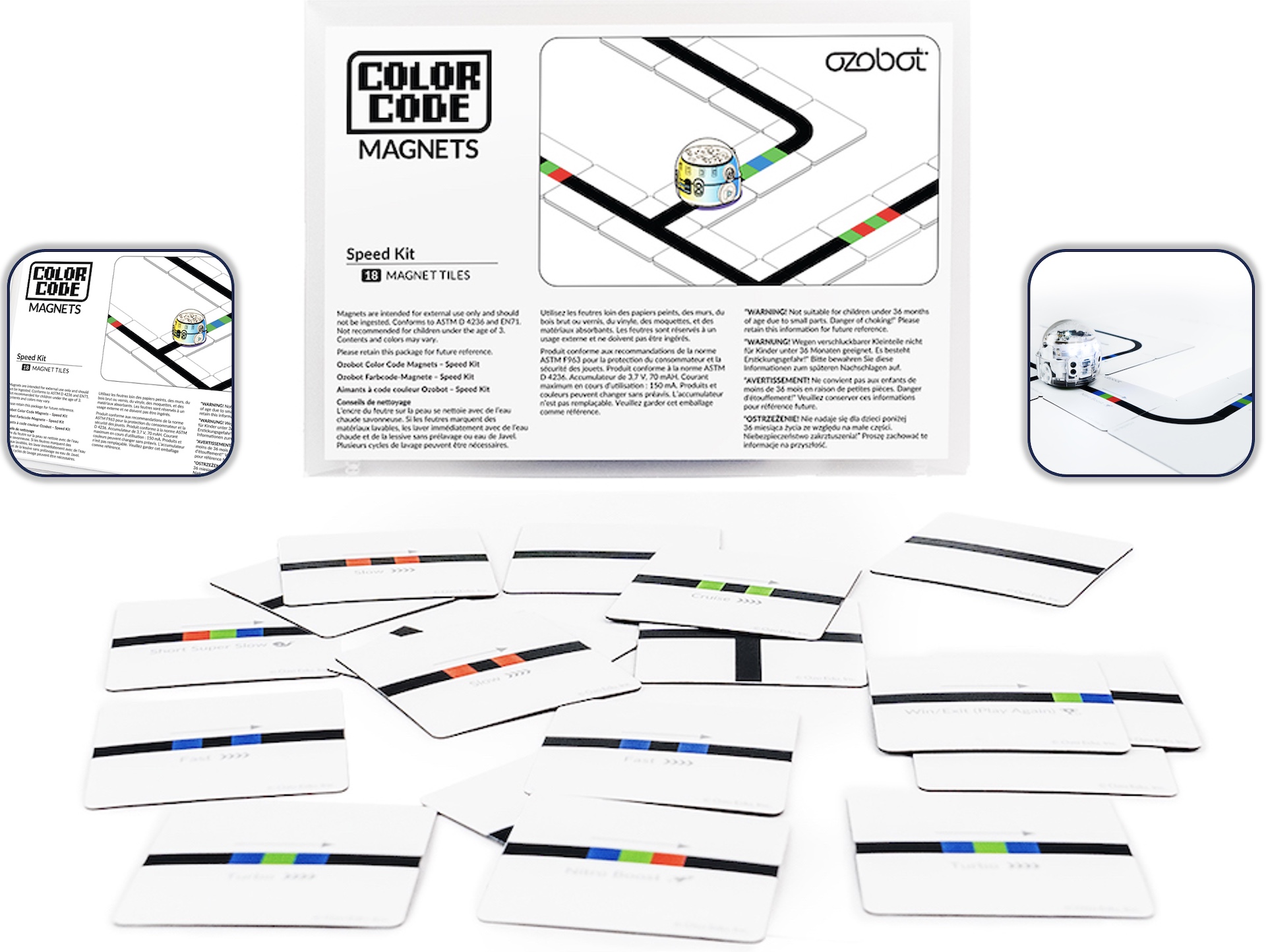 The students who will be the best of all
Looking for more new ways to code because you already know the basic set completely from all angles? Do you care about your students and want an even greater challenge to take your studies to the next level? Show that you care about them by purchasing the Special Moves set, which is designed to be used as a supplement to the basic set. By expanding with additional sets, you'll provide students with a variety of new options to achieve their goals.
An extraordinary journey of learning
It would be a great shame to learn only by reading. Encourage the curiosity of younger pupils with the Ozobot magnetic extension set, which is guaranteed to draw them in. Together, they build a route using magnets that they place on the playing area according to the required Ozobot tasks. The set is designed to be simple to understand and effective for learning. Fast and efficient, this is the basis of learning with the Ozobot magnet set.
Enhance your lessons with lots of fun activities
One set engages a group of students in solving common tasks. In addition, Ozobot offers access to additional digital STEAM Kit lessons in the Ozobot Classroom, completely free of charge. All you have to do is scan the QR code or visit the Ozobot Classroom website.
Summary Of Features
Interactive and educational game - accessories
Interactive and educational game - an aid
Promotes technical and creative skills
Strengthens critical thinking and group cooperation
Extendable with additional sets
Suitable for schools as a teaching supplement
A very fast way to program Ozobot
Extensive combination possibilities
High quality design
Designed for higher loads
The ideal tool for schools
Package Content:
Turbo - 2 pcs
Fast - 2 pcs
Nitro Boost - 1 pc
Turn - 2 pcs
Slow - 2 pcs
Super Slow - 1 pc
Win/End (Play Again) - 1 pc
Straight - 4 pcs
90° Turn Over- 2 pcs
4-way crossroad - 1 pc
*Ozobot robots are not included. These can be purchased separately. The game should not be used without the Ozobot robot.

In 2012, Ozobot launched a prototype of a small, fidgety robot that showed the enormous potential of this field. After two years of painstaking development and debugging, the first Ozobot was launched and quickly became one of the world's most popular interactive toys. A lot of time has passed since then, but Ozobot still holds the imaginary top spot in education through smart toys.
Ozobots' mission is to inspire young people to develop new technologies instead of passively using them. Nowadays
the whole Ozobot concept perfectly fulfills the principles of STEAM education
– linking polytechnics and creative approaches to develop a sustainable future.
More Information

| | |
| --- | --- |
| Product code | OZO-035016-01 |
| Barcode | 1240000015195 |
| Color | Multicolored |
| Manufacturer | Ozobot |
| Manufacturer's website | www.ozobot.com |
We found other products you might like!